Guest Lecture At IIM Indore, Mumbai Campus by Mr Rajnish Sharma, Vice President at Reliance Jio Infocomm Limited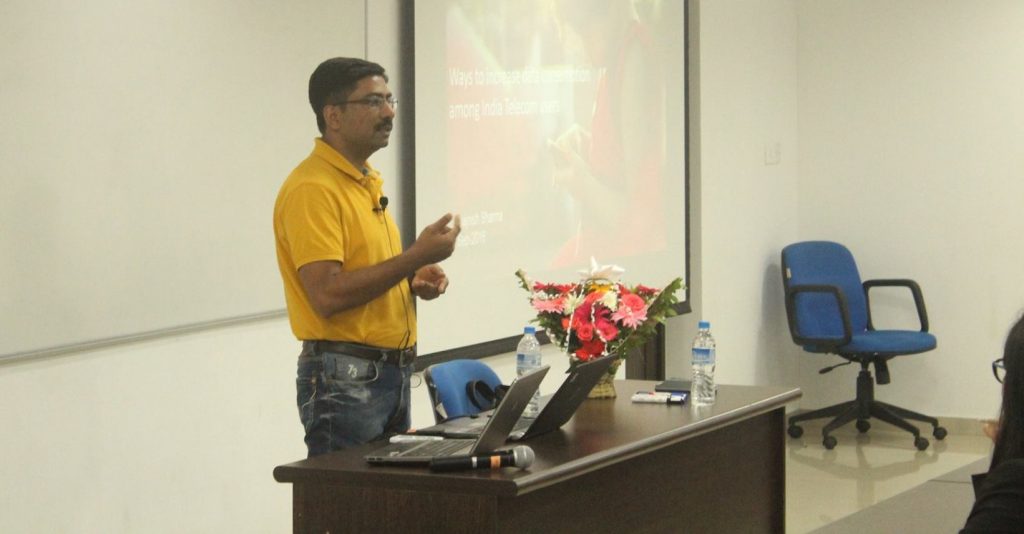 The participants of IIM Indore, Mumbai Campus got an incredible insight into the future of the telecom industry as Mr. Rajnish Sharma, Vice President (High Speed Internet) at Reliance Jio Infocomm Limited, briefed them on the ways to increase data usage among users.
An alumnus of MDI and BITS Pilani, Mr. Rajnish has over 20 years of experience in an array of domains in the telecom industry. He has also been previously associated with various telecom giants like Airtel, MTS, TATA Teleservices, and Hughes Communications.
Taking the participants through the journey and evolution of data in India, Mr. Rajnish spoke extensively about the changing face of technology, and how our lives are increasingly integrated with it. He also talked about the transformation of data usage in India- the decrease in voice traffic with the advent of high speed internet, the contribution of the Internet in the GDP, and the potential contribution of rural population.
Mr. Rajnish also touched upon how the channels of data consumption have changed with the surge in the usage of smartphones, and how the amalgamation of high speed data and high definition content has led to increase in video viewership, which has become a significant revenue source for telecom companies.
He also elaborated on various methods adopted by Jio to provide a wholesome user experience, such as content bundling, affordable pricing, data and traffic management to name a few. The session concluded with an interactive Q&A session, where the guest addressed various queries raised by the participants pertaining to security, services, and future strategies.