Guest Lecture By Mr. Atul Joshi, Vice President – HR, Mahindra & Mahindra Ltd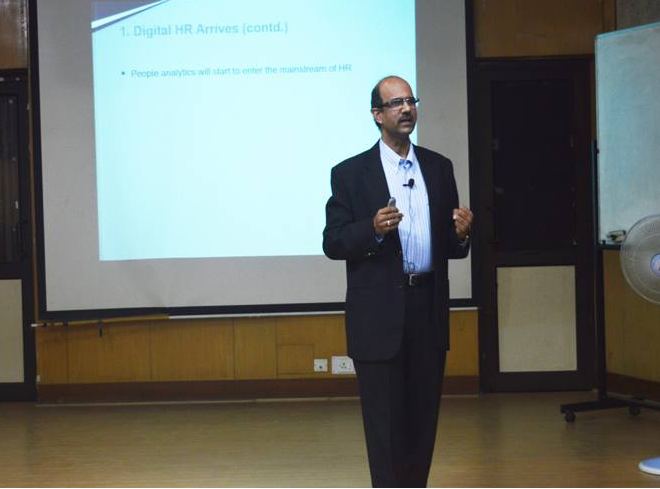 On 22nd September, DMS IIT Delhi had the pleasure of hosting Mr. Atul Joshi, Vice President- HR, Mahindra & Mahindra Ltd. for an enlightening session as part of Business Leaders Lecture series. Mr. Joshi is an engineer turned HR professional and has extensive knowledge in diverse domains and a mélange of businesses.
Mr. Joshi walked through the session by starting with a brief introduction of his belongingness in Mahindra and how people are important in any organisation. He then collected cues from the students regarding which scores to touch upon during the stretch of his presentation.
Making humanity's innate desire to rise as their driving drift, Mr. Joshi clearly demarcated the purpose of M&M jutting illustriously as "Mahindra Rise". He elaborated on the 10 major sectors that Mahindra is into, the big time operators being Automobile and Farm equipment sectors. He expounded upon the various divisions of automotive designs for M&M including manufacturing operations, sales and marketing and product development; their locations across the country and the number of people employed.
The external environment is unsteady, fast alternating and there will be severe implications in our overall economy that will impact the profitability of organisations. Mr. Joshi wrought out a few supporting instances citing the rise of oil and commodity prices, the boost in urban consumption and significant augmentation in public investment. India will need to create around 30 million new jobs within the next 10 years and e-commerce would be the new driver for job growth along with health and education sector. He also shed light on auto industry outlook and challenges that cut in on a narrowing of diesel and petrol prices, regulatory uncertainties and rise of aggregators. The burning question that evolved out of it was whether automobile today is an object of desire or an object of mobility.
Next in order of presentation were people trends, future predictions of HR and the campus employment trends round the world. Mr. Joshi annotated the first aspect by talking about the arrival of digital HR, the evolution of a new era of management thinking about PMS, leadership development continuing to be the focus in organisations and segmented employee value proposition providing customised offerings to employees.
Talking indicatively of M&M, Mr. Joshi debated on their employee value proposition entailing Mahindra people and Mahindra experience. They are amenable towards hiring people by evaluating them against their 7 thoughtful values and thereafter creating the "Mahindra experience" in the form of abundant learning opportunities, empowering environment drives, M leap and various employee friendly policies. Concluding his presentation, Mr. Joshi divulged some of his astute lessons from the journey which subsumed getting your hands dirty at an early stage, walk the talk, humility, compassion, openness to change, eye to detail, an excellent mindset and willingness to learn.
The floor was then opened for questions and enthusiastic participants took the opportunity to interact with the influential and dynamic personality that Mr. Joshi is. DMS, IIT Delhi extends its heartfelt gratitude to Mr. Atul Joshi and we look forward to having him on campus many more times.
Media Cell DMS, IIT Delhi
The Department of Management Studies is a result of the evolutionary process of growth of an idea floated in 1963. What was then a seed, gradually came to life and in 1974, IIT Delhi set up an internal committee to scrutinize the functioning of the management area in the institute. In 1975, an expert committee was setup to formally examine the possibility of launching this area in a more sustained fashion. The result was an M.Tech programme in "Management Systems" in the School for System Studies, (subsequently renamed School for Systems and Management Studies). The year 1978 saw the setting up of the Management Core Group and the core inputs to a full time Management Education at IIT(D) were reconfirmed by an Advisory Committee constituted by the representatives of the Academia and the industry. Since then, there has been no looking back. The School for Systems and Management Studies became the Centre for Systems and Management Studies. This was subsequently renamed as the Centre for Management Studies. In 1993 the Department was brought into existence by amendment to IIT (D) statutes. Clearly, the Department responds to a felt need of the Indian Industry and derives satisfaction from its heavy field orientation in all its curriculum activity. In response to the feedback from the students, alumni and industry, the Department of Management Studies launched MBA programmes in 1997. The department currently runs a two year full time MBA programme (General and with focus on Telecommunication Systems Management) and a three year part time MBA programme (with focus on Technology Management). MBA program in IIT Delhi is designed keeping in mind the changes in business environment and the need of the industry. Our academic program is comparable to the best that are available in the world class business schools for creating managers to face the new challenges of the ever changing market environment. The entire course aims at creating holistic managers trained by a very eminent faculty, which is also supported by the experienced professionals as external faculty from India and abroad. The students are admitted through a rigorous screening process that includes CAT score, group discussion and interview. IITD MBAs are known to do well.