Guest Lecture By Mr. Krishnan Srinivas S, Regional Managing Director – South Asia At Crown Worldwide Group
The Vinod Gupta School of Management had the privilege of hosting Mr. Krishnan Srinivas S, Regional Managing Director – South Asia at Crown Worldwide Group under its Guest Lecture Series, Vaarta. Mr. Krishnan is a turnaround specialist and has been a successful change agent. He has also received the Chairman's Award for Individual Excellence in the Golden Jubilee year of Crown Worldwide Group – a feat achieved by only seven other managers in the group, since its inception in 1965.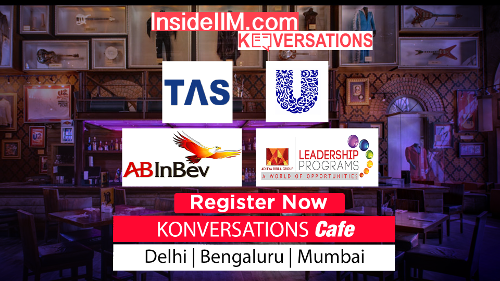 Mr. Srinivas shared various key learnings that he had amassed over the entire span of his career. He stressed on the fact that the key to being successful lies in being unique. He gave us an insight into the various business scenarios he had navigated in his career. From dispelling conventional myths regarding emerging markets to developing a culture of customer jubilation, he has faced it all and come out on top of it.
Mr. Srinivas helped the students chart out a course towards achieving all their ambitions. He gave the students a set of very useful acronyms which when incorporated in their lives would bring them one more step closer to becoming unique. The one which resonated the most with the students was A.B.D.O.V. It stands for Always Believe In Delivering Outrageous Value. He devised the most effective way of demonstrating this by delivering outrageous value to one of the students present. He surprised the lucky student on her birthday and made it one of the most memorable days of her life.
It was an emotionally charged session which left all of the student's present inspired by his life and leadership lessons. The students asked a lot of questions to help them quell some more myths related to the logistics industry as well as leadership in such a vast organization. The session was very interesting and enriching and will definitely help the budding managers to stand out in the corporate world. We look forward to having more of such interactions.
VGSoM Kharagpur
The Vinod Gupta School of Management is a business school in India. It was established in 1993 at IIT Kharagpur and was the first management school to be set up within the IIT system. It was initiated by a distinguished alumnus and a Life Time Fellow of the Institute, Mr. Vinod Gupta. In the year 2018, VGSoM completed 25 glorious years of its existence as a premier B-School of India. Today it is consistently ranked as one of the top 15 Institutes for business management in the country and boasts of a list of illustrious alumni holding prestigious positions in companies across the world.