Guest Lecture By Mr Souvik Sengupta, MD & CEO Of Standard Chartered Investment & Loans Ltd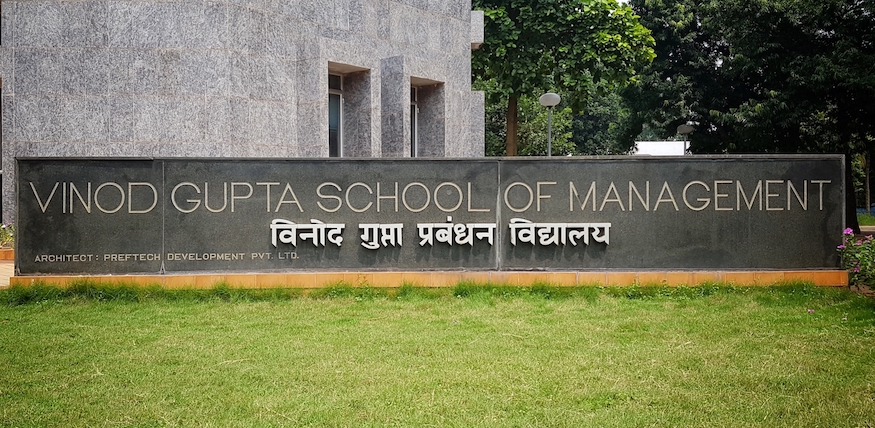 On 23rd September 2018, The Vinod Gupta School of Management played host to the very honourable Mr Souvik Sengupta, MD & CEO of Standard Chartered Investment & Loans Ltd. Mr Sengupta is an alumnus of the Indian Institute of Social Welfare and Business Management, Kolkata and has over 21 years of industry experience in the Finance sector. He has also contributed in various strategic business units such as Agri lending, Infrastructure finance, supply chain, LAP, vehicles to name a few. His accolades in Microfinance and Non-Banking Financial Company (NBFC) are commendable.
The lecture started with an introduction of NBFCs and their history as well as advancements possible in the future. Mr Sengupta then steered the session towards the role of Digitalization in the banking sector as a fundamental component in cost-cutting and in boosting the growth of NBFCs.
He addressed NBFCs as an attractive market and its golden side. Over a past couple of years, NBFCs have grown at a much faster pace on a pure CAGR basis which is 17-18% as against banks which have slumped at times. He also emphasized the fact that NBFC's agility or speed to market is applaudable and the kind of products and solutions provided by them considering the time constraints is incomparable.
Mr Sengupta captivated the student's attention by coupling his knowledge on NBFCs with personal encounters, which was further appealing to all the budding managers. This entrusted an urge within them to take decisions which have a long-lasting impact on a larger scale in the times to come.
Towards the end of the session, Mr Sengupta diligently answered all the inquisitive brains in the audience stating agility, innovation and right thought as the key components to be successful in today's scenario when everyone is running behind the same pool of revenue. His encouragement on taking onus and being righteous along with completing every task with full integrity was inspiring and alarming for all the students to gear up and chase their goals. We look forward to more such inspiring sessions.
VGSoM Kharagpur
The Vinod Gupta School of Management is a business school in India. It was established in 1993 at IIT Kharagpur and was the first management school to be set up within the IIT system. It was initiated by a distinguished alumnus and a Life Time Fellow of the Institute, Mr. Vinod Gupta. In the year 2018, VGSoM completed 25 glorious years of its existence as a premier B-School of India. Today it is consistently ranked as one of the top 15 Institutes for business management in the country and boasts of a list of illustrious alumni holding prestigious positions in companies across the world.