Hamara Bajaj – JBIMS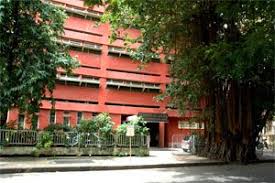 When one walks in the lane in which JBIMS is located, he or she could be forgiven to fail to recognize one of the premier b-school of India because of its small campus. Though JBIMS has a small campus, the magnitude of its presence is felt at the right place – the corporate world. JBIMS is the alma mater of the who's who's of the business world. The aura, high ROI and placements of JBIMS attracts the top students every year and I am no exception. JBIMS had been my dream since the time I had decided that I wanted to pursue a career in management. After the dreaded and hectic induction process, the first thing one experiences in JBIMS is an erratic academic schedule since most of our lectures are conducted by visiting faculties who run their own businesses or are at prominent positions in big companies. This always keeps us on our toes and ensures that we utilize our time well and are prepared for any eventuality (i.e., lectures from 09:00 to 21:30)
As one adapts to the campus life, one realizes that JBIMS is what it is because of its people – faculty, seniors, batchmates, admin staff, library staff, security staff, house cleaning staff and last but not the least canteen staff. One of the advantages of having a small batch size is that everyone knows everyone in college and can easily approach anyone for help and advice. Of all the people mentioned previously, Mohammad bhai from canteen is the most interesting of all. We are first introduced to Mohammad bhai during the induction and by the end of the induction, he knows the name of the entire batch and also the food preference of most of the students. And he still remembers the names of students from the previous batches. With us, he also adapts to the unpredictable schedule and knows when our lunchtime is and on hectic days when our lunch break is for only 15 minutes, he ensures that we are served first and fast while ignoring the orders from students of other courses. At the start of our exams, he wishes us luck and gives chocolates to every student ensuring we remain calm even during tense situations. Like him, there are many people in JBIMS who make sure that JBIMS continues to be the best place to study.
If given a chance, I will like to work in Aditya Birla Payments Bank since it is a very challenging time to be in this space due to the fact that a lot of companies are competing in the same space and the opportunity is huge. These challenges will make it an exciting place to work. Also, as a nation, I want to ensure that all Indian have access to good banking facilities.
– Shirish Pengonda
Jamnalal Bajaj Institute of Management Studies
JBIMS Placement Committee
JBIMS was established in 1965 by the University of Mumbai in collaboration with the Stanford Graduate School of Business. JBIMS is considered to be unique in management education as it is firmly rooted in the local soil and capable of articulating the Indian ethos. In the contemporary era, when globalization and liberalization are the buzz words, the institute has (without disturbing the said roots) ordered itself to meet the emerging challenges, sentiments and opportunities that are coming with the new economic order.