Happiest Moment Of My Internship – ABG Internship Live 2016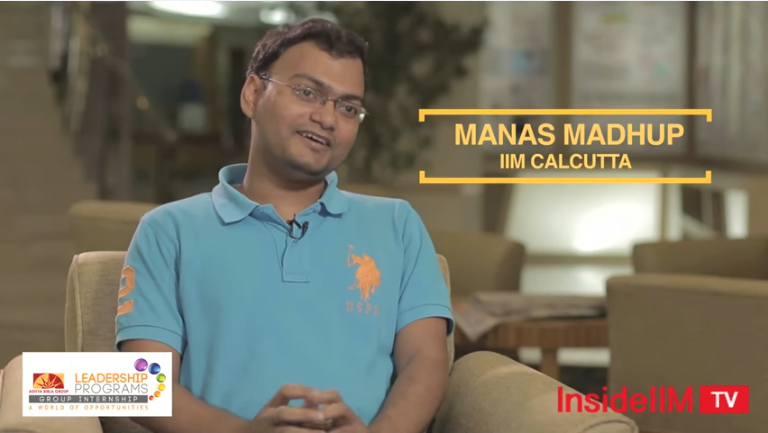 In Episode 19, we meet Bipin Bansal Agarwal from IIM Ahmedabad, Jainil Lakhani from IIM Bangalore, Ashmeet Singh from MDI Gurgaon, Anwesha Pal, Manas Madhup and Amit Hooda from IIM Calcutta.
Ever wondered how an internship in one of India's largest conglomerates feels like? We profile and document the journey of interns at Aditya Birla Group in the summer of 2016. We bring this to you through InsideIIM TV our Video Series channel. This is the second part of our series this summer at ABG! You can follow the entire series of 20 episodes here.
They share with us their Happiest Moment of the Internship. For Bipin and Amit,the happiest moment of his internship was when he sky dived in Dubai and when the CEO of the business took them out for lunch and sponsored a trip to Abu Dhabi. Jainil's happiest moment was when he first got the chance to be in the same room as all the CXO's of the company. Ashmeet tells us that his happiest moment was when his manager told him that Ashmeet's legacy will live on.
As for Anwesha all  moments seemed like happiest moments as her work didnt seem like work at all. And lastly, Manas shares with us that his happiest moment was when he got to try his ideas on mutual funds and derived a result which was 30% superior than before.
In the second part of the series we meet the top talent from across Business Schools in the country who tell us about their internship at ABG in detail. The 8 episodes in the series gives us an overview of the experience of these interns who aspire to be leaders. This video series will help you get a peek into the world of Aditya Birla Group, its Leadership Program and what's in store for the young interns at the conglomerate.
You can read everything about Aditya Birla Group here.
'This is a Promoted Feature'