Here's Why Your Uncle's Advice Of Not Taking CAT Is WRONG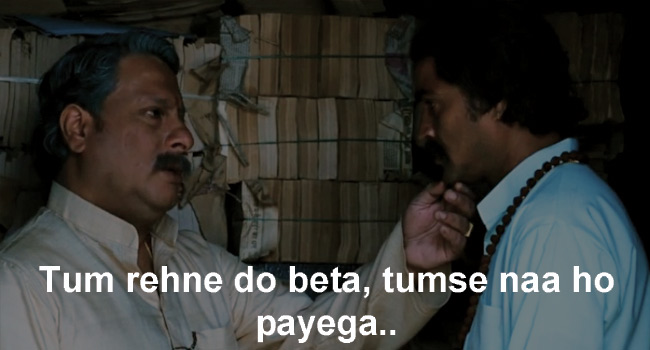 "It's not your cup of tea."

" Why are you even trying to go for it wasting your time and money?"
"Have you even looked at your profile? You don't stand a chance."
These and many more would have been the things told to you when you decided to take to the MBA entrance exams (CAT/XAT/IIFT/SNAP others). Well, exactly a year ago I was given these very uncalled for suggestions and opinions. I was in the same shoes as you. Listening to everything that self-proclaimed career gurus said. Some even told me that I won't even manage a decent percentile or a call let alone getting into a good college and that MBA is just for the people who have been doing good consistently ever since childhood. Dark & gloomy clouds of self-doubt start hovering on your mind and you think about leaving it all and doing what others think is fit for you but this is where one has to take a strong stance and mute all those voices. For once in life believe in oneself because self-doubt kills more dreams than failures ever will.
History bears a testimony that all great thinkers, philosophers, and scientists were belittled, scoffed and looked down upon by the society. Let me give you an example there was a person who was told by the world that he lacked creativity and that he will never make it big in life. Well, guess what, he did make it huge and is undoubtedly the most creative person ever born. His name is Walt Disney and we'll all know where Disney as a company stands today-It defines entertainment for so many of us. There are many more such examples that prove that if one is self-determined and ready to work on oneself, one can achieve whatever one wants. Success never comes easily you will have to break yourself free from your age-old habits be it procrastination or clinching on social media for hours doing nothing etc, to doing some productive work which makes sure that you are taking nano steps towards getting closer to your dreams.
Patience and persistence are the foster sisters that will help you reach your goal. Remember, Rome was not built in a day and certainly not without much effort. You need to have a timeline for things that you plan to do in your journey of taking CAT. It could something as serious as solving a question set or taking a mock to something as trivial as revising tables. This change will not come easy. It would be painful. Don't they say, "No pain, no gain". There will be times when you will see others doing better than you and feel demotivated but you have to realize that this battle is not against the world but it's you fighting against yourself. Fighting to do a little better and a little more each day. CAT is not about academics but it's all about how much you are willing to give(intellectually and emotionally) it so instead of doubting your ability to ace the exam, go ahead and do your bit well. Working hard in silence, everything will fall into place, and your success will make all the noise. Take this examination, not as an opportunity to redeem yourself or to shut down all those negative voices around you, but to gift yourself a future that you rightfully deserve. Because in life 'It's never too late'.
———————————————-
This article was originally written by K.Gupta:

Krishna Gupta is a CAT aspirant who broke the familial stereotype of working on Family Business to taking CAT and being a manager of future. His rebellious attitude in combination with his grit has made him improve his performance with every mock test. He wishes to pursue his MBA in the marketing domain. Before he joins a B-School here's a brief piece of motivation from him.
Pratik Ranjan
Pratik is an MBA candidate at IIM Lucknow. He is an ardent aspiring marketing strategist. His passion for marketing multiplied multifold post his internship with Unilever, where he was conferred with a PPO. Bitten by the entrepreneurial bug & seized by afflatus to read, write & explore, this twenty-something believes in the power of dreaming with his eyes open. He is a columnist in various newsletters and is up for any discussion that involves the nuances of marketing and strategy. P.S: He's charged by the fuel of caffeine.