A Hilarious Marketing Class At IIM Raipur

Gossip! Yes, this is true for all the classrooms whether it is LKG or a B- School. The first lecture got over and as soon as the teacher left, the students started talking. Oh, wait! In b-schools it is networking.
A man in mid-40s with 'tilak' on his forehead enters the room, He will teach us Marketing Management, whispers Ashutosh. The class begins without any introduction and Prof. Bapat starts the lecture. Someone knocks on the door, he is Himadri, 'Out' says Mr. Bapat. Students feel tensed and Professor talks about the rules and regulation and course structure. He starts picking up the students and asks about what they expect from the institute and students answer about learning, networking etc. Here he points the finger at me, Hey young man what are you looking for? Placement! I answered.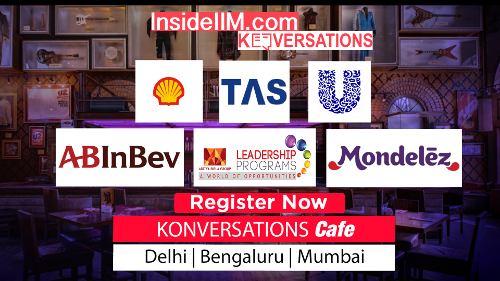 (Class starts laughing)
Yes, and how will you get that? I don't know, I replied.
So here comes the role of marketing, you need to market yourself.
He changes the topic and it's the time for advertisements. He explains how the advertisements are changing from time to time and call two people for a role play where I played the role of Marketing manager of Maruti showroom and the other one played a customer.
The topic went further and what I hear is the famous dialogue of Amitabh Bachchan! 'Naam Vijay Dinanath Chouhan' (Is this really a marketing management class? Ashutosh whispers again). I was amazed to see how Mr. Bapat correlates the dialogue with Brand positioning.
(Amazing! Whispers Ashutosh)
Mr. Bapat further discusses, Wait! What? What am I hearing? Is this a song? Here comes the beautiful song from the hit list of Kumar Sanu. And again he correlates it with marketing strategy. Students are amazed by the way of teaching. Suddenly Professor stops the discussion and takes the attendance, the class is over!
Students again start talking. Oh! It's networking.
WHICH ADITYA BIRLA GROUP COMPANY I WOULD LIKE TO JOIN?
I would like to join Aditya Birla Renewables. I feel that there is a lot of scope for growth in the renewable energy sector in a country like India where there is a lot of demand for power and electricity. It will be an excellent opportunity to work in this sector as Aditya Birla Renewables is already looking to acquire stakes of Abraaj Company in their joint venture in the same sector.
There would be vast opportunities in solar energy, wind energy, tidal energy etc. to compensate for the deficiency of power in India.
Akansh Varshney is a first-year student at IIM Raipur