Hinu Day – A Memorable Classroom Experience At IIM Raipur

"I also like Hinu", said the 5th girl while the other guys in the class continued to hoot "Hinu…Hinu" in unison across the room. Well, what seemed to be just heard of and seen in movies was actually happening in the Indian Institute of Management Raipur during the first few days of induction itself.
Having spent just 2 weeks on the campus, I didn't think I would be writing an article about a memorable classroom experience in a B-school, but here I am already etching memories and experiences. How do I say this, traditional classroom sessions involve benches, fans, air conditioners, mics, boards, markers, chalks and projectors along with a professor and students, of course. However, classroom experience for me in an IIM started with 6 mentors standing with hands folded and almost a 100 students seated while another 100 standing in a packed classroom eagerly waiting for what was next in store for them. The session started with one of the mentors asking each of the newly joined "kids" to break the ice by talking about themselves for about 2 minutes each if not more, in front of nearly 200 people they didn't know. While extroverts can't stop talking about themselves, introverts expect people to know their lives and act accordingly.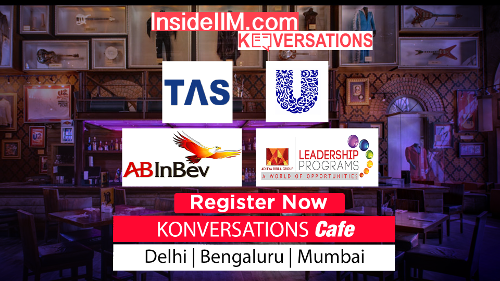 So, this is where the story begins. Boy after girl and girl after a boy came to the podium and introduced themselves. "Hi, my name is Omkar, I've done my B.Tech, my M.Tech, my Ph.D.. ", while each introduction came as a surprise it definitely seemed to keep adding to the culture. "And talking about myself, I've represented Maharashtra in state-level football amongst other achievements", said Anjali. While some had experience in the hotel and hospitality industry, a few were doctors and pharmacists(need not mention engineers here…). Academics didn't seem like a forte after having spent most of my life building specifically this side of my profile, besides things began getting really monotonous and boring(magnanimity of achievements no longer seemed to impress us).
Having taken a note of which the mentors realized that they had to rather give us yet another task to invigorate the now snoozing crowd, which is where "A girl and a guy you genuinely like" was introduced as a section to be incorporated in the introduction.
Things had to get interesting now, with each guy now trying to looker taller, some pulling their paunch in, some evaluating hairstyles and face fat among other things(absolutely failed to notice the girls here, as I was busy myself). Imagine TV sponsored Swayamvar, yes, that was the background music in most people's heads(all names and firms that I call out here are deliberate and are supposed to visit the campus and hire me, please, pretty please, Inside IIM being one of them)."I heard nothing and was just looking at him all the time, I..I just couldn't think of anything else", said Sheena. And this is where it all had to start. Silence prevailed for the next 15 seconds while we took our time to absorb and assimilate what was just said. Mentors burst into laughter and the others in the class followed suit as the applauding continued, the class was revitalized and looking up to what the next person had to say. But to no surprise girl after girl stumbled "Hinu…", thankfully the guys chose to differ here, and as always had no specific preference, be it a senior or your own batchmate, a fair share of representation was evident with the names being taken. However, with every passing student, some very eloquent, some not very good at it, the only thing that was constant was my spike in anxiety.
Stage fear is something that has haunted me for ages. I remember being one of the first few roll numbers in my school days where I always dreaded going up there and speaking to an audience. Recalling how I had just gone blank after practising my speech for hours, perspiring, feeling embarrassed and helpless in front of a crowd that I wanted to impress, made me even more conscious. I certainly didn't want a Déjà vu here, probably the last educational phase of my life, can't let it start off with an embarrassing dialogue with such a large audience, who are going to be not just future managers, but also recruiters and CEOs in some of the big firms or start off their own ventures for that matter.
Likes and dislikes of batch mates no longer seemed to be of interest as I was busy making sure that not this time Ravi, this time you're not going blank, this time you're going to be confident. "You guy in the pink shirt", a sound struck in the midst of all noise, refusing to make eye contact, hoping it wasn't me I waited, while one of the mentors called out to me. People applauded and friends around me cheered, "Go for it and tell her name!!".Have to admit, this did not help, just made me even more nervous. " A man develops innate strength when he is one on one with his most dreaded fears", is very rightly said, only you can help yourself out of your fears. I was put on spot, my hands were thawed as I brushed past the class from the last bench towards the podium, but at the same time I also wanted people to know me, I wanted to tell who I actually liked and couldn't have had a better opportunity(at least that's what I thought then)."Hi my name is Ravi, and I'm basically from Bombay", this was the line that came out fumbling with all the might and grit that I had, as the crowd applauded in recognition and support. While some seemed interested in knowing about who I was as a person, most of the were only waiting for me to spill the beans(the name of course). The best way to conquer stage fright is to believe what you're talking about. While I knew what I was talking about, a lot of things were going on at the ack of my head, I leave it to your imagination here.
Well, that was it. The first line is all it took for me to break the ice, as I continued to speak for the next 2 mins about myself and also of course about what and who I liked.
The first lesson in MBA was already learnt. Two important takeaways – the first one, putting on the spot makes you do things you think you couldn't have, number two – to every task that's assigned think how it is going to benefit you, and only then can you make the most of it. For example, in my case, while I was not very keen on introducing myself, but there was something that I wanted to do, get out of my shell and share(who I liked without the fear of being judged). So mission accomplished, embarrassing memory has been in part overwritten by a rather recent and good one and I no longer approach public speaking as an overhead but instead an opportunity to share my thoughts without the fear of being judged.
This was indeed a memorable classroom experience, yes there were no professors per se, but there were learnings and there was fun, this is the way I would want classrooms to function.
P.S. – Hinu is one of our beloved seniors, who also happens to be one of the mentors present in the classroom during the session described above.
-Ravi Bajpai is a First-year student at IIM Raipur.