Honchos from industry to share their insights on 'The Inflection Point'

Bangalore, Karnataka, August 31, 2014 – Symbiosis Institute of Business Management (SIBM), Bengaluru is all set for ALCHEMY- the Annual Management Conclave 2014 to be held from the 4th Sept to 6th Sept.
Venue – #95/2, SIBM Campus, Near Hotel Lord's Plaza, Electronic City Phase-1, Bangalore-560100.
Date – September 4-6, 2014 (Thursday, Friday & Saturday)
Time – 10:00 AM to 6:00 PM
Prominent Speakers:
Mr. Siddhartho Banerjee – MD & CEO, Markit Financial Services, India
Mr. Anand Pillai – Chief Learning Officer, Reliance Industries
Mr. N. K. Gupta – Director CFA, BSNL
Mr. Devendra Chawla – CEO, Future Consumer Enterprises Ltd.
Details of the above speakers may be seen at http://alchemy.sibm.edu.in/
Alchemy 2014 brings you to terms with the Inflection Point. With aspirations soaring high and uncertainties weighing us down; we stand today at an inflection point. We are at the brink of a major upheaval, as we design the future. The tumult of activity in the economy, the surge of youthful energy and the wave of optimism that surrounds us – all point towards a story in the making.
Alchemy, SIBM Bengaluru's Annual Management Conclave, is a three-day event which provides a quality platform for eminent speakers to share their insights on how to move ahead from the inflection point through their comprehension of the industry. The event will be graced by delegates from different industry verticals. It also provides an ideal networking opportunity and a domain to recognize different perspectives.
Major highlights of the event:
1) Corporate Art Exhibition
Satkala
SIBM – B presents to you a unique Corporate Art Exhibition – Satkala. It aims at providing a platform to established and amateur artists alike, to showcase their artwork and also encourages our own students to tap into their creative potential. With the theme 'Through the Looking Glass', Satkala 2014 hopes to bring in a diverse spectrum of artwork from passionate corporate and B-school artists. The works would be on display for viewing by the guest speakers of Alchemy, students and faculty of SIBM-B.
2) Marketing Summit
Behavioral Economics Coming of Age
Evidence suggests that human behavior is not always rational; man is not always the traditional 'utility maximizer'. Would the corporate world be able to embrace the change as they explore the various applications of Behavioral Economics in driving desired behavior, insight generation, ethics of choice architecture, online marketing initiatives and traditional marketing. This is what the marketing summit will try to explore.
3) Finance Summit
Going the Extra Mile
The Indian economy has experienced its worst slowdown in nearly a decade. With mounting deficit, rising inflation and low growth, the Indian growth engine struggles to gain momentum in 2014 as the number of heavy "wagons" it must pull has increased. The finance summit will throw light on how the industry should think "outside the box" and take fresh approaches to surmounting its most pressing challenges.
4) Operations Summit
Supply Chain: Surge and Sustain
The demand from supply chains around the world is poised for a colossal growth over the coming years. Are supply chains equipped to meet this expanding demand? Will the future have anything left to build on after the demand-supply equilibrium is achieved? Or will it be an inflection to the depths of an abyss? These are a few questions that the Operations Summit will try to answer.
5) HR Summit
Transnational Leadership
International, transnational, multinational, multi-domestic, global, and born global organizations are among many labels for businesses that transcend the ideas of a nation-state. With the advent of an economy that is gaining momentum; many businesses will expand their horizons into international waters. The HR summit explores how global are the Indian MNC's when it comes to accepting cross-border talent in our organizations back home?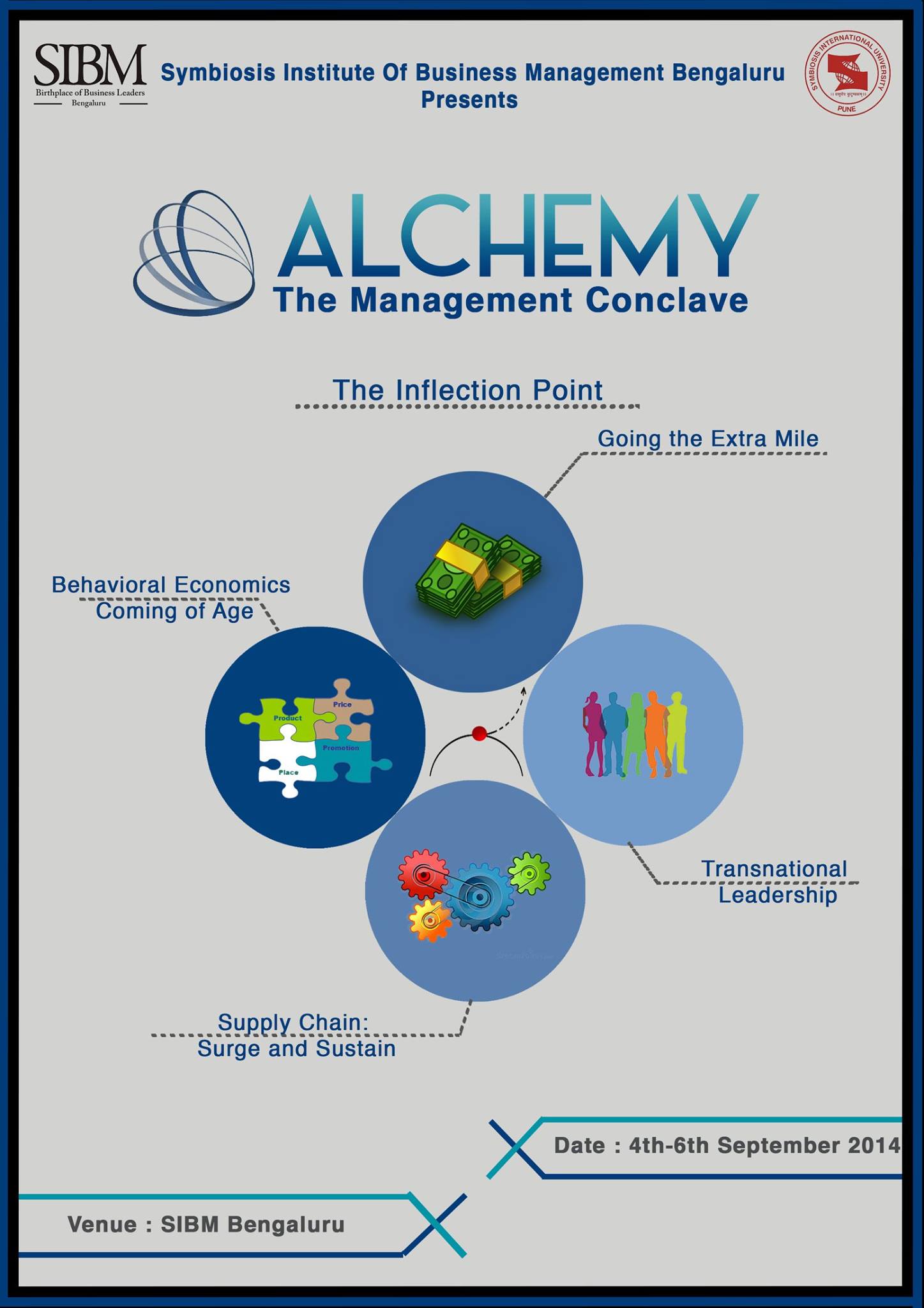 SIBM Bengaluru
Ever since its inception in 1978, SYMBIOSIS has been synonymous with progress. The trend of progress has been continued by setting up of SIU's first campus outside Maharashtra at Bengaluru in 2008. SIBM Bengaluru is now one of the leading B-Schools of the country. The focus, now, is on matching global standards of management education. SIBMB instills a work culture which is unparalleled among various institutions. It provides a holistic approach to management which goes a long way in creating a dynamic identity. Vibrant student associations and committees complement the program with a number of activities involving institute-industry interaction.