How A Russian Retailer Uses Facial Recognition Software To Offer Customized Discounts – Strategy With RS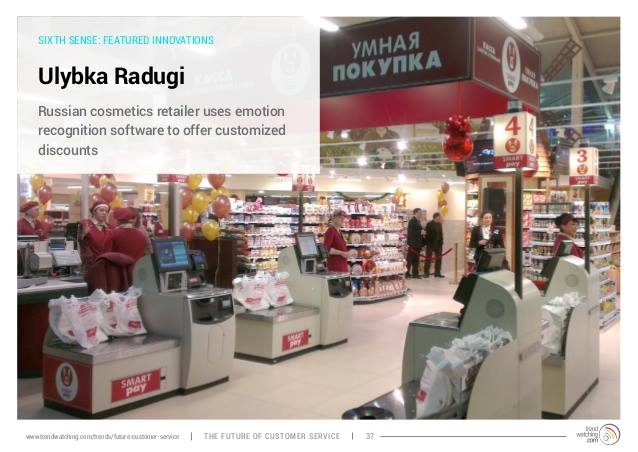 Shoppers, be warned! Retail stores are planning to install cameras & emotion – recognising software at the checkout counters to gauge your mood!
Is their any retail store implementing this strategy?
Ulybka Radugi, Russia's largest cosmetics chain store is implementing this strategy.
How will this strategy help Ulybka Radugi win customers loyalty?
Take the case of this woman shopper at the store. After she has completed her shopping, she is standing in the checkout queue waiting for her turn to pay.
The camera captures her image & the emotion – the recognising software 'recognises' that the woman is frowning!
The system will access the shopper's Loyalty Card data & will immediately come to know the products that she purchases frequently.
The data indicates that she purchases deodorant frequently.
The system will make a offer to her in real time – a deep discount on an 'aromatic' deodorant which will help her relax or any other product which can help her relax – relaxing body oil!
In addition, the system will prompt the check out counter to simply display a funny picture at the checkout screen or offer her extra loyalty points on the purchase she has made during this visit.
All initiatives designed to bring a smile on her face!
What is the strategy intent behind implementing this initiative?
To understand the mood of every shopper at the end of the shopping trip & make sure that every shopper departs from the store in a 'happy' mood.
What is the benefit for the store?
When the customers depart in a happy frame of mind from 'Ulybka Radugi', they carry with them pleasant memories about the store.
Next time when they want to shop, 'Ulybka Radugi' will come 'top of mind' for them & since pleasant memories are associated with 'Ulybka Radugi', shoppers will visit the store to relive these pleasant memories.
Is it creation of 'pleasant memories' lead to building customer loyalty? It would seem so!
Consumer insight: All humans are selfish. We want to relive our pleasant memories over & over again and with equal passion avoid any brand, which creates unpleasant memories.
Business Lesson for us: A successful brand creates pleasant memories in customer's mind. They do this by ensuring that every touch point in the customer's journey creates pleasant memories.
In this series, Rajesh Srivastava, Business Strategist and Visiting Faculty at IIM Indore gives you a regular dose of strategy case studies to help you think and keep you one step ahead as a professional as compared to your peers. Rajesh is an alumnus of IIM Bangalore and IIT Kanpur and has over 2 decades of experience in the FMCG industry. All previous Strategy with RS posts can be found here.