How To Become A Top Class Architect?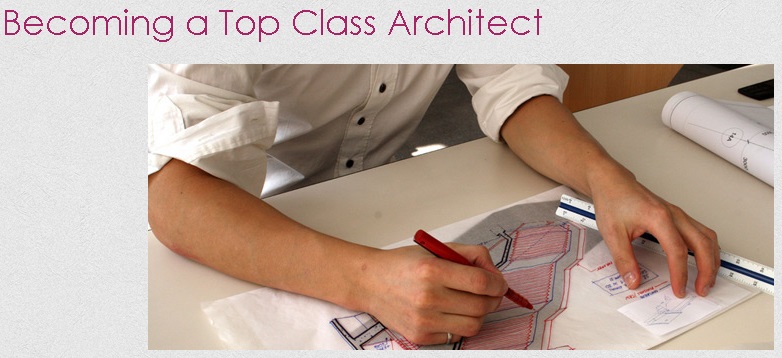 Architect designs and oversees the construction of homes, buildings, and other structures utilized as shelters. He should be educated and licensed professional who would be responsible for making sure about the functionality and safety of every project he undertakes.
Outline: In this article a detailed discussion has been made about how to make your place as a top class architect. It provides some guidelines about the architecture profession, the licensure and educational needs for turning into an architect and choices for a career in the field of architecture.
Knowing about the profession
Architecture needs something more than aptitude for basic carpentry or drawing. Architects remain involved in every aspect of the method of building a new structure, from communicating the plans to customers to look after the process of construction, conceiving the ideal for the design of the structure and making sure about satisfactory completion of the final structure. Architects should have the following skills and talents.
They should be creative
Architects take lots of initiatives for creating well-designed structures with original ideas which suit their surroundings and complement the purpose of their functioning. Each apparently simple structure you see was designed by an architect with hard effort for functionality and beauty.
They should be science minded
Architecture should possess knowledge about both science and art. More over in order to design structures with beauty and elegance, architects should know how the various components of a building function in combination to make a safe and sturdy environment. For this reason he should be well versed about physics and math.
Good communicators
Architects should share their vision about a structure effectively with the customer who would be constructing the same. They should be proficient in describing their ideas clearly, giving presentations and ensuring about client's satisfaction.
What sort of architect would you like to be?
Some of the architect jobs remain attached in firms and require overseeing projects from its beginning to end. Few of them utilize their skills and talents in various segments of the industry.
– Architects of landscape have a background in architecture as well as in plant sciences, and concentrates on how outside building spaces take a supporting role.
– Few architects mainly concentrate on design, ensuring about the plans of a structure is done according to the building codes and fulfill the demand of the client.
– Very often construction firms engage architects as managers of the project to look after the structures of the construction.
– Architects also look into certain sorts of structures like schools, top-security facilities or hospitals. They work on renovation of old buildings also.
When to discuss with architects
Since you would like to be an architect you should discuss with professional architects to know about the in detailed requirements for making a career in architecture. You should contact any architecture company in your locality and seek for informational interviews. You should also ask for recommendations about architecture program and other advices. You should also try to get an internship at any architecture firm or find a part-time job there in order to get a better idea about the profession.
Architecture majors
Universities and research colleges conduct architecture programs. You should attend these types of programs for getting adequate knowledge about architecture. Few schools provide five year programs which permit you to combine your master's and bachelor's degree not needing to join any separate programs. You should ensure that the program you select is recognized by the NAAB or National Architectural Accrediting Board. Math, environmental design, art and other requisite majors are suitable options also to guide you for making a career in architecture. You should simply ensure that you have undertaken the needed courses for applying in graduate programs.
Acquiring a degree from NAAB
In the event you did not complete a master's and bachelor's program of five year, you would require master's degree in architecture after getting your degree of undergraduate. There are many programs for modern design, innovation, and others about eco-friendly designs. Every state needs that prospective architects get an IDP prior to getting the license.
The programs are developed to offer exposure in the fields of design, pre-design, practice management and project management. Majority of these programs take nearly three years to finish. It is feasible also to start an IDP when you are enrolled in a school. These are more or less all the guidelines that you should follow while pursuing the aspiration of becoming a successful architect in life and prosper in your career competently and efficiently.