Day 1 of Radix…..HR Conclave at IIM Ranchi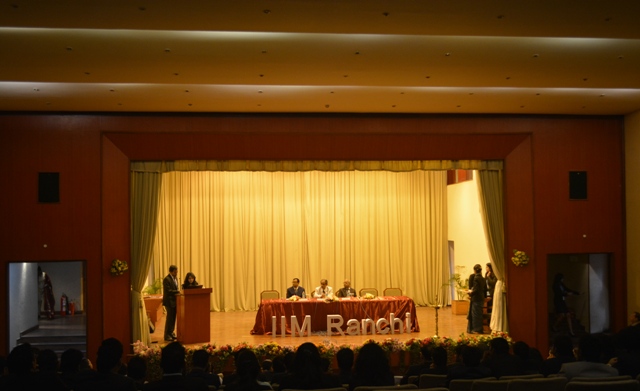 In this constantly evolving world, change is the only constant. With Change Management as its central theme, IIM Ranchi's HR Club, HIRE organized an HR conclave under Radix, the third management conclave at IIM Ranchi. The venue for the most awaited event of the year was CMPDI auditorium, Ranchi and the event was graced by several dignitaries and industry stalwarts with great amount of industry experience as Human Resource Managers, in different realms of HR. Health Freaks (an upcoming fitness centre in Ranchi), CMPDI (Chief Sponsor), Medha, UBI, MRT Signals Ltd., Crompton Greaves, Perfecto Electricals and Pandrol sponsored the event.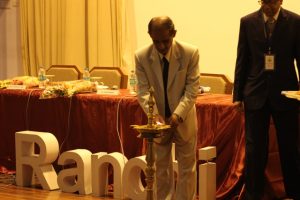 The event aptly commenced with the Saraswati Vandana sung by 1st year PGDM student, Ankita Thakur. This was followed by the Director, Anindya Sen, addressing the student, faculty and all the guest speakers at the conclave. Recalling his experiences, the director stated, "At one point in time, Human Resource Management was all about Industrial Relations". He further stated that since then, a lot of water has flown under the Ganges and HR has  evolved as a profession. "Companies today are competing against each other to attract and retain the best people on board". The Director then asked the dignitaries to enlighten the students with their wisdom and perspective on how HR managers play a key role in managing organizational change.
The CMD of CMPDI, Mr.  A.K. Debnath, the Chief Guest for the event, then took to the podium and expressed how upcoming managers and future leaders emerging from IIM Ranchi can make their presence felt in the industry. He stated that HR managers should be quite passionate about their jobs and do it with utmost passion and commitment.  "The real worth of a manager/professional is determined by his back-image (i.e. how other employees perceive him) in the organization". He advised the budding managers of tomorrow that they should drop their ego while dealing with subordinates at workplace because this will help them to further enhance their learning in an organizational set-up.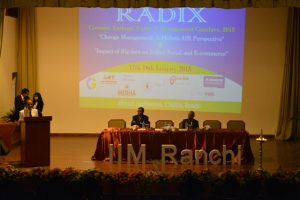 Mr. C. Duttagupta, HR manager at Mecon, also stated his views on how organizations manage change and what distinguishes ordinary employees from extra-ordinary employees in an organization. "The single trait which distinguishes ordinary and extra-ordinary employees is professionalism. It is this trait which makes employees more trustworthy and reliable". He further emphasized that for employees, it is not their aptitude but their attitude, which will determine their altitude or corporate stature in the years to come.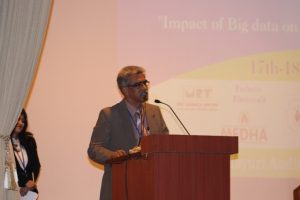 It was finally the turn of the key-note speaker, Dr. Hari Haran, a distinguished Management Consultant, to enlighten one and all with his wisdom. He talked how challenging the job of an HR manager is. He stated that "The most challenging part of an HR manager's job is to transform a human resource into a resourceful human. Human Resource managers are today also called as Business Partners, when they are actually essential parts of business".
The winners of "Outlook", the article writing competition sponsored by Health Freaks, also took to the podium to present their views on change management. The winners, Sumeha Kaushal and Sayantika Majumdar, talked about how some organizations "Un-manage Change" by constantly growing, upgrading, innovating and hence refuting the need for conscious and reactionary change management.  The first runners-up, Ronak Johari, shared his views on SMAC-king (SMAC is Social Mobile Analytical Cloud, i.e. the different platforms for recruitment).
The post-lunch session began with Mr. Subhanish Malhotra, expressing his views on Proactive HR and how HR has evolved from being a cost center to an investment center in organizations across the globe. Mr. Malhotra is the Chief HR Manager at Arvind Limited.
Mr. Subir Ghosh, DGM (HR) at Suzuki Motorcycles Pvt. Ltd. carried on the agenda forward, as the third guest speaker of the day. He spoke about his learning on change management while working with Tata Motors and currently, with Suzuki. He dwelled upon the Japanese work culture which revolves around the 5Ss –Smile, Sincere, Smart, Study and Speed. He emphasized that, "Speed is most important for managing change. It is all about survival of the fittest."
The last Guest speaker of the day was Mr. Kishore Chakraborti, VP (Consumer Insight), McCann Erickson. He voiced his views on how talent can be managed in a turbulent era. He emphatically stated that "HR is synonymous to Marketing. There is no separate thing such as Marketing."
A highly participative panel discussion involving all the guest speakers was the highlight of the event. Students enthusiastically posed several questions to all the eminent speakers that revolved around the current trends in HR.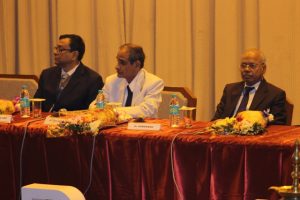 A fitting conclusion to the conclave came in the form of a Vote of Thanks delivered by Pragya Joshi, (Secretary-Student Council, IIM Ranchi) to all the dignitaries and eminent speakers at the conclave. Day one of Radix was highly engaging and enlightening for the entire student fraternity of IIM Ranchi; watch out for the coverage of Day 2 of the Management Conclave, organized by the Consulting club of IIM Ranchi, Conundrum with Big Data as its central theme.