'I Had To Stand Up For My Dream, As I Realised That My Dream Was Solely My Responsibility' – Nandhini N, IIM Trichy – Best30 – Class Of 2019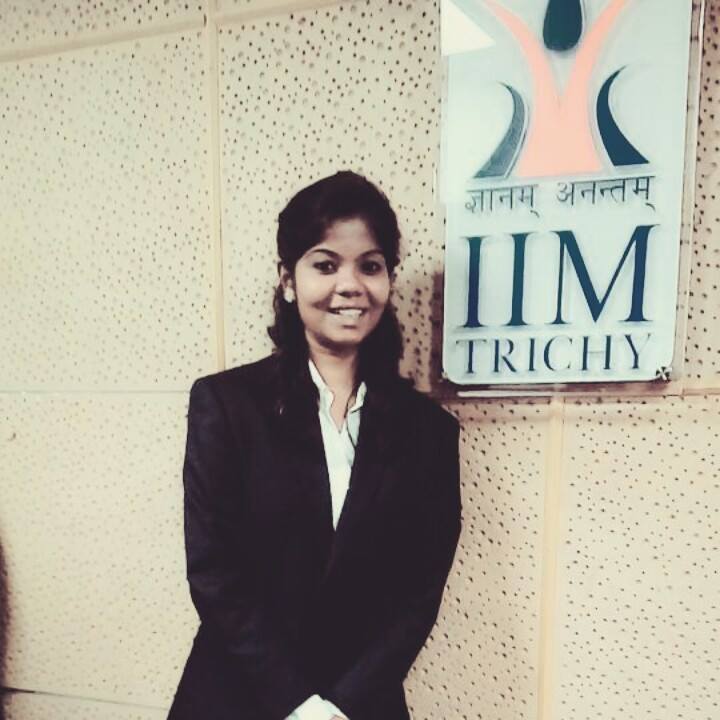 Nandhini N was born and brought up in Tuticorin, a southernmost district of Tamil Nadu. During her schooling, she was the Best Outgoing student of her batch. She did her engineering in College of Engineering, Guindy (CEG), Anna University in Chennai. She has been part of the National Social Service (NSS) in both school and college and has organized camps as part of the NSS activity.
She is currently pursuing her Post Graduate Diploma in Management at IIM Trichy. She is a person who strongly believes in the magic of transforming the world and that the power lies within ourselves. She is very enthusiastic about learning new things. She has displayed her astute leadership skills by holding many positions of responsibility in committees and clubs, both in her under graduation and post-graduation. During her time at Accenture, her sincerity and consistency in performance were evident from the fact that she received the Delivery Excellence Award thrice. She has a keen interest in the Strategy and Operations domains. Apart from academics, she loves travelling and visiting different places. She is an avid trekker. She loves dancing and is a trained Bharatanatyam classical dancer. As a part of the Indian Youth Delegation Program, she represented India and IIM Trichy in South Korea.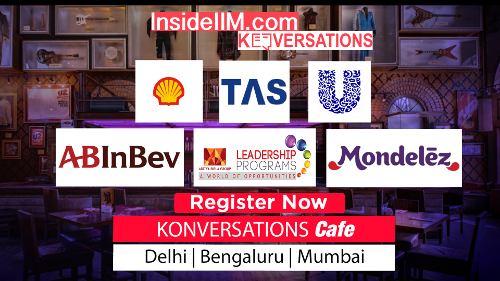 Name an instance where you wanted something and went out of your comfort zone to achieve it.
I always wanted to travel around the globe and visit different places, be it mountains, forests or beaches. This dream of mine saw its birth after I stepped into B-School. It's difficult to find avid travellers to join in for a trip, though, and I, being brought up in a conservative family, initially found it hard to travel with people I wasn't familiar with. But now, I have completely come out of my comfort zone, and travel to different places every month. I am a great lover of nature, and have a huge bucket list in my mind. I have already done quite a bit of trekking and camping. Among the entries on my list are trekking in the Himalayas, a trip through Europe, and a visit to Antarctica.
When was the last time someone relied on you? OR What did you do which was purely for someone else – a truly selfless act.
I firmly believe that when faced with the opportunity to help someone else, it is my duty to do so. No one would have forgotten the severe flooding that took place in the South Indian states in December 2015. I was working for Accenture in Chennai at the time. We had no power for a week, and my office was completely shut down. Though I was in a safe place, I was worried about the people suffering all over Chennai, confined to their terraces for days together without food. I called my undergraduate friend, who told me about plans to go into the field and help people who were stuck in the floods. I thought I should be a part of their team as well, rather than just helping by donating money. From the next day, we covered areas like Perungudi, Velachery, Saidapet and Adambakkam. Many youths across Chennai came forward to help along with us. That was really an inspiring moment for me.
Tell us about a time when you disagreed with an opinion/idea/decision. What did you do about it?
It's a general opinion among the families in South India that girls should get married by the time they turn 22 or 23 years old. I'm 26 now. It was not easy for me to convince my parents of my decision to pursue an MBA, and I faced many obstacles before I stepped into IIM Trichy. Even my preparations for CAT were done without the knowledge of my parents. I used to work 10-12 hours at office and then, back in my PG, used to prepare for CAT for another 4-6 hours. To convince my family and relatives was never an easy task. But I was determined in my decision and took a step ahead boldly to fight a lone battle. I understood that I had to stand up for my dream, and that realising my dream was solely my responsibility. I broke through every barrier that surrounded me, and am now proud to say that I am the first postgraduate in my family.
What is the one thing you can claim to have some level of expertise or depth of knowledge in – it could be anything – a subject, a sport, a hobby, a venture, an initiative which has led you to do deep work in that field?
Academically, I am very inclined towards the field of Strategy. While I wouldn't say that I have a true depth of knowledge about the subject (as they say, "The known is a drop, and the unknown, an ocean"), I have done my best to develop a proficiency in the area, being one of the few people in my batch to take up a major in Strategy. There is a popular saying – "Every minute you spend in planning saves 10 in execution" – and I have a deep faith in this, having learnt as much through my own experiences. Strategy is about the intentional, informed and integrated choices that we make to achieve our goals, whatever they may be. I, as a person, believe and stand for long-term sustainability rather than success that lasts for a brief period of time, and strategic planning – taking into account a firm's resources, capabilities, external environment, and much more – is often the base upon which such sustainable success is built.
If 10 Million Dollars (approximately INR 75 Crores) is given to you to use it any way you deem fit what would you do with this corpus?
I come from Tuticorin, a coastal city in the southern part of Tamil Nadu. A port city that lies on the Coromandel Coast along the Bay of Bengal, it is one of the fastest growing ports in India. It is a developing industrial agglomeration, often termed as the "Emerging Energy and Industrial hub of South India". But even after having so much industrialisation and development around, youths from the city and its suburbs often end up taking blue collar jobs in the factories or get employed in lower level service sector roles (including government). They hardly get into management roles or end up being entrepreneurs – the employment providers. It is very rare to find a small company or even a startup being run by locals, especially the new generation. It is in complete contrast to the imaginative, creative and innovative minds of the youth culture of ours. So, considering the above, I would invest 50 crores of the corpus in starting an MBA college in Tuticorin, providing a great pedagogy with highly motivated and skilled teachers and supporting staff complimenting excellent infrastructure facilities. This would help future generations take up more management careers and cultivate entrepreneurial spirits, thus addressing the deficit at present. Another 20 crores will be a corpus for investments in attractive futuristic business ideas being floated in and around Tuticorin. The remaining 5 crores will be used as a scholarship fund to help the brilliant minds from the poorest backgrounds to attain their dreams. I would hope that, with my contributions, I could help accelerate Tuticorin along its path towards a better tomorrow.