'I Got Excited About MYRA After Visiting The Campus' – Brindha R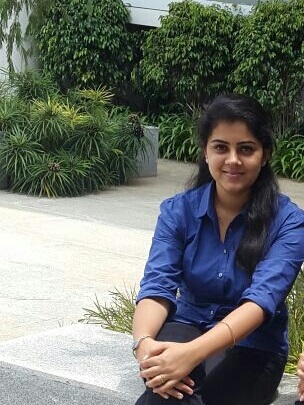 Welcome to the first part of our series MYRACLES – We are featuring some of the brightest minds at MYRA School of Business, Mysore. Today we meet Brindha who interned at a MNC which is a manufacturing company – quite an unconventional and brave choice.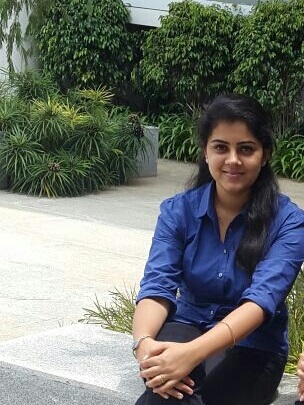 Tell us something about your academic journey from Engineering to PGDM at MYRA?
Towards the end of my engineering is when I decided to take up MBA and started my preparation for the entrance exams. Getting confused with a lot of options is something that usually happens while getting into an institution for education. Being from an engineering background I had no clue of what to do and how to do. Finally when I was about to join another B-School I came to know about MYRA. Last minute Skype interview, visit to the campus and in a week's time decided to join MYRA
Was MBA always a part of your academic plans? How did MYRA happen to you?
MBA was a part of my plan from the 3rd year of my engineering. But the preparation for it was only for about 3 months. MYRA happened to me in the last minute when one colleague of my dad who is an MBA graduate had heard about MYRA in an educational fair that happened at Mysore. He suggested me to apply for MYRA and I got excited about MYRA after visiting the campus. I finally decided to join and stepped into MYRA.
Tell us something about your summer internship experience at Modine Thermal Systems and global insights you got know about the Thermal Management Technology industry.
Being a fresher, internship was something I was really curious and interested about. I got an opportunity to intern at Modine Thermal Systems which is located in Sriperumbudur (Near Chennai).
Modine Thermal Systems is an MNC that manufactures radiators/cooling systems for automobiles. On the 1st day of my internship I was given the opportunity of visiting the entire shop-floor guided by one of the staff who explained to me in detail the process of making it. On the whole I got an overview of what the product is and how is it manufactured. They also had a very interesting methodology where the exhaust from the vehicle was again fed back into the engine as fuel through a specific process. If fuel, engine and wheels are important for a vehicle, the cooling system is also equally important without which the vehicle will collapse. That was the importance of thermal management in automobiles.
I was the only MBA student to be interning during that period in the marketing&sales department.  It was an added advantage because I was given the liberty of asking questions to the manager whenever I had one. I had to do a secondary market research about the tractor and earth moving equipment industry for the past 10 years. My manager was very helpful and supportive in making me understand the work that  I had to do. Importance of  Punctuality, data analysis , ability to manage multiple tasks and code of conduct in the office are the major take away from my internship.
What do you like most about MYRA?
The first thing I like about MYRA is the quality of the Global faculty who come from other international universities to teach us. Immersion based model is followed here , where we study a course in depth for entire 2 weeks which helps us to concentrate and understand the concepts well. Apart from academics a lot of extra-curricular activities are also encouraging us to take initiative in learning new things and experiencing new situations. A lot of clubs like Rotaract club, Toastmasters International and many other clubs within the college like MYRA Debate society, MYRA cultural club, Quiz club, etc.The Toastmasters International helps us to improve ourselves in terms of public speaking. The MYRAGO fest that we conducted in the early 2015  gave us a lot of exposure & learning.Academics and extra-curricular activities are the best things that I like about MYRA.
Do you think being fresher has any disadvantage during summer placements?
Absolutely not.The summer placements is all about how you perform in the interview.Some companies do hire only experienced students because of the project  &  job description.
Any message for your juniors at MYRA.
MYRA is a good platform where you get to learn from global faculty, participate in international student exchange programs in universities such as UWB, Lisbon & Arizona. Good interaction between classmates who have work experiences in various fields, Well defined industry association, Insight talks & workshops by experts from top notch industries and  Good companies visiting for placements. It is a very conducive environment to learning, so try to utilize  the opportunity and excel  to achieve your dreams.
This is a Promoted Feature Story.