'If You Only Do What You Can Do, You'll Never Be More Than You Are' – Sidharth Radhakrishnan – Best50 – Class Of 2017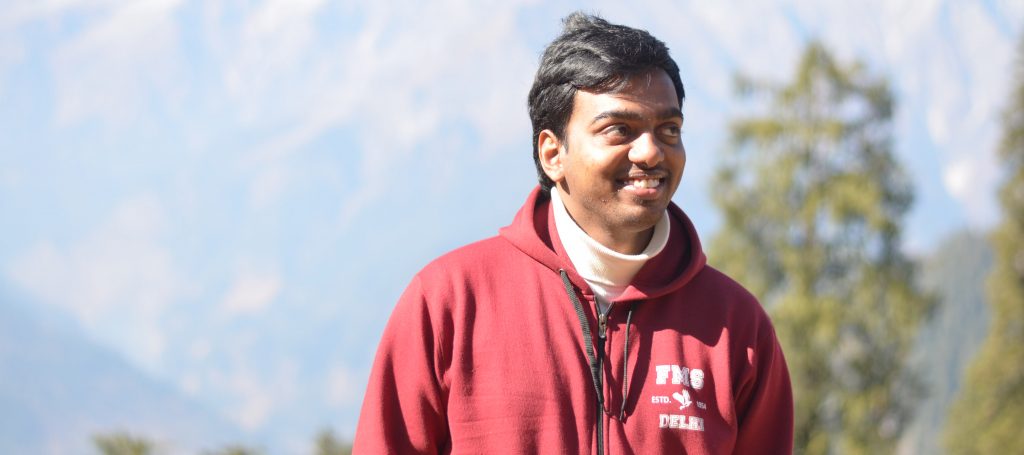 About me:
Born to government-bank-employee parents, I spent the majority of my childhood in various parts of the country, making friends in the schools I joined, only to be relocated to another school in another city within 3 years. Looking back, I am grateful for the way my childhood panned, as it helped me develop sensitivity to various cultures, and made me a better person than I could have ever hoped to become. Also, as a result of the frequent re-locations, I had the opportunity to meet the late former President of India, Dr. A.P.J Abdul Kalam at the Rashtrapathi Bhavan in 2002. As a 10-year old boy, who did not know how important the position of the President is, I did not know how to behave when I met him (in fact, till a few days before I met Dr. Kalam, I was under the impression that Mr. K R Narayanan was the President, as that was what I had been taught in school). Though I have a faint memory of the day, I still remember the humility with which he treated us, and with nothing more than a smile, put me at ease; I was one of the millions of people whose heart he touched during his lifetime, and I believe that his habit of treating everyone – however big or small – with great respect and utmost love are what made him the person we all adore, and one quality I have always tried to incorporate into my character.
During my later stages of schooling, at SBIOA Model MHSS, Chennai, I had the opportunity to learn from some of the best teachers, teachers who had the affection to push me to learn much more than what the curriculum had to offer, and more importantly, imbibed the spirit of hard-work and the drive to experiment in me. It is also during this period that I met my best friends, friends who I can depend on to help me out in any situation, come whatever may.
Post school, I opted for an engineering degree in Mechanical Engineering at RMK Engineering College, where, as the lead organiser of Impulse'14, our department's National level technical symposium, I lead a team of 70+ students, and personally undertook the website design and social media marketing for the event. I joined the Entrepreneurship-cell at my college when it was in its nascent stages, and the tenure helped me hone my entrepreneurial skills, and imbibed in me the importance of managerial skills for a successful career. During this period, I also undertook various online courses on platforms like Edx and Coursera on multiple management topics that I considered interesting, which further developed my interest in an MBA program.
After my engineering, I chose to join FMS Delhi, and will soon be an MBA graduate majoring in Marketing and HR, the two streams that I found my interest in during MBA. Here, I met some of the most wonderful people I've met in my life – the highly-qualified faculty and the administrative staff, the two sets of people who always have our best interests in their minds, and of course, the seniors, juniors and my fellow batch-mates – over 650 people I could only describe in one word – friends. Friends who cut your name short from "Sidharth Radhakrishnan" to "Radha"; friends who forget your birthday, but still beat you up when they do remember it half an hour later; friends who are too lazy to wake up before 11 AM, but would work through the night along with you to make a 'pookalam' for Onam celebration; friends who worry about your well-being more than you do – the kind of friends that very few have the fortune of having in their lives.
The most memorable part of my FMS life was the responsibilities I undertook as an Executive member of Vihaan, the social service cell of FMS. I was part of the team that organised Gram Darshan, the first ever rural outbound learning program for the incoming batch at FMS, which we conducted on July 6th with the support of our Dean, MSA advisor, faculty and batch-mates, in association with the UP government and RB (Reckitt-Benckiser). We also worked on many other first-time initiatives, such as a structured winter internship program (Social service sector), ensuring zero paper wastage in placement process (160 kgs recycled) etc., and building on existing initiatives like organizing cleanliness & orderliness drive, cloth donation drives, blood collection drive in association with Novartis, National Thalassemia Welfare Society and RedDrop365 etc.
At FMS, I also got the opportunity to work on a live business development project for Pidilite Industries, on a market expansion and re-mapping project. I also had the opportunity to work on a social media marketing project for CoHo, to develop the brand equity of the company in the minds of the target customers, thereby generating traction for the company leading to user adoption. As part of my summer internship with Perfetti van Melle, I helped the company improve the wholesale channel and develop the wholesaler loyalty program to further enhance the company's standing with the wholesalers, and thus drive value for the company. I worked across 6 cities (Bangalore, Mysore, Chennai, Coimbatore, Vijayawada & Hyderabad) during the internship period and met with over 550 wholesalers during this period to garner insights to further improve the loyalty program and make suitable changes to the distribution system. The internship period helped me to boost my technical knowledge about sales and distribution and also helped me in developing my softer skills as a result of the interactions I had with people across various levels of the hierarchy.
I have enriched my learning and tried to be ready for a corporate life through my performances in various corporate competitions, and was the National Finalist for HCL Ace Challenge (flagship B-school competition of HCL Technologies), Campus Finalist for TATA Steel-a-thon (where my team worked on a social media marketing strategy for TATA Steel) and Campus Winner for Aviva Campus to Corporate quiz, where I was awarded a PPI for summer placements.
What is the biggest risk that you have taken so far and why?
The biggest risk I have taken would have to be the Gram Darshan event, since I was not only taking a personal risk but had to shoulder the responsibility of safety and well-being of nearly 200 students in the peak summer of Delhi/NCR, in the rural villages where the event would take place. The fact that we have never had a program of this complexity executed at the student level, combined with the various possibilities of things going wrong made it a truly daunting task. We still chose to work on the initiative, as we believed that the experience would help build qualities like endurance, teamwork, leadership & resource management in the students, but more importantly, sensitize them to the lives of the lesser privileged, and instill the seeds of social responsibility in them – the future leaders of the country.
Our team made a detailed plan of the event, and we listed down all the possible problems we might face, and brainstormed on the same – the whole process, from planning to execution, took us more than 2 months as we wanted to ensure that the event goes on smoothly. For the event, we got in touch with the BDO of Bulandshahr (IAS Officer) to conduct the program in her district, and made a strong pitch to her regarding the benefits that the concerned villages would gain from the event (we included events such as nukkad natak on social causes, village development plans etc. as part of the program). She was enthused by the idea, and agreed to arrange for the necessary permissions and safety mechanisms necessary for smooth functioning of the event, and got us in touch with various representatives from each village. We also received immense support from our Dean and faculty members, and their blessings for a successful and error-free execution of the event. The event also would not have been such a big success without RB (Reckitt-Benckiser), for they not only sponsored the whole event but also provided us with immense support and mentorship for the event.
If you had a magic wand, what is the one problem in India that you would magically wish away? Explain why.
Lack of affordable and quality education to one and all is a problem that is prevalent in all countries across the globe – some more so than others. India has taken a step towards improving the situation with the RTE bill, but the execution of the bill still has a lot of scope for improvement, and even then, the real impact will take years to occur.
A well-educated population (in terms of skills, knowledge, culture and morals) would not only help India on the path to become a superpower but also indirectly alleviate many other major problems plaguing the country, such as communalism, apathy, malnourishment, corruption, public littering, open defecation etc. All these problems can be attributed at some level or the other to a lack of education, and are likely to magically disappear if the entire population is well-educated. Hence, if I had a magic wand to wish away one problem in India, it would be the problem of lack of quality education for everyone.
India does not have 1 hospital bed per 1000 persons. It is much below WHO's average of 5. If you were the prime minister of the country, how would you solve this problem?
The Indian government has been, inarguably, under-funding the health sector over the decades. The government expenditure on healthcare this year will be only approx. 1.3% of GDP, much lower than the global average of approx. 6%. Even if the budget allocated for healthcare spending is increased by 15% every year, it would take us more than 20 years to reach the global average present today (the calculation is assuming GDP growth rate of 7%).
If the WHO's prescribed standard is taken as the target, then it is important to understand that a 200-fold increase in capacity cannot be produced unless major investments are made by the government in the health sector. A 10-year target should be set to build a hospital in every village with a population of over 1000, and a hospital within a 5 km radius for the smaller villages. At the same time, we also have to ensure that enough doctors are trained to man these hospitals. The increased expenditure obviously comes at a cost, and can ideally be covered by a health-care cess on luxury goods and services, and/or a sin tax on products like tobacco, alcohol etc.