IIFT – A Part Of Me!
It was a sunny day interspersed with occasional summer breezes that I stepped into Indian Institute of Foreign Trade on a Sunday afternoon. I was greeted at the gate by an amiable security guard who was more than willing to direct me towards the C9 hostel as I had literally no clue as to the locationality of the allotted hostel facility. In that brief moment of inquisition I took a whiff of the aesthetics of the main block and surroundings, the angel of wisdom caught my eye because of its inadvertent amalgamation of perplexity and coherence it projected against the backdrop of the surroundings, it seemed to be aspiring to take flight and wistfully I thought maybe this portends my own aspirational philosophy. However, with a sense of objectivity, I slung my backpack and seated myself in the cab.
C9 hostel is a blissful haven of existence tucked away two lanes from the main campus against a backdrop of fluid quietude. Faced with an experience unlike any other I was somewhat apprehensive and afraid, not of the immanent factors rather of the people with whom this journey would be undertaken. Quite fortuitously this notion of mine was shunned out following a string of frank and jovial interaction with my floormates as in the days to come would colloquially be termed as 'roomies' and 'loomies'. The very next day was a hustle of activities characteristic of a typical induction day schedule of an educational institution. Laughs were elicited, experiences shared and a collective fear of what was to follow was embraced with people with whom I had no previous acquaintance. The day was diluted to such an extent that literally I had no time to indulge upon inconsequential introspection. The following week was a habituation program orchestrated by our senior batch for us to flush out the notions of accustomed practices and embrace the true manifestation of an IIFTian in every possible sense. The distinctive aspect that I discerned from the senior batch was that everyone knew everyone and inadvertently and unknowingly you are made to be a part of something that is larger than life yet at the same time shapes you along the way to the point it becomes a part of you.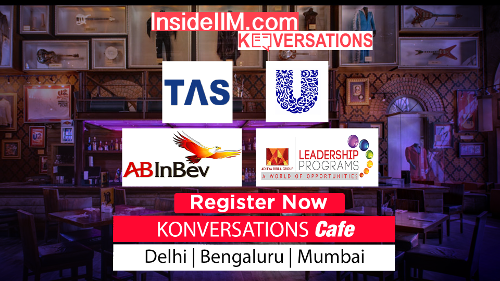 When the events of the week played out in my head, gradually granules of the IIFT culture started assuming form. For me this culture stands as paragon of self-discovery, mutual growth and most importantly realizing that each student is not merely a student rather they are the medium of value addition IIFT envisions to impart to the global community. This singular entity of rationale has since assumed a factor of significance in all my pursuits empirically augmenting my value system. To sum it all up, I am as much a part of IIFT as IIFT is a part of me.
——————————————————————————————————————————————————————-
ABG Company:
The inspiring legacy of Aditya Birla Group stimulates an ambition in an aspiring manager to be part of it. Construing from the present landscape of non-performing assets and role of asset reconstruction companies in expediting the process of unlocking hindered potential of a versatile asset class possesses a substantial value proposition to the growth story of India and is critical in mapping out the industrial progression in the coming years. Henceforth, a role in Aditya Birla Asset Reconstruction Company Limited is pertinently suited to my interest in adding value to the operationability of the company and simultaneous acquisition of a niche professional experience.