Born and bought up in West Delhi, Parth brings on a serene demeanor to the table. He graduated as a Bachelor of Technology in Electronics and Communication Engineering in the year 2016 from Delhi Technological University (erstwhile Delhi College of Engineering). He also worked as an Associate with Axtria India Pvt. Ltd. in the field of data analytics for one of the top 20 U.S. based pharmaceutical clients in Incentive Compensation domain.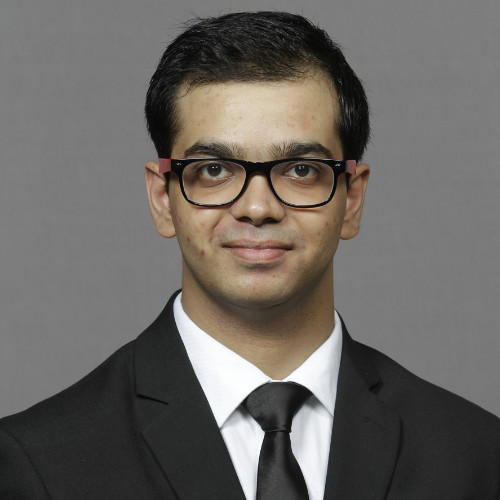 What was your IIFT 2018 overall and sectional percentile? Apart from IIFT, which other entrances you appeared for and what were your scores?
Overall Percentile: 99.98. Apart from IIFT, I appeared for CAT and scored 97.96 percentile.
What was your preparation strategy? Please share section-wise strategy in detail.
The basic idea behind preparation was to gauge the areas where I was weak in so that I could start working on those in time and target the right topics. My section-wise strategy was as follows:
Quantitative Ability: Practise questions from geometry, number system, mixtures and allegations
Logical Reasoning: It comes with practice and only practice. I attempted 5 sets (4-6 questions in each set) of questions daily to improve efficiency
Data Interpretation: Choose questions wisely. Practice is the key here. I attempted 5 sets (4-6 questions in each set) of questions daily to improve calculations and timed myself every time to gauge progress
Verbal Ability: Read novels and newspaper(s) extensively and maintained a diary to note down the meaning of new words
Reading Comprehension: Read novels and newspaper(s) extensively
General Knowledge: Read The Hindu and Competition Success Review and kept noting down important pieces of news and information for quick revision before the exam
How did you prepare – Self-study or Coaching? Please explain which one do you think is better?
A mix of both. I had taken coaching during my college days in 3rd year from Tathagat. I also enrolled for TIME test series which helped me practice well before the exam. But apart from this, self-study was the key to my success. One has to devote time to study the topics beyond practice questions and study material which helps in the long run. Since I was working in a data analytics firm, I studied by myself along with taking mock tests from TIME.
When did you start preparing for IIFT? Please share in detail your month-wise preparation strategy for IIFT in terms of 6 months, 3 months, 2 months, 1 month and last-minute strategy you followed.
I started attempting mock tests 6 months before competitive exams. This is where I started oiling my machine to get into the exam mode. 3 months before the exam, I started attempting more sectional and mock tests. Analyzing and studying specific topics was the key. Picking up on the momentum gained earlier, I started targeting specific sections to ensure speed and efficiency, 2 months before the exam. 1 month before the exam, I continued with the same vigour to ensure that I do not become complacent before the D-day. The last-minute strategy was all about maintaining calm and composure and not fret over the failures during preparation time.
How did you balance your preparation with studies or job? Please share your timetable. (if relevant/applicable)
The balancing act between preparation and job is a tricky one. There could be days when you run out of fuel after work and are not able to study. This is where time management comes into play. One has to ensure taking time out daily, no matter how little it may be, to practice and analyze the performance. Weekends are when I had all the time to devote to take tests and review my performance. I attempted 2-3 mock tests on weekends and then went about practicing questions from relevant topics where I could not perform well during mock tests. On weekdays, I took 1-hour sectional tests to be better prepared for 3 hour long mock tests on weekends.
What was the one thing that you did consistently during your preparation? Or what do you think one should do consistently during the preparation of IIFT? According to you, what is the most important aspect of preparation?
There was no day that I did not give a mock test. Depending on the paucity of time on days of work, I used to attempt 30 minutes or 1 hour long sectional tests to keep in touch so as to not falter when the big occasion arrives. But, it did not stop there. Analysis and re-working on concepts were necessary to ensure that I do not falter again on my weaknesses. On must consistently practice, analyze and practice again while preparing for IIFT entrance examination. The most important aspect of preparation is time management. Attempt a fair number of questions within the stipulated time and post the analysis of your performance, try managing to improve your performance in every outing thereafter.
What are the best study materials for IIFT or other exams? Please name some books, or other study materials (even newspaper/magazines) and online materials you had referred to during preparation. In terms of online or offline materials, which one did you prefer and why?
Since I attended classes at Tathagat, I referred to their modules during preparation. Also, I referred to online material available on TIME website. I subscribed to Hitbullseye channel on YouTube to strengthen my concepts. I religiously read The Hindu and Competition Success Review to improve my vocabulary, reading speed and keep abreast of the latest news. I preferred both offline and online materials to study. One must start with offline material and then switch to online material to practice and explore more. Offline resources are not exhaustive but necessary to kickstart your preparations, while online resources are exhaustive and one needs to wisely choose the reading material while learning from authentic online resources.
When did you start taking mock test and what was the frequency? How did you get it analyzed and integrate it into your preparation?
I started taking mock tests starting in June 2017. Initially, I attempted 1 test on weekends but gradually and steadily started attempting as many as 3 tests on weekends. Apart from this, I also attempted sectional tests on weekdays that kept me in good stead before the 3 hour long mock tests on weekends. Analysis forms a major part of your preparation. I used to run through every question again after attempting a test even though those I got right. It is essential to know if there are alternative methods of attempting the same question which could save you time when you take the final exam. Post the analysis, I practiced questions from areas where I committed mistakes or could not cover earlier during my preparations. This helped me keep a track of the topics I had covered and not studied before.
What is the difference between IIFT and other management entrance exams such as CAT or XAT? (if applicable)
IIFT is different from CAT in a way that it has a lot many questions to attempt within 2.5 hours. Apart from the fact that CAT does not focus on general knowledge, it is an online exam compared to IIFT's offline exam mode. In IIFT exam, verbal ability and reading comprehension sections are separate and have separate cut-offs while CAT exam clubs the two sections giving the final sectional cut-off. Similar is the case with logical reasoning and data interpretation.
On the other hand, XAT has started with online exam starting 2017 itself and was an offline exam before 2017. It has a similar outlook as that of IIFT but the general knowledge section is not evaluative in XAT. It is considered only in the final selection post the interview if two candidates are tied on same scores. In IIFT, general knowledge section is evaluative and has a cut-off to be cleared to be considered for interview stages that follow.
How one with non-English background should prepare him/herself for the exam as the mode of the exam is only English?
Read The Hindu and novels of interest to improve reading skills and vocabulary. Reading The Hindu serves twin purpose of improving reading skills and staying abreast of the latest news.
What was your exam day strategy in terms of question selection, time management, accuracy, and sectional attempts/cutoffs?
On exam day, I started with the logical reasoning section and attempted question sets that were comprehensible to understand. Thereafter, I attempted quantitative ability section and devoted no more than a minute in solving each question. If a question could not be solved within a minute, I moved ahead to not waste time on them. I attempted a general knowledge section post the quantitative ability section. I attempted a fair amount of questions, roughly 8 out of 11 in line with the previous years' cut-off. Ruling out options comes in handy while attempting general knowledge section. I attempted verbal ability section within 15 minutes to save myself ample time for reading comprehension, wherein, I attempted 3 out of 4 passages which were more than enough to clear any cut-off. I attempted the data interpretation section in the end and ensured that I attempted it with accuracy within the remaining 20 minutes of the exam. Time management is the key. Attempting all sections is sacrosanct. Cut-offs are not known beforehand and do not try gauging during the course of the examination.
Preparing for IIFT or any entrance exam is a long and tiring process. How do you suggest one should keep his/her calm and confidence?
Consistently practicing and attempting mock tests is the key to success for cracking any entrance exam. One must religiously follow a schedule to not let things get out of control at the last moment. One must also engage in other recreational activities to not let oneself immerse in the boredom of studying daily. Follow your hobbies and do not let studies take a toll on your health. Keep yourself away from any distraction such as social media platform that could come in your way to successfully crack a prestigious exam like IIFT. The frequency of taking tests in the last couple of months before the exam must increase but steadily to avoid burnout in the last leg of your preparations. One should keep his/her calm and confidence by engaging in recreational activities and watching favourite movies and sitcoms to ease the burden. Do not overthink and everything would eventually fall into place.
What is your message for IIFT 2019 aspirants?
Focus on preparation, not the end result. Practice daily and try maintaining a proper study schedule. Identify your pain areas and consistently work on them to strengthen your concepts. IIFT or any other competitive examination is not the end of the road. Do not get disheartened by any failure. Work harder to overcome obstacles and the fear of failure. I wish all the aspirants good luck for IIFT and other exams. Hope to see you next year. All the best!