IIM Ahmedabad Interview Experience – Rajat Jain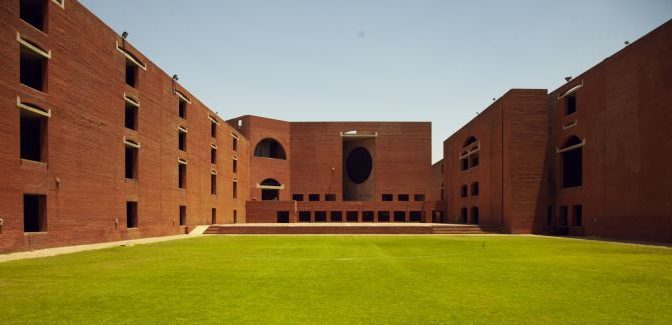 Location: – Taj, Chandigarh. 6 – Mar – 2016
The panel consisted of 2 members, P1 – Female; P2 – Male.
P1 opens the door and calls me inside. I greeted her with a good morning, went inside, greeted P2, was asked to take the seat.
P1: – So, Rajat, you have mentioned in your form that you came third in case study competition. What was that?
Me: – Yes, ma'am, I, in a team of four participated in a case study competition organised by ALD Automotive, a car leasing company based in France. The problem statement was "how ALD can add value to its clients, drivers?" and it was an online competition where over 150 teams participated in the first round and finally three teams were invited to France for Final rounds in front of the jury. We proposed a personalised application based service for the company to make stronger relationships.
P1: – Ok, so, what was the idea of the team that came first?
Me: – (I had no clue, but had to say something). Ma'am their idea was also an application based service but because they had a coder in the team they were able to provide with a prototype, hence the first position. (I still don't know how she bought that).
P1: – And the idea of the team that came second?
Me: – (I didn't even attend their presentation) Ma'am their idea entailed to targeting the individual customers also and not just corporates, we also thought that but dropped the idea as it was not the core business of the company.
P1: – So, what was your learning experience from all this?
Me: – (poker-faced). (wanted to say, I went to France on an all paid vacation for doing nothing). From the very first instance where we needed to collaborate online, as we were living in Kerala, Karnataka, Noida and Delhi (4 members), holding skype sessions, working online, to presenting in front of over 100 people in a foreign country were learning experiences.
Also, analysing the case, the problem statement, learning about the company, its functioning, then coming up with an innovative solution was a learning experience.
P1: – You generation is used to working online and collaborating, how was that a learning experience? If someone my age works online and says it was a learning experience then it might be ok, but you guys are used to it?
Me: – No ma'am, even we prefer to work directly and not online, so it not at all common.
P1: – What is your hobby? What do you like to do in free time?
Me: – Ma'am I like to solve sudoku puzzles and read classical detective fiction, I have completed sherlock holmes and read 7 Agatha Christie novels.
P2: – So, you are into classical stuff, not something of the present times. What was the last novel you read?
Me: – Yes sir. I find them enticing. I read "And Then There Were None" by Agatha Christie last in December.
P2: – I don't understand why don't you guys want to become an engineer after pursuing Engg. from IIT Delhi. OK, name 4 Civil Engineering companies.
Me: – L&T, Shapoorji Pallonji, Afcons, HCC.
P2: – Do people not go into Civil Engineering from your college?
Me: – Sir, of the batch of 100 students, 60 appeared for placements, and only 1 person went to core civil engineering company. In fact, only 2 core companies were there on campus for placements and 1 of them only considered M.Tech. profiles.
P2: – (seemingly surprised) What do you want to do after graduation in management?
Me: – (gave a very clear cut response) Sir, I want to enter strategy consulting. The reason being that I enjoy solving problems, and identifying the root cause of an issue. For instance, the case study competition and also at my internship with JSW Steel, we identified major issues with the working of the organization… (ventured into detail, can't be shared on a public forum), and most importantly, we realized that the problem was not just because of the reason as was initially assumed but actually because of a much deeper issue.. sir, I enjoy solving such problems.. (V. Imp. question cracked)
P2: – Rajat, I am sure you must have been placed by now?
Me: – Yes sir, I have been placed at Inshorts, a news based start-up based in Noida. The company has an application which provides only fact news in 60 words. My role would be management associate in marketing, basically drafting strategies to attract new customer base and generate revenue from the app.
P2: – Do you think that providing only facts in news and that too in 60 words will be a substitute to proper news articles and opinions?
Me: – No sir, it can definitely be not. It is for the people who want to read the only facts and get the gist of it without going into detail as they can form their own opinion. Moreover, sir, we provide a link at the bottom to read the full news article.
P2: – Ok, Rajat, so give me an example of a fact based news in India.
Me: – (after thinking for 30 seconds) Sir, in the railway budget it was announced that ₹1,00,000 crore will be granted as a soft loan from LIC to railways for their infrastructure project over the next 5 years. ( I think this fact was a game changer)
P2: – But how a news like this makes sense to someone using your app?
Me: – Sir, we will not provide this news in isolation but it will be a part of Railway budget highlights. For instance, the whole piece could read: "₹1,00,000 crore will be granted as a soft loan from LIC to railways for their infrastructure project over the next 5 years. No new trains announced. Mumbai – Ahmedabad to be connected by Bullet Train. … " (I had prepared the budget really well)
P2: – But you took an easy topic, take some other topic.
Me: – Ok sir, I will take Union Budget.
P2: – (Interrupts) No, no, don't take a fact based topic, take an opinion based article and tell me how it will be expressed in facts?
Me: – Ok sir, I will take the recent JNU controversy, I suppose it is a fairly opinion piece. (P2 nodded) The news will be like: "JNU Student Union leader Kanhaiya Kumar arrested on the charges of sedition for allegedly raising anti-India slogans at a rally in the university. Hearing on <date> in <court name>.. (told them 2 more points, both facts, don't remember now), also we will provide a link at the bottom for further reading.
P2 looks satisfied.
The End.
Verdict: – Converted.

Note: – The panel doesn't know your percentile, and won't ask for it.
————
About Rajat:
Rajat Jain has done his graduation from IIT Delhi. After scoring 100%ile in CAT 2015, he converted the call from IIM Ahmedabad and is currently a part of IIM A 2016-18 batch.