Final Placements : IIM Bangalore – Class of 2012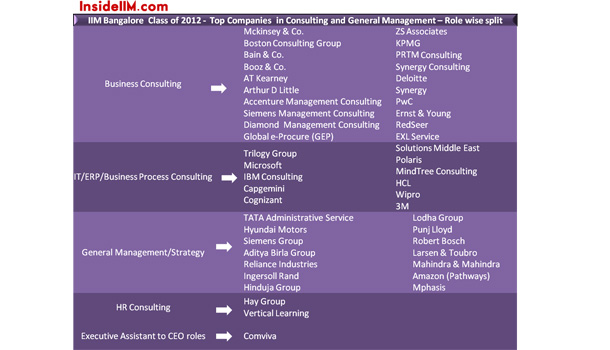 We are happy to share the 2nd placement report  in our series (after XLRI Jamshedpur) and the first among the IIMs – IIM Bangalore for the Class of 2012.
And the verdict is that it will be tough to match the opportunities available at an institution like IIM Bangalore not only in India but in the continent. It is unlikely any other institutes apart IIM Ahmedabad or IIM Calcutta will be able to do so. While this is not something unusual, you shall see that (if we are able to get information from placement cells of all institutions) that the gulf between IIM ABC and other top schools in India is still very wide.
IIM Bangalore's placement report :
Points to Note:
– The list of companies mentioned below is indicative and not exhaustive. Names of some big firms/first time recruiters have been purposely withheld owing to NDA with such recruiters.
–  Only those companies which rolled out offers have been mentioned here. Participating companies which did not make any offers have been excluded
– The list of companies below includes those who have give out Pre-Placement Offers and some of them may not have visited the campus for Finals
– Front-end Markets has been clubbed with Front-end Investment Banking as IIM B classifies such jobs as front end and middle office/back end jobs. IIM B does not maintain a separate classification in terms of IBD/Corporate Advisory/Markets/FICC etc. – as told by IIM Bangalore Placement Committee
Highlights of 2012 Final Placements at IIMB:
1) Swiss Investment Bank, UBS, recruited exclusively from IIMB during Final Placements 2012 offering Equities Derivative Trading profile based out of Hong Kong
2) Private Equity giant Blackstone continued to recruit exclusively from IIMB among all Asian B-Schools for their London Desk.
3) Arthur D'Little recruited exclusively from IIMB for its Dubai location. Some of the other management consulting firms that recruited exclusively from IIMB include Siemens Management Consulting, Z S Associates, PRTM Consulting
4) Hyundai Motors, fifth largest automobile manufacturer worldwide, recruited exclusively from IIMB among all Indian B-Schools for position based out of Seoul – their headoffice. Infact, as part of it recruitment strategy, Hyundai recruited from one campus each among BRIC countries. The role on offer was their prestigious 'Bluewave Leadership Programme' – their global leadership programme
5) A Trilogy group company made exclusive offers at IIMB offering 'Ideation Lead' profile based out of Dubai. This position was created specially for IIMB students based on the students performance during the selection process.
6) Siemens group offered their global leadership programme role exclusively at IIMB with stints in India and Germany. Robert Bosch and Punj LLoyd too offered their leadership programmes with stints in India and abroad. (Update 20th April 2012 : Disputed by another institute and under investigation)
7) Duferco Group offered metals trading profile based out of Lugano – Switzerland – ONLY such offer made across all IIMs (Such offers were made only at 2 institutions in India).
8 ) California based credit management firm Encore Capital, which is known for recruiting from only top US B-Schools, recruited IIMB students for their India office, again exclusive offers.
9) Irish firm, Ingersoll Rand offered their unique 'Entrepreneur Creation Programme' for the second consecutive year. The firm also offered an additional profile 'Accelerated Development Programme' at IIMB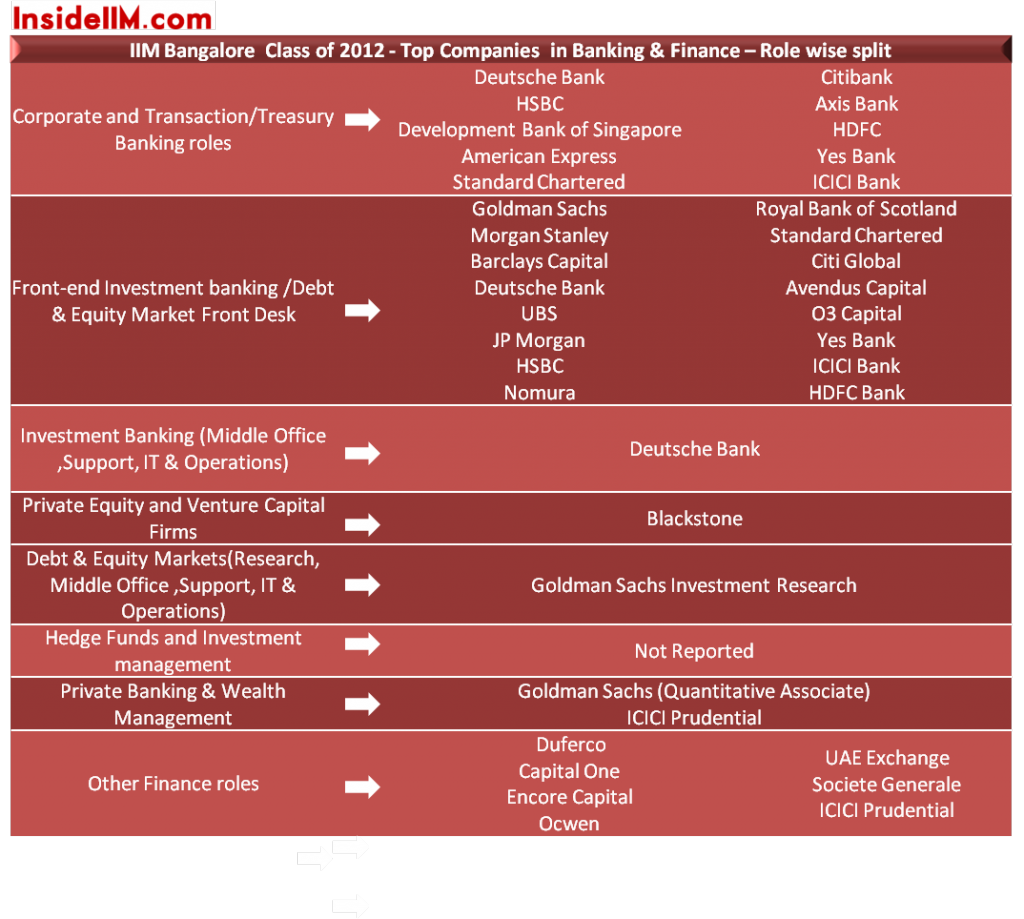 We would like to thank the placement committee of IIM Bangalore for providing information in the InsideIIM.com format once again after the Summer Placements. We believe it will be of immense help to   to readers , aspirants and recruiters.
This is the second in a series of reports that InsideIIM.com will bring to you. We are committed in bringing you a complete picture. We will also ensure that no irresponsible reporting is done on this website. Attempt will be made to verify the data with the institution before any publishing is done. However, lack of response from the institution will not prevent us from providing insight to our readers. We must also put a disclaimer that despite our best efforts it is not always necessary that the data given to us is 100 % accurate.
Other Final Placement Reports for the Class of 2012 :
Final Placements :XLRI Jamshedpur – Class of 2012
The Most definitive Student Exchange Programme Report – 2011 (One of its kind report for top business schools in India)
Articles by IIM B alumni :
You may also like to read:
Final Placements – Class of 2012 : The big test for the IIMs
Summer Placements 2011-13 – IIM Bangalore
Summer Placements 2011-13 – IIM Calcutta
Summer Placements 2011-13 – IIM Lucknow
Summer Placements 2011-13 – IIM Indore
Summer Placements 2011-13 – IIM Kozhikode
Summer Placements 2011-13 – XLRI Jamshedpur
Summer Placements 2011-13 – FMS Delhi
Summer Placements 2011-13 – JBIMS Mumbai
Our facebook page : InsideIIM
Follow us on twitter here : @InsideIIM