Sangharsh 2013, the annual sports meet between IIM Calcutta, IIM Ahmedabad, IIM Bangalore and IIM Lucknow, which was hosted by IIM Calcutta concluded with a lot of action and closely contested battles across a gamut of sports yesterday, with IIM Calcutta emerging as the overall champions of Sangharsh 2013. The sports meet was held over a period of 3 days (11th to 13th January 2013)
With a total of 83 participants from IIM Ahmedabad, 110 from IIM Bangalore and 67 from IIM Lucknow, the sports meet saw some serious contention for victory. The hosts had made elaborate arrangements for hospitality, transport and on-stadium conveniences for the visiting teams who were all praise for the organizing committee of the Sangharsh. IIM Calcutta dominated in Basketball (men), Tennis (men) and swimming, beating the others by huge margins. The swimming team of IIM Calcutta won Gold medals in all the formats with the following standings:
Men: 7 Gold, 5 Silver, 1 Bronze
[Ankur Dalal : 6 Gold 1 Silver
Ahmed Aslam: 3 Silver 1 Bronze
Rahul Jain: 1 Gold 1 Silver
Parvathy Kailasam(w): 2 Silver]
Swimming points were not considered in the final standings and were subject to rules mutually agreed by the contingents. IIM Calcutta was the clear winner despite the swimming points not being included.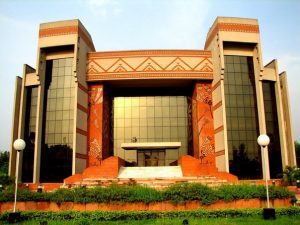 IIM Bangalore, which came second, won the cricket tournament, Badminton (men) and Table Tennis (men). The women's sports were fiercely contested as players from each of the IIMs battled out in Basketball, Throwball, Badminton and Table tennis and the fact that these tournaments were won by the girls of IIMA, IIMB, IIMC and IIML respectively bears testimony to the close competition between the women contingents.
The sports that were included in the meet were: Cricket, Basketball (men and women), Football, Volleyball, Tennis (Men), Table Tennis (men and women), Badminton (men and women), Chess, Carom, Pool and Swimming (men and women)
Kindly refer the final points table sent separately for the scores and individual sports winners: