IIM Calcutta's Armageddon Club conducts the TSAF Outdoor Leadership Program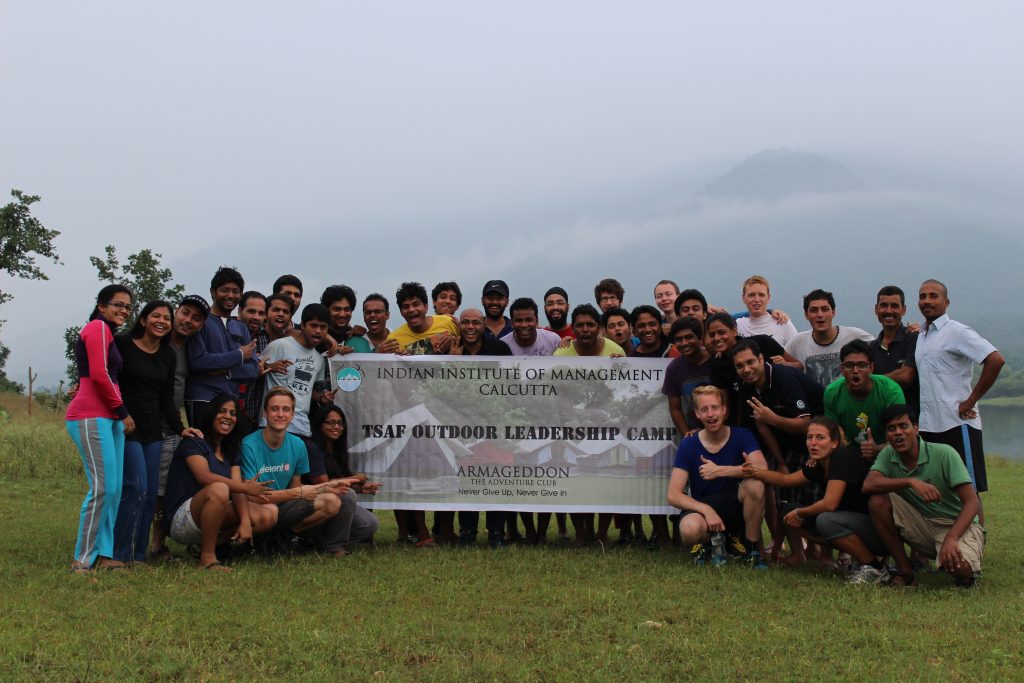 After all the academic stress, our body, mind and soul need rejuvenation. What better way to relax and rejuvenate than an adventure trip that takes you away from the campus to a serene lake surrounded by misty mountains and dark intriguing caves. Armageddon, the adventure club of IIM Calcutta organised a 2 day outdoor leadership adventure trip in association with Tata Steel Adventure Foundation (TSAF) just outside Jamshedpur in Jharkhand. The event was attended by 35 adventure enthusiasts from the campus with good participation from both PGP1s and PGP2s. This time, they were also joined by steppers and this was, for most of them the first getaway outside Kolkata.
The trip was aimed at nurturing leadership qualities without compromising on the fun. The various activities required team work and coordination and showed how collective effort can make great things happen.  The fact that teams consisted of people from both batches and both genders and even people from diverse countries gave an opportunity to learn from each other and also make new friends.
Day 1: Dimna Lake- a beautiful and calm lake nested among misty mountains famous for elephants. The participants reached the camp site early morning and were welcomed by the TSAF. The people were divided into teams and were asked to race to other part of the lake in what was a rowing competition among the teams. The teams learnt the techniques of rowing under the guidance of expert staff present there. The participants then designed their own rafts using bamboos, drums and ropes. The rafts were used by the teams for an improvised rafting competition. The students also enjoyed surfing in the lake which was a new experience for most of them. The students enjoyed the cool water of the lake and swam using the life jackets provided to them. After a tiring day the participants chose to relax around the lake. This was followed by an overnight stay in tents.
Day 2: On the second day, the students were taken to Tumung village, where students enjoyed cave exploration, Abseiling, Tarzan Jump, rock climbing and many other activities made available to them. The students played mind-body coordination games in teams which encouraged teamwork and coordination among them. The students particularly enjoyed cave exploration which made them navigate through dark and narrow caves. This was a new experience for most of them and reminded them of the grand canyons of the United States, also seen in the movie 127 hours. After 2 days of fun and adventure, the students left for the campus.