IIM Calcutta's Team Census presents 'Marketing Workshop by ITC & KPMG'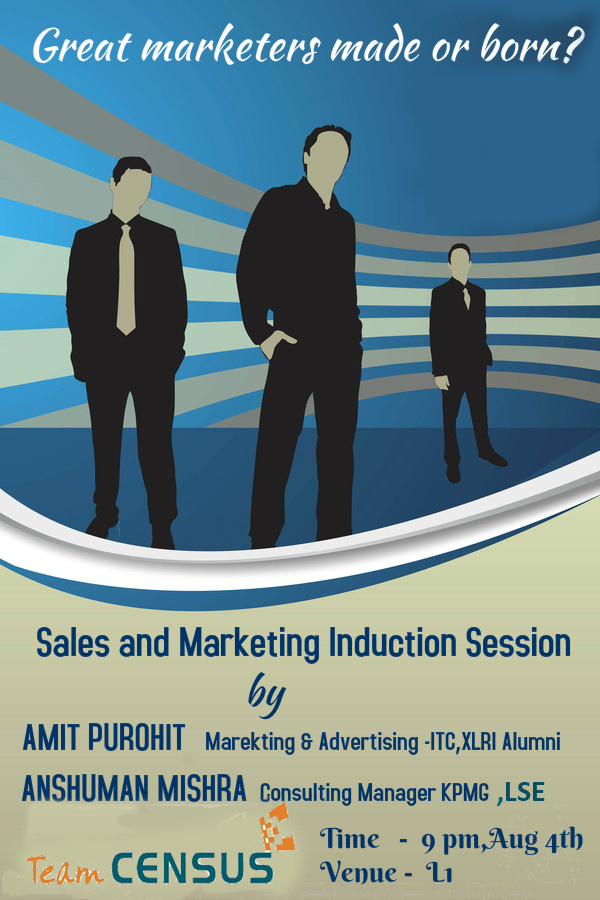 Louisa May Alcott one quoted," I am not afraid of storms for I am learning how to sail my ship. "This was the very message conveyed by eminent Mr. Amit Purohit , marketing and advertising division of ITC and Anshuman Mishra, Consulting Manager, KMPG in the light-hearted marketing workshop conducted by Team Census. With a huge turnout of 120+ participants, the event was clearly a success with interesting Q&As coming up on the table.
It all began with a brief introduction by Mr. Amit about his reasons for choosing marketing role. He then enlightened the crowd by discussing the very subtle differences between sales and marketing in terms of demand generation, creativity and channels involved .He also emphasized upon the role of a sales job to understand the grass root level of consumer behavior while sharing titbits and entertaining moments from his experiences. Bringing forth the very obvious demanding nature of the job, he talked about the various challenges and hardships of a sales job and shared his insights on various consumer segments across cities and villages. His much talked about line "marketing me suit pehenkar attendance dena padta hai and sales me informals pehenkhkar aish karne milta hai "became an instant hit among the students with enormous JOKA thumping all through L1 testifying the same.
The second half of the session was taken over Mr. Anshuman Mishra who talked about the challenges faced in the marketing world and the apparent "cv points" which get the companies ticking. Focusing on the sales job as a sure shot step for faster career growth, he allayed the fears of a sales profile amidst many students while answering their questions delightfully. He also called attention to "bridging the gap" between concepts learned in classes and action taken in markets.
Last, but not the least, the esteemed certification Chartered Sales Force Analyst (or briefly CSFA) was launched. Analogous to the CFA certification for finance, this certification aims at enhancing the understanding of the participants of the "marketing domain" and the various parameters associated with it.The culmination of the event witnessed the bright minds of Joka happy and excited about both the sales and marketing roles awaiting them in future. Team Census with great feedbacks promised more sessions for the JOKA tribe focusing on the practical aspects of sales and marketing jobs.