IIM Kashipur In A Nutshell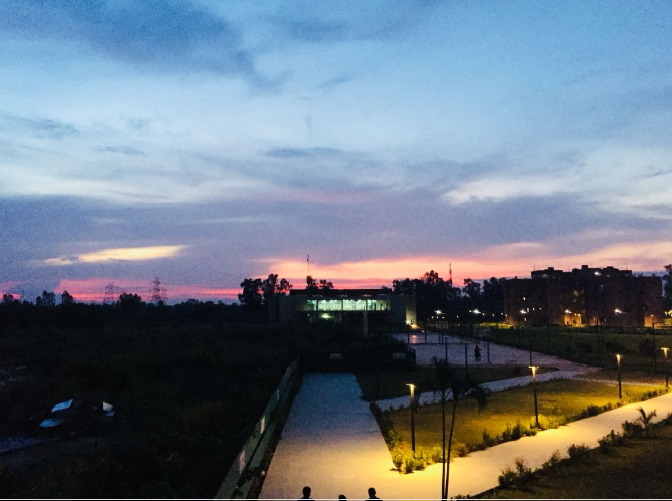 Alike other Established IIMs, IIM Kashipur stands tall when it comes to placements, infrastructure, faculties, student-teacher ratio.
The rigor it inherited from IIM Lucknow sets it apart from the rest of IIMs from its string.
If IIM Kashipur has this entire set of things to offer, it would not be a wise decision to miss it. And its demographic northern-India touch has made it one of the finest venues to have an IIM.
1. Campus Location:
The Campus is spreaded across 200 acres of land and is fulfilled with amenities you ever have dreamt/dreamed of at your ideal B-school.
On the lines of the other well-settled IIMs, IIM Kashipur too holds the scenic campus views, laced with essence of nature within.
2. Intensity of spirit
Maybe you love spirit or, maybe, not so much.
This is important to consider while attending a b-school because,
B-schools with intense b-school spirit basically shut down on game days.
IIM Kashipur provides beautiful lush green campus which refreshes your mind & helps developing the sporting spirit in you and you feel like it is second home which not only teaches you the management lessons but also nurtures the sports in you, with the high class outdoor sports facilities.
Even if you're not into sports, you can still enjoy playing sports in iim kashipur .
3. Food                                 
Everyone has to eat! It may seem like all-college-food-was-created-equally but, when you're eating somewhere daily, it matters a lot more than in theory.
IIM Kashipoor mess which runs by the student-driven-mess community serves you a plethora of options to satisfy your food cravings. It looks after the nutritional values which are a necessity.
3. Diversity on campus
Every other college claims to be a diversified campus, but it's up to you to believe whether it's true or not. IIM Kashipur offers the perfect opportunity to meet & to understand fellow students from all walks of life.
Going to college is a way to meet other students from different backgrounds and get to know others.
IIM Kashipur has a student from all across the country and it helps to exchange and learn different cultural and behavioural aspects. It also gives you chance to make friends from different places/states and helps to build your network. 
4. Study abroad programs/student exchange program
Study abroad is a great way to see the world while pursuing an education. If there are specific countries or programs you'd be interested, you have an opportunity of experiencing management education in other countries.IIM Kashipur already has tie ups & looking forward to increasing the network further with various prestigious management universities.
5.Placements:
Amongst the highest no of international placements/summer internships in new IIMs and comparable, if not better, overall placements with all new IIMs!
6.Fest and Events:
IIM Kashipur organizes many cultural and sports events. Biggest of them is Agnitraya is the annual inter-College Management, Cultural and Sports Fest of IIM Kashipur.
In the past, IIM Kashipur also organizedKashipur Marathon – a run for the safety and dignity of women.
7. Clubs and Comities:
The student driven clubs and committees give you a chance of exploring management at the campus level and it is a lot of fun. All the comities and clubs driven by students take care of smooth functioning of everything happens on campus.
8.Something More..(information courtesy:Quora)
String of new and innovative ideas…and that's why I like to call it "a startup of dreams" –
(a) First amongst all IIMs to have been working on setting up a community radio station for the local population
(b) The only IIM that I know of which has organized a full-fledged quiz in the middle of a jungle!
(c) The only IIM to have a biker club spearheaded by none other than the institute director himself to go on bike voyages along with spreading the message of safe driving!
(d) The only IIM to finally have its own licensed film screening auditorium from the competent authority!
Aditya Birla Group Company I would love to join:
I would love to join ABMCPL as an IT and Operation Manager as I have my prior experience of 3.5 years in TCS in the field of IT and operations.
Aditya Birla Management Corporation Private Limited (ABMCPL) is the apex corporate body that provides a strategic direction and vision to the Group Companies in various functional areas. Functioning as Corporate Centres, it governs and defines the portfolio strategy for the Group (both long term and short term). As a service provider, it provides strategic functional leadership and specialist services to Group businesses, both in India and overseas, while ensuring that at the Group level, policies are implemented and risks are managed.
When it comes to the development and infrastructure in the country, how can anyone forget the contribution of the Birla group? They having their massive contribution in equalising the nation's economy and bringing it on the global chart. However, here we'll not talk about the current statistics of the Birla empire but how the birla empire came into existence.
– Abhilash Bhusari, IIM Kashipur