IIM Kozhikode – Managing The Biggest Student Organised Marathon In India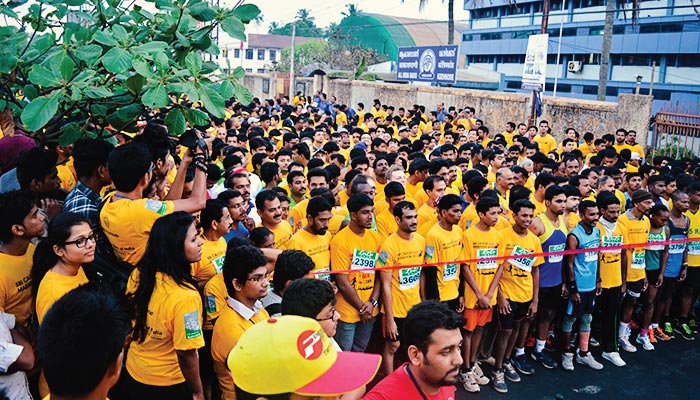 I am going to talk about an aspect which makes IIM Kozhikode very very special. Read on –
A college has a lot more to offer than just academics. IIM Kozhikode believes in this and prides itself on being a front-runner in social initiatives. One of our largest endeavours? The Calicut Half Marathon!!
Started in the year 2010 with the aim of providing a platform for civic engagement and in generating awareness on social issues among the people, Calicut Half Marathon has grown ever since into one of the biggest sporting events of Kerala. We are proud to say that Calicut Half Marathon is the first and the biggest student organized marathon in the country. *Drops Mic*
Some testimonials we received in the past –
1. " Run for the future, run to lead society away from all the frustrations & difficulties of Gender Inequality. Keep running! " – Mr Shashi Tharoor, Member of Parliament, Thiruvananthapuram on Feb 4, 2012.
Yes, Shashi Tharoor can make sentences without using big words. Shocked?
2. "My best wishes to the students of IIM Kozhikode for this wonderful initiative to organize a mini-marathon for bringing awareness among the citizens for food safety and also congratulate the entire team for this effort." – Mr. Pullela Gopichand, Former Indian Badminton player and coach of both PV Sindhu and Saina Nehwal
3. "To the Calicut marathon committee and the students of IIMK associated with it, all the best for the cause you are promoting – Commander Abhilash Tomy, First Indian, second Asian, and seventy-ninth person to complete a solo, unassisted, non-stop circumnavigation under sail
This year, the much-anticipated event will take place on 25 February 2018, Sunday at Calicut Beach. It has 3 events rolled into one – A 21 km half marathon, a 10 km mini marathon and a 3 km dream run. Basically, it has something for everybody.
Current Year's theme –
The Xth and biggest yet Edition of Calicut Marathon celebrates the unity, stands for the less fortunate and aims to build a stronger Kerala, with the theme, "United Kerala: Upholding the Legacy".
The theme celebrates the unity displayed by the people during the traumatic time of Kerala floods. As we all know, the South Indian state of Kerala was hit by massive floods recently. It was the worst flooding in Kerala in nearly a century. Over 483 people died, and 15 went missing. At least a million people were evacuated. This marathon is a show of solidarity and displays the undefeatable spirit of Kozhikode. Such events cannot break us, they will just bring us together.
Media Coverage –
The Calicut Marathon is covered by major newspapers and websites like Mathrubhumi, Malayalam Manorama, The Indian Express, The Times of India, The Hindu, The Deshabhimani, Deccan Chronicle, Madhyamam and Sportskeeda. The Calicut Marathon jingle will also be played on 104.8 Club FM channel and at the Calicut Railway Station.
So what are you waiting for? Register now and become a part of this fantastic experience. This time for Kerala.
Register Now: Calicut Half Marathon 2019 Registration, Kozhikode | Explara.com
I will be running, will you?
Akshaykumar Sirsalewala
Akshaykumar Sirsalewala is a Chartered Accountant and has cleared all levels of CFA and FRM. He is currently a student of IIM Kozhikode 2018-2020 batch, where he is pursuing MBA finance. When he is not studying, he is either guiding young minds or writing on Quora for CA aspirants.