IIM Kozhikode presents BACKWATERS 2014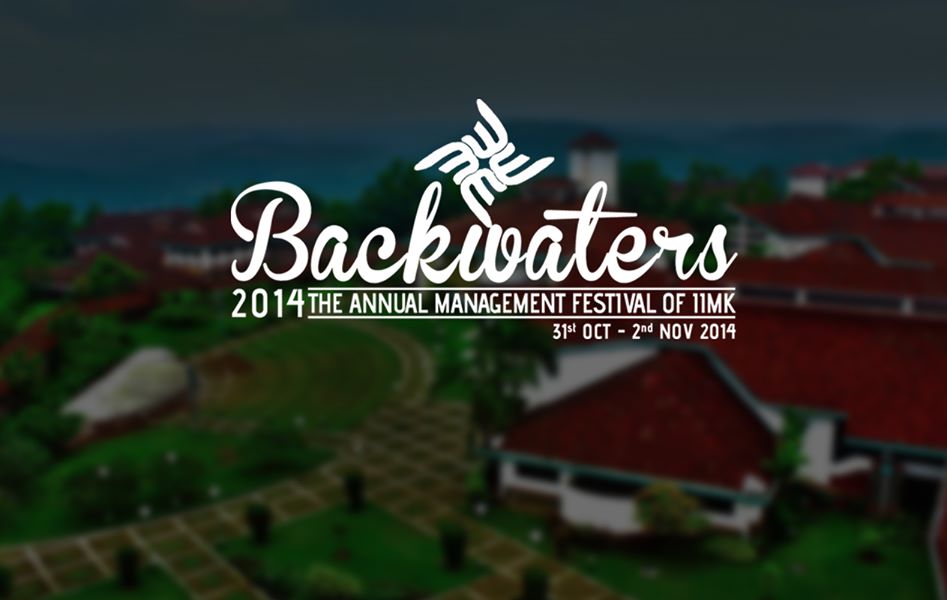 Think Backwaters and you might be beguiled to think of the brackish lagoons and lakes lying parallel to the Arabian Sea coast of Kerala but IIM Kozhikode has redefined its meaning. What immediately comes to mind instead is a group of future management executives battling it out amongst themselves to emerge supreme. It represents a confluence point for management students in India as corporate honchos and academicians adjudicate over events dealing with leading burning issues. Backwaters'14 is here to stir up the inherent competitive spirit in every management student.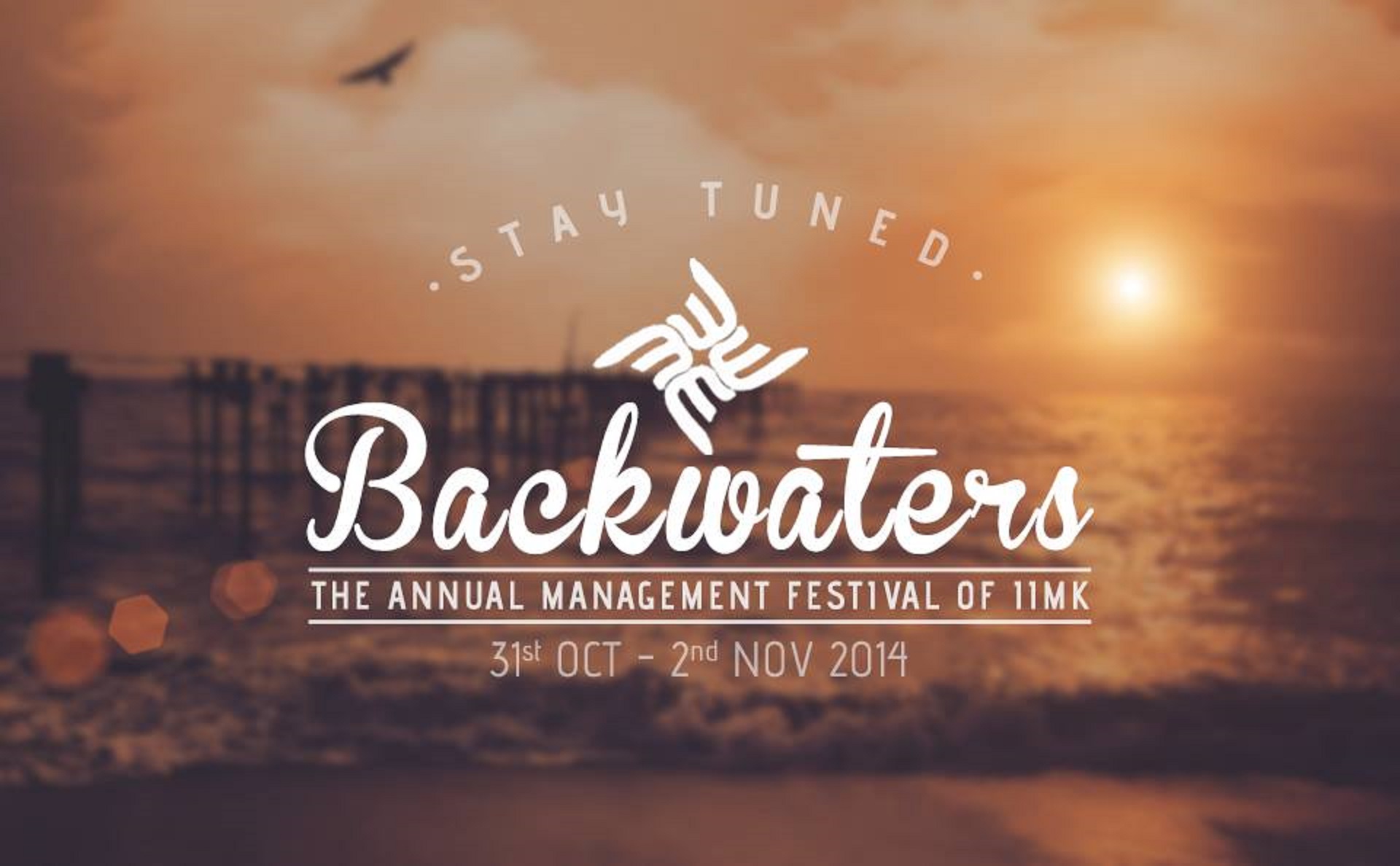 Backwaters is the annual B-school meet of India's leading management institute IIM Kozhikode. Over the years Backwaters has been successful at challenging the brightest minds of the country with its eclectic mix of events, workshops and competitions and is now a familiar name across Industry and Academia. This year Backwaters will throw down the gauntlet to the next-gen MBAs with newer and smarter events. The speaker series will see brilliant minds from India Inc. enlightening the IIMK fraternity with their insights on contemporary issues. We will also bring to you a myriad collection of activities to stimulate your brain, make you apply all aspects of management in a practical scenario and keep you actively engaged over the span of 3 enriching days from 31st October to 2nd November 2014. A range of new events have been introduced this year like MUN and an academic paper writing contest in association with leading think-tank Center for Civil Society, the aim being to introduce budding managers to a host of problems outside the boardroom.
Some of the most popular flagship events you can expect at Backwaters'14 are:
Avatar: Avatar is the flagship invite-only leadership event of Backwaters with the objective of finding that one individual best equipped to be the complete CEO – someone who can power the future and shape the destinies of key businesses.
MUN: The first ever MUN in association with EPS and MUN World with the hope to ensure a platform for the free flow of ideas, which will sow the seeds for developments in the future for the betterment of the world.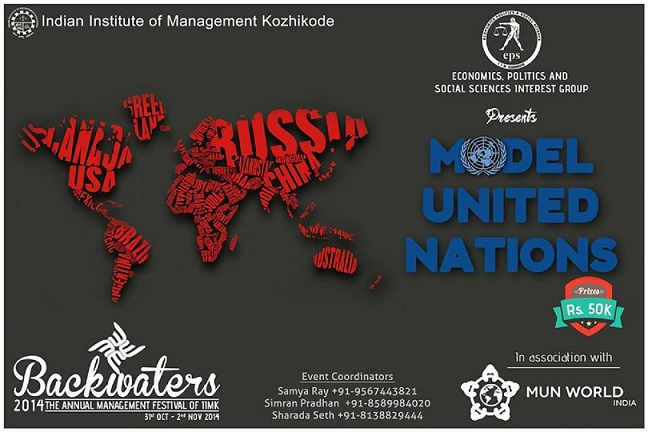 Roar for CSK: A case-study event based that gives students a chance to impress the CSK management team with their solutions.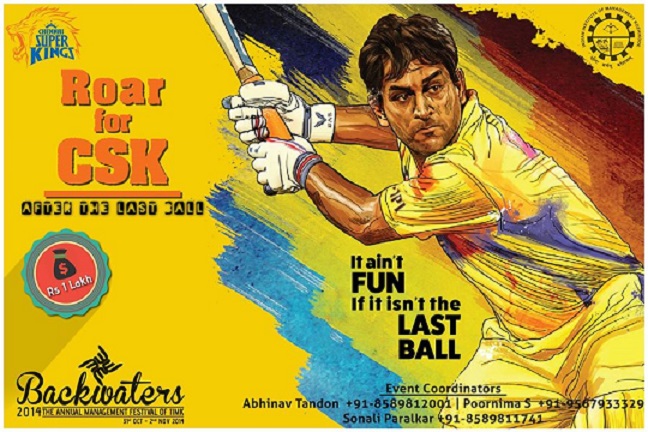 White Knight: Flagship B-Plan competition of IIM Kozhikode, which aims at encouraging entrepreneurship by providing a platform for new ideas and innovations to thrive and become huge successes.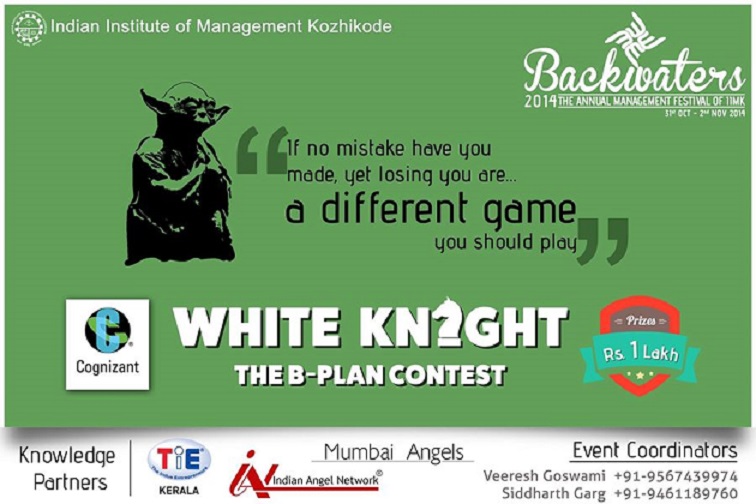 Bizzathlon: Quizzing event of Backwaters and an opportunity to be quizzed by some of the best quizmasters of the country.
Shiksha: A 3-day workshop series on career counseling and life skills training for the school and college students across Kerala.
Vertical events: Case-study events from all the verticals of management
Online Events Week: An array of challenging online events over a week's time
Entertainment nights: An interesting line-up of entertainment from multiple domains.
Genuine Nights: Stand-up comedy act by artistes Kanan Gill and Biswa – popularly known for their viral videos 'Pretentious Movie Review'
Karan Singh Magic: A psychological illusionist who is a magician, hypnotist, thought-reader, mind reader and much more.
And last but not the least, special performances by Theatrix, Footvibes, Krescendo and movie screenings by K Matinee.
So what are you waiting for? Suit up to be a part of this extravaganza and compete with the best minds of the future corporate world. Show your mettle and be part of an illuminating learning experience.
(Article written by Navam Gupta, Coordinator, Media Cell, IIM Kozhikode with inputs from Backwaters Coordinators)
For further details, contact us – media@iimk.ac.in
Facebook – https://www.facebook.com/pages/IIM-Kozhikode/101851176539713
Twitter – https://twitter.com/IIMKozhikode
Official Blog – http://blog.iimklive.com/