IIM Lucknow's Manfest-Varchasva presents Jashn, the fashion parade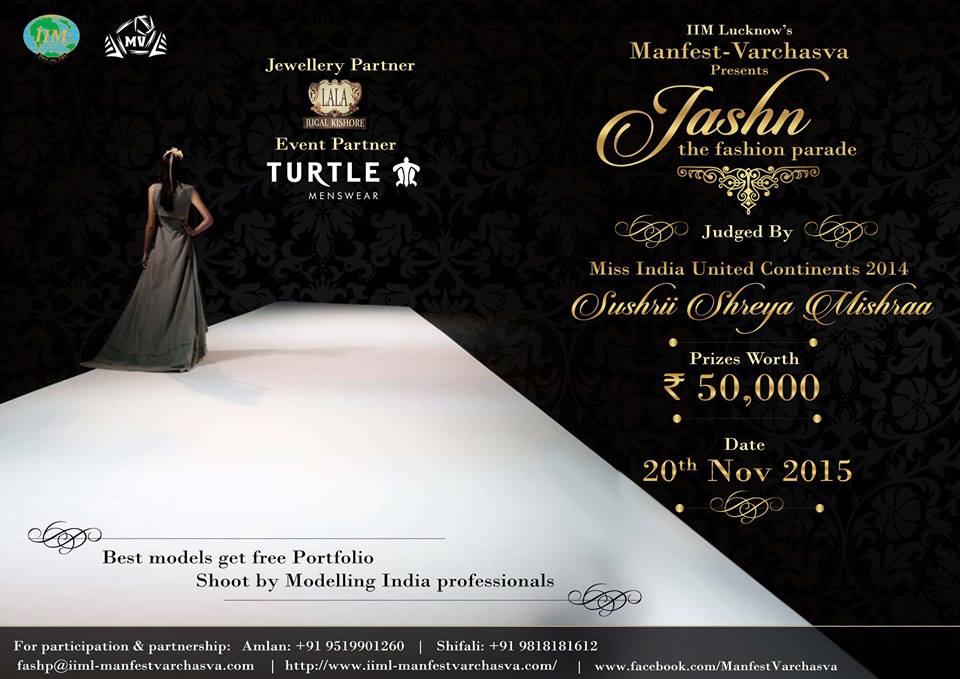 Manfest-Varchasva presents Jashn, the fashion parade. A celebration of glamour and poise, elegance and glitz, Jashn beckons all charismatic gentlemen and ladies to get ready for the fashion extravaganza. Come evening, we have none other than the dashing Sushrii Shreya Mishraa, Miss India United Continents 2014, hand-picking our winners!

Manfest-Varchasva is the annual Business, Sports & Cultural Festival of IIM Lucknow. The 4-day event is a confluence of Manfest, the Business Conclave and Varchasva, the Sports and Cultural Festival. Some of the highlights of the fest shall be the Sports events and the Corporate Luncheon, attended in the past by luminaries such as Mr. Harsh Mariwala, Dr. D. Subbarao and Mr. Kishore Biyani, and our headlining Pro-Shows that have featured national and international Pop and Rock bands such as RDB, Euphoria and like Pain of Salvation. Accompanying these shall be CSR activities including a Lucknow City Run, some of the most fiercely contested cultural events such as "Jashn", the Fashion Parade, and the most challenging management events across India. It is the only event of its kind in the country, and the most awaited college event in campuses across India.

For registrations visit the Cultural Section on our website: iiml-manfestvarchasva.com.