IIM Raipur Makes It Possible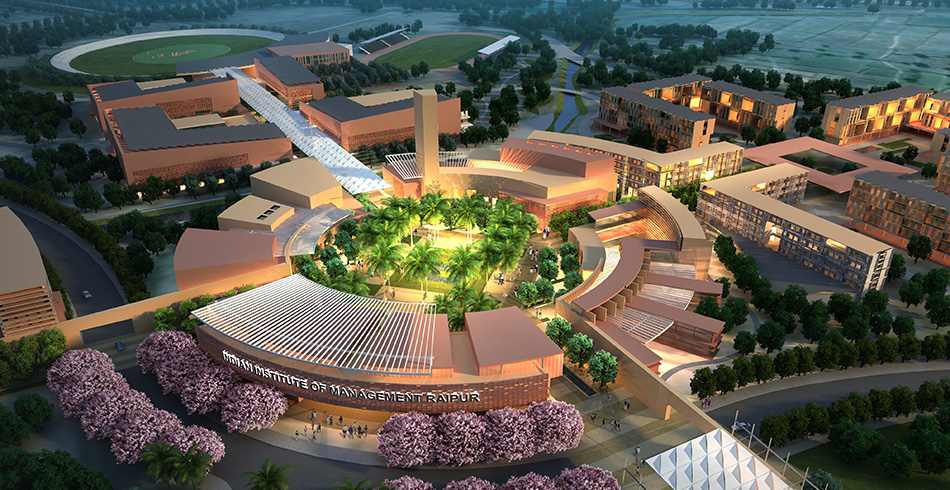 "There is no scarcity of opportunity to make a living at what you love, there is an only scarcity of resolve to make it happen".
These lines by the great American psychologist Mr.Wayne Dyre are the ones which IIM Raipur lives by. It is true that IIM Raipur is only an eight-year-old kid in the world of business. But the kid is sure a genius and has got a mesmerizing sparkle in those big eyes.
IIM Raipur was founded in the year 2010 and its seventh batch convocated in April 2018. Currently, it is operating from a temporary campus located on the outskirts of Raipur. It is one of the few campuses of the country where both IIT and IIM operate. So the campus is always buzzed with some of the smartest minds in the country.
The building of IIM Raipur is quite small compared to what one would expect it to be. But when you enter the place you realize how smartly different blocks are accommodated in the little space and in spite of all the space constraints how efficiently all the blocks operate and coordinate with each other. Even when I first reached the campus I was a little skeptical, it is just a four storey building and it has hostels in it, mess even the academic block. Not just that a huge lobby, badminton court and what not. It is hard to believe that the building has literally engulfed every possible thing inside. Before you realize you have already learnt the first lesson of management  "Know your assets and use them well".
The most important aspect of any campus life "hostels". Here we have been given dorms and each dorm has many rooms inside. It is actually a cozy place to be at to bear long hectic days at a B school. I personally found our dorms much like big warm homes where all the family members stay together, have fun be with each other no matter what, spend the most stressed and the laziest days together. The best part of this place is that you can wake up at 9:15 and can still attend the 9:30 without missing out on your breakfast. Trust me, if you are in a b-school that is the biggest blessing. Since I Joined IIM Raipur recently, I am slowly sinking into its culture. It is a little difficult initially, but it will be all worth it.
IIM Raipur is also well known for its annual fest EQUINOX where the plethora of events is conducted. From the day I arrived here, I have heard a lot about it. So I am really looking forward to being a part of it. Not only such events every day here in IIM Raipur is different. My efficiency to complete different tasks has increased to such a level which otherwise would have been impossible. All the hype about the IIMs in the outside world is so true. It is a world of its own. For me, it is just a beginning and capable of turning the whole direction of my life and transforming me inside out.
Which ABG company would you want to work for and why?
I wish to join Aditya Birla Fashion and retail limited team. I am a huge fan of the brands, somehow I feel they bring forward who we truly are. The brand image they have created in the market is truly amazing. Hence I would like to be a part of the brand to understand the nuances of brand management.
Suruchi Pendse is a first-year student of IIM Raipur