IIM Ranchi Celebrates Diwali with "Joy of Giving"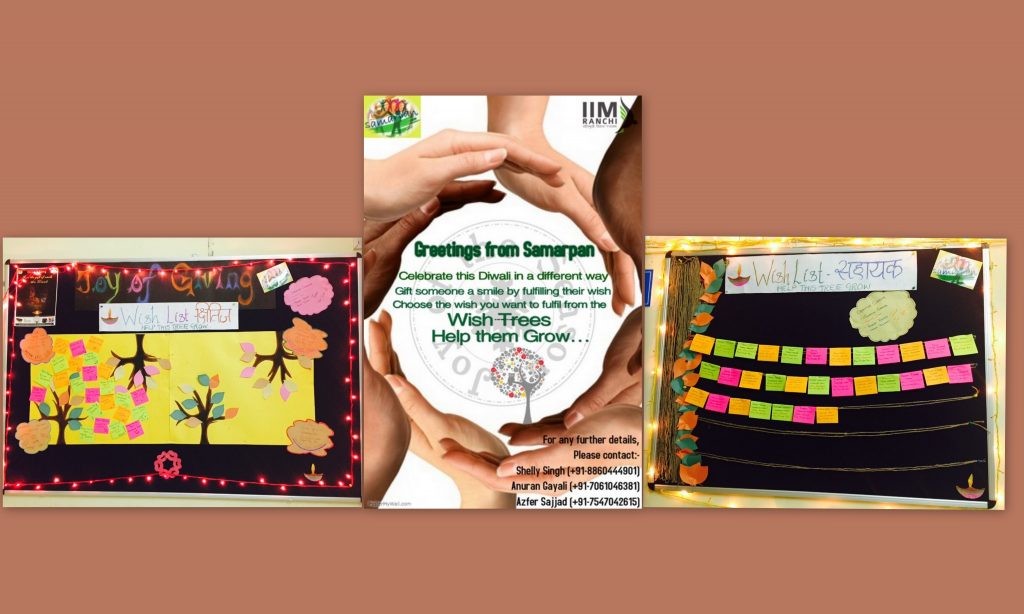 The student community at IIM Ranchi has come up with a novel way to spread smiles this Diwali.
Samarpan, the CSR Club of IIM Ranchi has initiated "Joy of Giving ~ Fulfil Wishes, Gift Smiles" .
The club members seek to fulfil wishes of
1) students at Kshitish School for differently abled children
2) the cleaning, security, mess and driving staff at IIM Ranchi hostel
They went about asking wishes to each student and staff member and came up with two brilliantly decorated wish trees-
"Wish Tree for Kshitish"- consisting of wishlists of students of Kshitish school a school for differently abled (Deaf & Dumb) children
"Wish tree Sahayak"- Sahayak means 'The one who helps'. Thus, this tree has Wish List of those people who 'help' us in making our time here at IIM Ranchi a little easy either 'by cleaning our rooms and toilets' or 'by looking after our 24*7 security, irrespective of the weather' or 'by preparing our daily meals', or bridging the gap between college and hostel, i.e., the HOUSEKEEPING staff, the SECURITY staff, the MESS staff, the BUS DRIVERS.
The students seek voluntary contributions to help these wish trees grow, to bring a smile to faces of those not so lucky as us, and to celebrate this Diwali with a difference.
Away from home, missing family, sweets and pleasantries, the students yet take an effort to bring happiness into the lives of other families by fulfilling their wishes in a humble manner. They urge you to make any desired contributions by filling out this form: https://goo.gl/bX2bbZ
Wishing all a Happy Diwali and a prosperous year ahead!