IIM Ranchi's 'Thirsty Crow'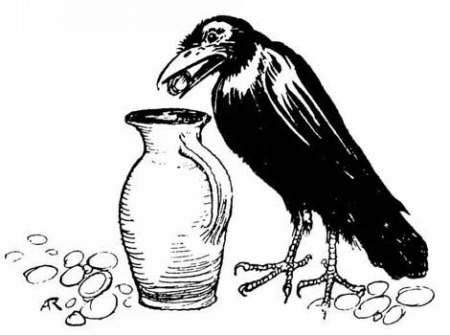 QR Code, the quiz club of IIM Ranchi is back with yet another set of brain-racking and mind-boggling quiz sets known as 'The thirsty crow'. The thirsty crow is a symbol of humility and the eagerness or the intense craving to learn. The quizzes in the series, aim to satiate the quizzing appetite of the quizzing enthusiasts at IIM Ranchi. Currently co-ordinated by Jinson Chacko, Abhishek Tripathy and Saurav Mukhopadhyay, the club kicked off this year's quiz series 'The Thirsty Crow' with the conventional Freshers' Quiz for the first year students. The event was well-conducted wherein the winners' title went to 'Team Holy Trinity' comprising Suleman Safdar, Sayan Kar and Namita Kapaley. True to its name, 'The Thirsty Crow' indeed serves as a platform for fun and knowledge for all the passionate quizzers around. With the overwhelming response that the series has been able to gather so far, it also communicated the club's belief that quizzing is for all, and not just the select few. The members of QR Code have proved their mettle by winning several competitions at inter-collegiate level. Some of the achievements of QR Code over the last few years include
–     Runners' up at the Tata Crucible Quiz (Pramit Agrawal, Jubin Goyal)
–     Regional finalists at Mahindra AQ (Archan Rawel, Anirudh)
–     Runners up at the InQuizitiveQuiz, IIFT Delhi (Abhinandan Narayan, Jyotsna Singh)
–     National-level finalists at the NTPC Electron Quiz-2012 (Pramit Agrawal, Zeeshan Ali, Debasis Sahoo, Ankur Krishna)
–     Runner-up in IIT Kharagpur Spring Fest – Sports quiz Olympique (Jinson Chacko)
–     ELAN IIT Hyderabad Entertainment quiz (Jinson Chacko)
–     Runners-up in IIM Calcutta – Carpe Diem – General Quiz (Abhishek Tripathy, Saurav Mukhopadhyay, Jinson Chacko)
The Thristy Crow series awards cash prizes and cumulative points to each of the winners (20 points) and runners-up (10 points) in order to keep going the quizzing tempo among everyone. QR Code successfully organised a mythology theme-based quiz on the occasion of Janmashtami under The Thristy Crow series this year. Several themes such as travel, entertainment, fantasy may be covered in subsequent events to follow.
QR Code continues to enlighten the knowledge-thirsty minds on its official Facebook page here with regular updates about club's activities and also posting interesting quiz questions. It also has a good number of followers on its Slideshare page here where each quiz is uploaded along with answers. Currently performing at intra-collegiate level, QR Code expects good support from the current batch and wishes to expand to inter-collegiate level soon. It is also working upon launching a quiz series to be graced by a famous quizmaster.
Needless to say, QR Code's next announcement for a quiz is eagerly awaited.
With such a Quiz League, QR code aims to foster the quizzing tradition at IIM Ranchi. Apparently, there are many thirsty crows at IIM Ranchi, who actively participate in each quiz, thereby contributing to its success.