IIM Shillong – My First Marketing Class
It's just been a week into IIM Shillong and I already have a memorable classroom experience! This is the beauty of IIMs, its faculties. Everything is going good, we have three lectures today of which we have already battled with two. We have a 15 min break before the final lecture for the day begins. Everyone is out of the class, some are sipping coffee, some are worried about assignments and pre-reads (which is normal in a B-School), others are just chilling till the professor arrives.
Suddenly from the hustle and bustle of students emerges a man who is in a hurry to setup the PPT for the class on the smart board. He is our Marketing Management 1 faculty Prof Anurag Dugar. He arrives to the class early so as to wrap up the attendance and give students a chance to interact with him. He instructs us not to open the notebooks and pay attention to what he says. And when he starts speaking, there is no other person who is talking. Words flow from his mouth smoothly and the aura he creates in a marketing class in mesmerizing. He grabs all the eyeballs and there is no one dozing off in the class (which is not so common in a B-School).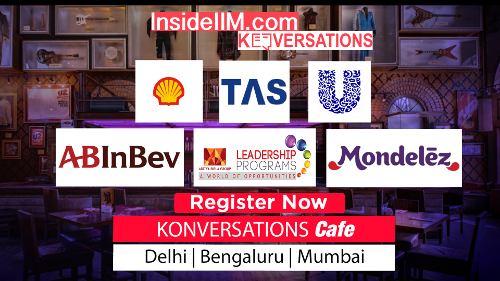 Marketing is all about how you see things and Prof Dugar reinforces the same philosophy. We were made to watch different advertisements in the class and asked to point the differences. But the point of views Prof Dugar brought were completely different which were right in front of our eyes still we could not locate it. He brings in such examples to which we can very clearly connect. Marketing jargons were not used yet we understood marketing today. The way we now look at advertisements has completely changed. We now try to understand the rationale behind everything that happens in an advertisement.
My takeaway from the class was that our product should reach the consumer's mind faster than others, even though the consumer may not realise that. Prof Dugar gave a sort of life to the classroom lecture, which we never realised when it ended. Not even a single time I thought of looking at my watch and pray for the lecture to get over quickly. I could see smile on every student's face and sense the feeling of enjoyment of learning. Today's class will remain a life lesson to me and it has set a benchmark for all the other marketing classes to come. I have ensured myself to never miss the MM lecture.
Which ABG company would you want to work for and why?
I would like to join Aditya Birla Fashion and Retail Limited because I wish to work in the retail segment and understand how the consumer behaves and what are the marketing strategies used to retain the customers. This company has a number of reputed fashion brands under its hood. I aspire to work with those brands and understand what makes them stand apart. I believe that fashion and retail have a huge market in India which is still evolving and growing. Being part of this will take me closer to the consumer and help me understand how to build a brand.
Rishi Ahuja
PGP 1st Year
IIM Shillong