IIM Shillong Khlur-Thma'14 ended on a high note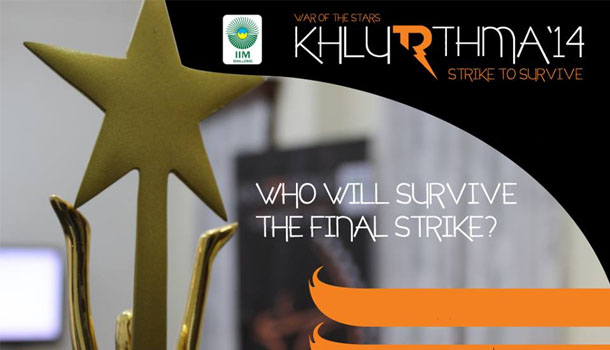 Alongside the Golf Cup, organising Khlur-Thma – the Annual Management Fest of IIM Shillong – was a daunting task but the student fraternity of IIM Shillong made this a memorable and an enjoyable experience. The two day extravaganza held in October 2014 saw the confluence of renowned industry leaders, academicians and students exchanging ideas on myriad of business facets.
'Khlur-Thma' in the local Khasi language of Meghalaya means "War of Stars". This year, with the theme 'Strike to Survive', Khlur-Thma featured a plethora of tantalizing and yet challenging events across various management domains that brought in an array of excellence and diversity in all the events. 'Khlur-Thma' has the prerogative of being one of the most competitive management event in the eastern part of the country garnering huge participations from B-Schools across the length and breadth of the nation.
The Marketing Case Study challenge 'Touchstone' sponsored by The Shillong Times, the HR Case Study challenge 'decipHR' sponsored by the Central Bank of India and Woodland Hospital, and the Finance Case Study challenge 'Vishleshan' sponsored by RBI and Corporate Bridge were organised on the first day of the two day affair. The Operations Case Study challenge 'Shrinkhala' sponsored by the Meghalaya Institute of Governance and partnered by Jabong.com held on the second day marked the conclusion of Khlur-Thma. Besides these events 'Khlur-Thma' also featured other online events like De-Crypt, Samuchit, Saksham and Ariadne's Thread which saw participation of over 8000 students from 80 B-Schools across the country: ISB Mohali, IIM Lucknow, IIM Indore, NMIMS to name a few. This year IIM Shillong also organised Finance Conclave and Food Processing Conclave as a part of its Business Conclave 'Udaan-Wings to a better tomorrow'. Khlur-Thma also featured guest lectures by Mr P. R. Ravi Mohan, Chief General Manager, RBI, Mr. Ashvini Bakshi, Vice President, Credit & Risk Analytics, Mr. Sanjiv Bhuyan, Sr. Vice President, HDFC Bank, Mr. Samrat Deka, CMD, SRD Group and Mr. Vivek Chowdhary, Divisional Manager – Dairy project, ITC.
The valedictory function was presided by the honourable Chief Minister of Meghalaya who showered praise on the event for spearheading the development of the North-East. Khlur-Thma witnessed highly competitive events which challenged the creativity and business acumen of the students within the hallowed walls of IIM Shillong. The event concluded with an electrifying cultural programme with the vision and determination to take our college's Annual Fest to heights hitherto unexplored.
Authored By: Sudarshan Kumar Dey, a Student Council Member of IIM Shillong