IIM Shillong – A Memorable Classroom Experience
I have attended many classes during my first year because I had no choice but to attend as all were mandatory subjects. In all, I have a very fond memory of one of the 'Self and Leadership Communication' class as this subject was one which required you to speak and express yourself in front of others. One of the class was on 'Tell Your Story' where we were supposed to speak about ourselves. This is not an easy task as you are always in a dilemma to speak the truth about yourself. While other classmates started speaking about themselves, I was still pondering should I speak what I want or should I not? It was also because others were telling about the funny incidents happened in their life or the situations they faced in the past, but my topic was different. I was going to speak about my life-the tough moments and why am I here at IIM Shillong. Then finally after two stories, I gathered all the courage and walked towards the dais to tell my story. I started telling my story that why I chose to be here and suddenly I broke up, and tears started shedding from eyes, and I could see my batchmates were also in tears hearing my story. It was at this moment that I felt so connected with my family(batchmates) away from home. They helped me to continue and gave that support to complete my story as I also realized that a good speaker is one which does not let emotion control his speech. After I finished my story, I could sense a feeling of togetherness in the classroom, and it gave courage to others to tell their true story or maybe to speak about what they want to speak. One of my batchmate who already told her story in the starting of session came back to speak about what she wanted to tell as in what she was going through and did not say in her first story. A few months later when she faced a tough situation in her life, I spoke to her about it, and that day she told me what the impact of my story on was her which gave the courage to go on the dais gain and speak about what she really wanted to say and tell others about herself. I never thought that my story could impact others in such a way that it would give courage to others to speak. We all have so many classes on different topics to learn about management in our classroom, but I believe these classroom lessons on 'LIFE' are the one which remains with you for the lifetime.
Which ABG company would you want to work for and why?'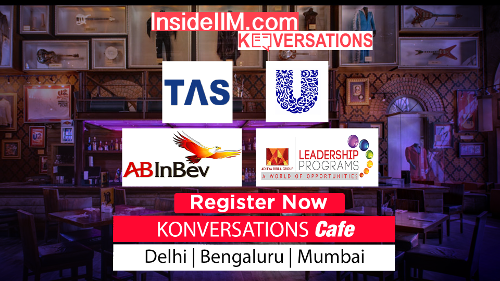 I would like to work at Aditya Birla Retail Limited as retail is one of the growing sectors in the country as it is expected to grow by 12% per annum. The e-commerce business is also booming in the country. As Aditya Birla Group retail group has $43 billion retail business with 523 supermarkets and online presence makes it a growing business. As a management student, it will help me to apply my learnings from classroom to real life business as the retail business involves FMCG in large part which involves applying learning from various domains of business which will help business as well as me to grow.
Akashdeep Vimal
PGP 2nd Year
IIM Shillong