IIM Shillong pays tribute to Late Manjunath Shanmugam on his 10th Death Anniversary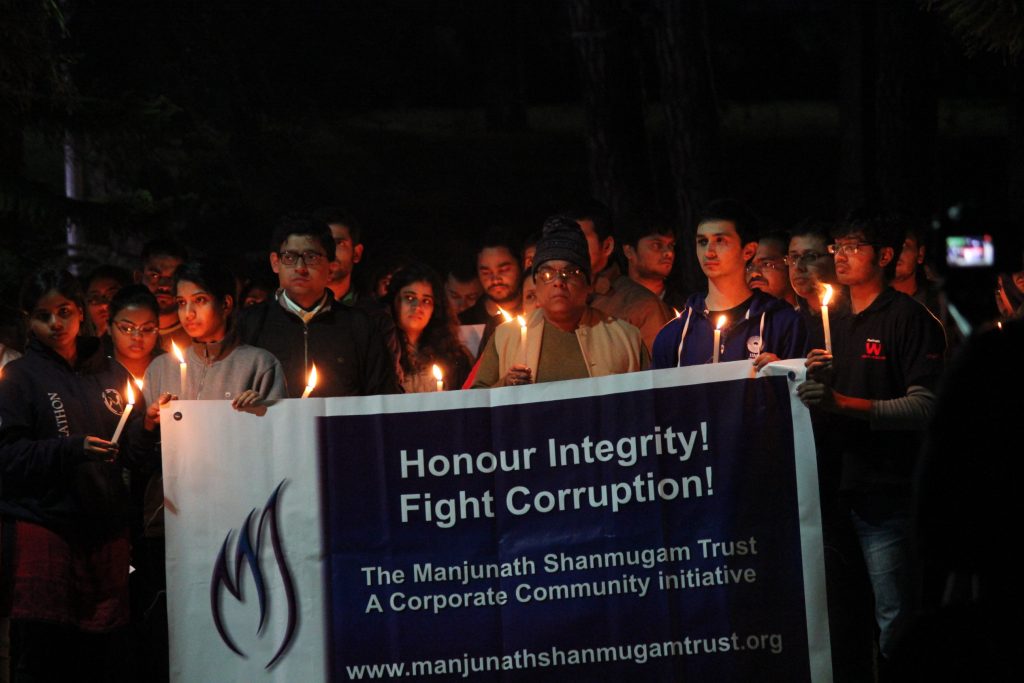 The faculty and the students of IIM Shillong paid homage to Mr. Manjunath Shanmugam on his tenth death anniversary by conducting a candlelight march. Like every year, IIM Shillong joined hands with the Manjunath Shanmugam Trust to undertake the pledge of integrity to fight corruption. Over 100 students gathered at around 6:30 pm to participate in the march and offer their heartfelt condolences and respect to this great personality.
The march was preceded by a speech that described the efforts taken by Mr. Manjunath Shanmugam to curb oil malpractices and inspired us to follow his path of righteousness. We then took a pledge of commitment to uphold integrity at any cost and not succumb to corruption. The march began from IIM Shillong Campus to Nongthymmai Presbyterian Church where candles were placed on a large photo of Mr. Manjunath followed by a minute of silence. Posters of Mr. Manjunath and his message were displayed all over the Institute to create awareness about the cause.
Mr. Manjunath, an alumnus of IIM Lucknow, was working to curb oil malpractices. During his fight against corruption and dishonesty, he was murdered on 19th November 2005 by a petrol pump owner and his seven accomplices. Every year, on this very day, students across all IIMs and other B-schools participate in this endeavour of awakening nation-wide consciousness, through a candle light march. This memorial is conducted in collaboration with the Manjunath Shanmugam Trust (MST), an international corporate community initiative; which works to improve governance in Indian public life. Mr. Manjunath is a symbol of courage and values to every single citizen of India, more so, to the students of the IIMs. Through this endeavour, students of IIM Shillong took a vow to honour integrity and fought corruption.
Click here for the video of the march
About IIM Shillong Indian Institute of Management, Shillong has grown at a rapid pace and is one of the premier institutes of management education in the country. Established in 2008, the Institute has focused on grooming its participants into managers who work for the betterment of society and the North-east region.