IIM Trichy Marks A Record-Breaking Final Placements 2016

The Final Placement process of the PGP 2014-16 batch of Indian Institute of Management Tiruchirappalli has been successfully completed with a 22.1% increase in the Highest CTC and a 14.9% increase in the average CTC being offered. The placement season this year touched new heights surpassing the industry expectations with 90 prominent companies participating in the process making 102 offers for a batch of 102 students. The students also secured 21 Pre-Placement Interviews/ Pre-Placement Offers across verticals. IIM Trichy also recorded international offers through opportunities in the APAC region.
The highlight of the process was the diverse leadership roles such as Executive Assistant to CEO, Business Analyst to MD, etc. that were offered to the students. The enriched experience and the skills acquired through intense curriculum helped the students bag coveted roles such as Strategy and Operations Consultant, Data Scientist, Product Manager, Functional Consultant, BA-ERP Consultant, Sr. Business Analyst, Sales & Marketing Trainee, etc. across the domains of BFSI, E-commerce, Consulting & Analytics, Manufacturing, Telecom, FMCG & Consumer Durables, Health Care, IT/ITES among others.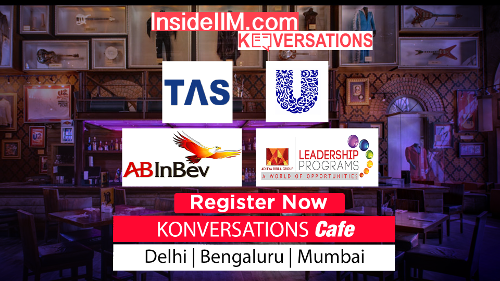 Some of the prominent names that participated in the final placement process this year in alphabetical order were BPCL, Capita, Cognizant Business Consulting, Dabur, Deloitte, Dr. Agarwal Healthcare, Frost & Sullivan, HCL, HDFC Life, ICICI Bank, ICICI Prudential, Idea Cellular, KPMG, Mahindra, Ramco, RBS, Saint Gobain, SAP, SBI, SBI Mutual Funds, Societe Generale, Sulekha, TAFE, TVS Motors, Vodafone, Yes Bank to name a few.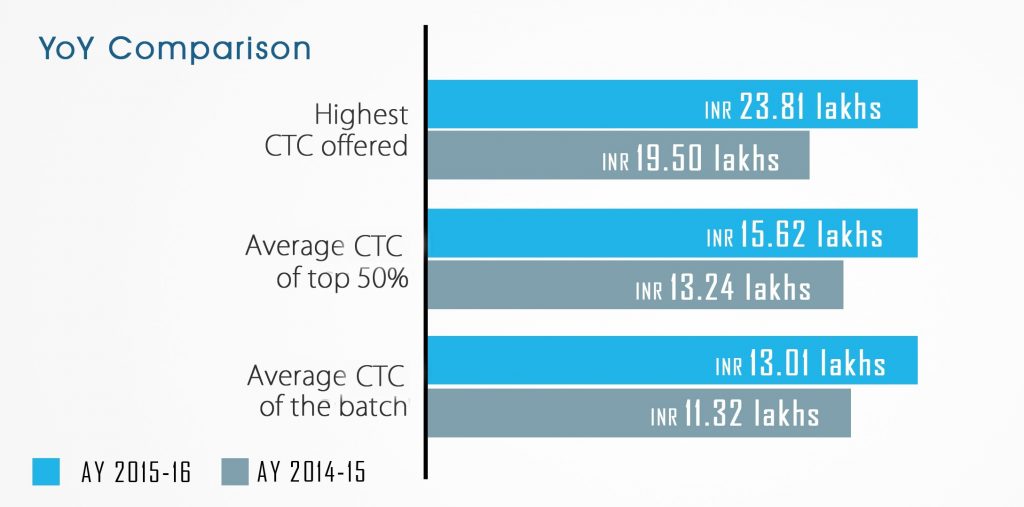 The highest remuneration offered is INR 23.81 Lakhs which is a marked increase of 22.1% over the previous year (INR19.50 Lakhs) and secured an average package of INR 13.01 Lakhs with an increase of 14.9% over the previous year (INR11.32 Lakhs).
Following are some of the statistics for the process:
| | |
| --- | --- |
| No. of Students in the Batch (2014-16) | 102 |
| No. of Offers made | 102 |
| Highest Salary offered | INR 23.81 Lakhs |
| Overall Average Salary Offered | INR 13.01 Lakhs |
| Average Salary Offered (Top 10 Percentile) | INR 19.80 Lakhs |
| Average Salary Offered (Top 25 Percentile) | INR 17.34 Lakhs |
| Average Salary Offered (Top 50 Percentile) | INR 15.62 Lakhs |
| Average Salary Offered (Top 75 Percentile) | INR 14.25 Lakhs |
| Lowest Salary Offered | INR 8.39 Lakhs |
This year has been particularly exciting for placements with international placements and the increasing diversity of profiles offered, showing enthusiastic participation from various spheres of industry. Strong application of learning imbibed through the rigorous academic program equipped them with the tools to perform well at their internships which later materialized into 21 PPO/PPIs. For five years now, IIM Trichy has been providing talented and persevering individuals of high caliber for corporates and academia alike. The industry has thus continued to place its confidence in the students of IIM Trichy.
We thank the corporates for their participation in the placement process and we are confident that our students will keep exceeding their expectations.
(Edit note : Team at InsideIIM had no role in preparation of this report)