How IIM Udaipur Changed My Life! – Mridul Sharma, IIM Udaipur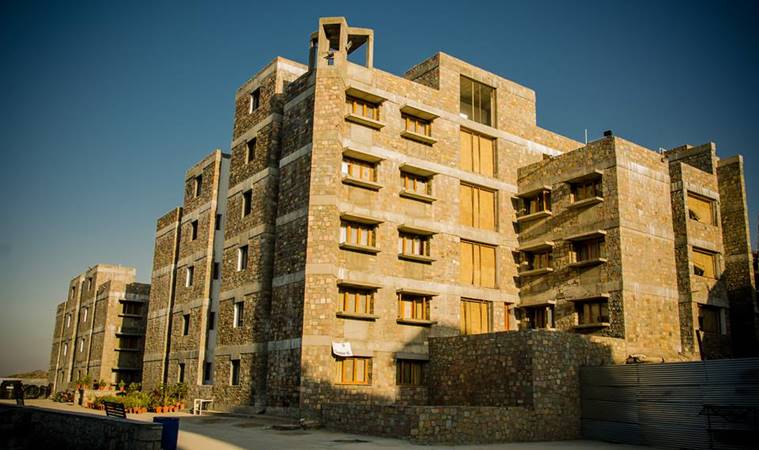 IIM Udaipur! A lot has been written about our campus, and a lot will be written by the time our campus has completed all the stages of construction. The lakes, the mountains, the weather, it gets as close to being called "Nature's own campus" as any campus has ever gotten. As much as I would like to talk about our campus and its intimacy with nature, I would use the limited words that I have, to talk about what I loved the most about my college and what I found the most unique. Gentlemen, I introduce to you the Summer Entrepreneurship Programme (SEP) of IIM Udaipur.
SEP is a programme offered by our college to students who, in place of going for summer internships, want to work on their own business ideas for eight weeks of summers. Well, at first glance, you might be a bit turned off, that what I found the most unique was just another programme. But wait for me to make my argument till the end, and I hope to convince you all that this actually was a point worth bringing forward.
When I entered this huge campus for the first time, I was a guy who would give random answers to questions like "Tell me about yourself", "Why MBA?" and the likes. I was clueless. Somehow, I had convinced the interview panel that I was clear with why I wanted to pursue MBA (either that or I just had a very nice CAT percentile), but if I tell you very frankly, I myself was not convinced. The only reason I gave CAT was that I loved the exam pattern and that I wanted to run away as far from completing CA (a different story altogether) as humanly possible. "Where do you see yourself in 10 years?"? Well, you tell me!
Nothing had changed much when the time had finally come for Summer Placements. My answers that were random, had stayed random! And understandably so, I was not shortlisted by the top recruiters that came to our campus. Being an internally sorted person (or so I would like to believe), I had not lost hope. Never questioned my abilities. My elder brother always used to talk to me about this grand idea that he had for bringing a change in the education system of this country. Ever since I was a kid, I had always believed in my brother and his vision (another different story altogether), and I had always wanted to work with him. "At the end, when it all settles, I want to be working with my brother" was my thought whenever someone asked me about my long-term vision.
At the time of the summer placements, I had finally spotted the opportunity to work with my brother. I validated his belief that the idea was workable and our visions had aligned after long discussions over the phone. And then I took a leap of faith. That is where SEP comes into the picture. The platform that made me believe that I could take a leap of faith and still land uninjured. SEP offers a lot of benefits to us, students. A modest stipend of ₹ 10,000 a month and a reimbursement of all expenses necessary for the execution of the project subject to a maximum of ₹ 100,000 sounds like a good enough deal to try out your own venture and its acceptance in the market for two months, doesn't it? Well, it is good!
I went on to pursue my SEP in Mumbai, and I made use of the reimbursement clause to get content authors to develop content for my School of Thoughts (another story that may take a lot of time). The point being, those two months changed my life. I have all the answers to all the questions anyone can ever ask me about myself. My vision has gotten exponentially clearer than when I first entered the boundaries of IIM Udaipur. I entered these summers as a child trying to figure out his life and returned a grown man seeing a future for himself. All this only because of the opportunity offered to me by the college. In that respect, I will ever be thankful to this college.
To be very frank with you, I had entered the programme majorly because of the protective cushions of support offered by the college (the monetary benefits). But now that I look back at my experience of the two months, I would be willing to do it again for free. Nothing feels more fulfilling than to see a constructive change in yourself. And now the time for final placements is about to come. To the students that opt out of final placements to try out their own ventures, the college offers a modest hardship allowance of ₹ 20,000 per month in addition to deferred placements for 2 years. I will have an option again. What, do you think, will I choose?
Which company of ABG would I like to work for?
Aditya Birla Capital will be my choice of destination for two major reasons:
My background in the commerce field, as well as my exposure to finance in my MBA life, has given me enough confidence and validation that I can add value to this company well
The private equity domain has a lot of scope for working with start-ups and tracking their successes and failures, and that suits my interest to a great extent
Apart from that, being a part of the Aditya Birla Group would provide me with an opportunity to try out Intrapreneurship through Innolabs and that is something I would love to work on.