"IIM A taught me not to procrastinate" – Abhinav Gupta, 2nd Rank at IIM-A.
This is a continuation of our series "The Special Ones" where we are profiling Batch Toppers at First year MBA across all Top B-Schools in the country. We have already interviewed Toppers from FMS Delhi, IIM Calcutta, IIM Bangalore, IIM Kozhikhode, XLRI Jamshedpur, IIFT and JBIMS. You can read their stories here.
We did a couple of stories with the toppers of IIM Ahmedabad – Ashima Setia and then Akarsh Shrivastava. Again, we would like to reiterate how difficult it is to top at any elite (top 10) B school, and how insanely difficult it is to do that at IIM Ahmedabad. This is the story of Abhinav Gupta, first year MBA topper at IIM Ahmedabad.
About Abhinav Gupta (in his own words)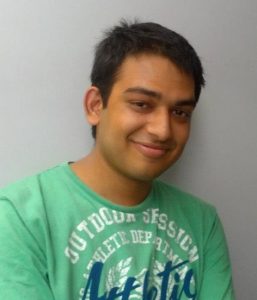 Ranked 2nd at IIM-A and the topper of Elec. Engg. , IIT Kharagpur, Abhinav is also the lead author of an IEEE paper. He did his summer internship at BCG.  He has represented IIT Kharagpur at the Indo-German Winter Academy and is a Singapore airlines and DAAD scholarship awardee. An avid quizzer; he has won 3 national level quizzes and conducted a national level quiz at IIM-A. He is also a member of LSD and Consult Club.
1.  Tell us a bit about your educational background – were you a topper all through your undergraduate and school days? What brought you to an MBA?
I have been doing consistently well academically. I was a topper during my school days and stood first in my school in Class XII Boards. I was also the topper of the department of Electrical Engineering at IIT Kharagpur. During my final year at IIT Kharagpur I realized that my ultimate goal was to reach a top management position in industry. While Kharagpur had prepared me well technically, I found that I lacked the management acumen that would be required to fulfil my goal. Hence I decided to join an MBA course.
2.  Walk us through your academic journey in the first year – How did you pace yourself academically in the first, second and third term?
Doing well in IIMs is about consistency. I tried to give it my all during all 3 terms and did not change any pace per se during the first year.
3. Did you encounter situations where you were in a group in which others were not as committed as you were? How did you handle this?
I believe that free-ridership problem occurs more due to poor group dynamics and not identifying others talents rather than simple unwillingness to work. While I did take time to adjust to group work, once this had been accomplished I did not face any major problems. Trying to co-ordinate online rather than physically sometimes allows for more flexibility (with respect to time) in a group. Also clear cut demarcation of work with one person doing just consolidation is also helpful.
4.  What were your thoughts and goals when you entered IIM Ahmedabad? Did you expect to be a topper in the program after the first year?
My major aim on entering IIM A was to learn as much as possible and learn skills which would help me excel in industry. I did not expect to be a topper as my competition was with some of the brightest minds in the country.
5.  B school life is always buzzing with all kinds of activities and distractions. What did you do to keep focus?
A simple rule of thumb I followed was that I had to finish everything (reading cases for next day's class and revision of current day's classes) before going to sleep. Having that goal in mind helped me always be ready and focused.
6. Tell us about your summer internship.
I had the opportunity to intern at BCG. My project was related to the organization of a major banking conference. I was tasked with studying the current trends in retail banking in the country which I did through both primary and secondary research. I got the opportunity to design and interpret surveys and to interact with some of the doyens of the industry for the same.  Overall the internship was a huge learning experience, in not only how consulting and the retail banking industry worked but also in helping me polish myself to become a better consultant.
7.  What was your reaction upon knowing that you were one of the toppers of the first year? How did you celebrate it?
I was very happy to know that I had been able to achieve such a good result in my first year. I celebrated by going out with some of my friends.
8.  What is your advice to a student entering a B school, in the first term? How can they achieve their academic goals? Apart from academics, what should they focus on?
Proper clarity as to ones goals is very helpful in doing well in an MBA course. An MBA school offers many opportunities to excel. So a clear long term goal and knowing what are the skills required to reach it is necessary.
If a student has decided that he needs to do well academically he should be thorough and try to give in his all. I don't feel that MBA is rocket science, or any of the courses taught are very tough to understand. However the quantity of matter to be covered is huge. So if someone wants to do well he should regularly visit all subjects and try to keep up with all deadlines.
Apart from academics, getting into clubs is helpful as it facilitates networking with seniors and like-minded batch mates. Any extra- curricular activity that a person likes should never be neglected.
9. Competition for acads at IIM Ahmedabad must have been insane. What was your secret formula?
Doing well in academics is simply dependent on putting in the maximum amount of effort one can. There are no secret formulae or shortcuts. However certain helpful tips are
1)    It is more about consistency than anything. Try to do well in every quiz/test
2)    Do not worry too much- Everyone has bad tests/ quizzes; all one can do is look ahead and try to do their best the next time
3)    Try to always read up before the class to maximize in class learning
10. If you could go back in time and you had to live the first year differently, what would you do?
I was not in any of the clubs in my first year at IIM- Ahmedabad. As a result I missed out on a lot of opportunities to know a lot of wonderful people. I would probably have tried harder for clubs if I were to repeat first year.
11. What are your future career plans.
As of now I plan to try my hand at consulting. This will give me the required amount of exposure and training to further my ambition of leading a top management position.
12.  Apart from imbibing academic knowledge, how else has the first year of MBA enriched you? What is the greatest non-academic learning you had at IIM Ahmedabad?
IIM-A has taught me not to procrastinate. Earlier I used to work for deadlines. IIM-A has taught me to try and utilize all my time fully.
13.  Usually toppers are regarded as nerdy types, and in the high-stakes environment of a B school, they are subjected to a lot of peer pressure in ways that range from good-natured banter to mockery and bullying. Did you face this? If yes, how did you deal with it?
I did face some good-natured banter and jokes. However I think these are a part of school life and I enjoyed these jokes as much the next guy cracking them.
14.  How was your performance in the CAT? Which institutes did you interview with, which ones did you convert, and approximately where did you lie in the final list of candidates selected for IIM Ahmedabad?
I had a percentile of 99.79 in CAT and interviewed with A,B,C and L and converted all 4. I am not sure where I was in the final list of candidates except that I was not in the top 20.
15. Did your IIT background help you in any way in academics? Did it help with shortlists for summers?
I don't think being from IIT specifically helped me with academics. While being from an IIT did not matter much for shortlists, the fact that Kharagpur gave me a lot of opportunities to do a variety of things and build a good CV was definitely a plus.
Follow the Media Cell of IIM Ahmedabad here
Follow The Special Ones Series on InsideIIM here