IIMK Internship Kronicles – V. Sharada, Reliance Industries Limited (HR)

The field of Human Resources is one that offers a wealth of opportunities within every business sector. HR professionals are an integral part of any successful organization and are often involved in the execution of significant business change. With the emergence of HR roles in almost every sector, this field is often sought after by many MBA graduates who want the opportunity to liaise with the senior management on a daily basis to co-ordinate their organization's running.
The latest edition of Internship 'K'ronicles features V. Sharada, PGP student at IIMK who interned at Reliance Industries Limited in the HR domain. Sharada has done graduation in Electrical Engineering from NIT Surat and has worked at RINL – Visakhapatnam Steel Plant for 22 months. She is a member of the 'Konquest' committee at IIMK.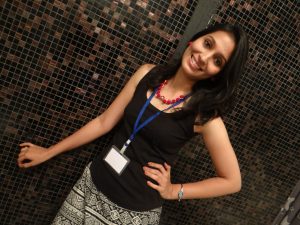 Here is an account of her summer internship at Reliance Industries Limited:
1. You were part of the RIL Summer Internship programme. What was the domain and role offered to you at Reliance?
I was offered an HR role at Reliance and was a part of the Reliance Technology Group HR.
2. What was the project assigned to you?
When I started my internship, Reliance was in the midst of a major change process. They in collaboration with BP were changing the entire structure of Reliance human resources. This was dubbed as R-HR. Hence my project revolved around these changes and ways to manage the changes.
3. What is meant by the term 'Change Management'?
Change in an organization takes place in several stages. There are also different emotions attached to the idea of organizational change. Some workers will immediately accept the announced changes, while others may deny the need for it, prolong the change itself, or actively resist it. Therefore, as long as the organization continues to encounter change, there is a requirement to monitor the employees' response to it. There's a requirement to support employees during the transition. This is very crucial since an overnight change in behaviour cannot be expected. The transition from current to expected behavioural state takes time. The process by which the organization and the HR supports this is change management.
4. You had the opportunity of visiting the Jamnagar Oil Refinery during your orientation at RIL. How would you describe your experience of the same?
I had already worked with Visakhapatnam steel plant; hence it was not my first factory exposure. But, what I saw at Jamnagar was breath taking. The scale at which they operate and the sophisticated control rooms was something new and gave a perspective on the kind of business they dealt with. Apart from the usual buildings of refineries, they also had a green belt, which was something new to behold. To know that the organization is wary of the environment is commendable.
5. As an intern in HR, what were your primary activities and responsibilities?
The aim of my project was to create buzz and excitement among the employees regarding the ongoing changes. I had to make sure that all the employees were actively involved in the change. So, I organized various events which were woven around the changes in the organization. I had to stay in touch with various teams to make sure that the event happened as scheduled, in the corporate office as well as in the factory sites. It was difficult to create the same level of enthusiasm on the site as I would be operating from the corporate office, and hence the need to be in touch with teams on the sites was crucial.
6. What were your observations about the functioning of HR in a conglomerate like RIL?
In a conglomerate as huge as RIL, the role of an HR is very crucial. There are various departments, each with their style of working and set deadlines. Hence each department and their employees have different needs. The HR department at RIL was always abuzz with activities.
7. Being a part of the HR department, you must have had the opportunity to interact with several professionals at RIL. How would you describe your experience?
The department that I worked at played host to the most brilliant minds of RIL. It housed more than a 100 PhDs and the level at which they operated was awe-inspiring. I interacted with presidents who had worked in RIL for over 20 years, and could describe in great detail and enthusiasm how RIL had evolved over the years. To be among the presence of such experienced and knowledgeable crowd was humbling.
8. What was the most challenging aspect about your internship?
The most challenging part of the internship was to design the events and ensure that they rolled out on time. This was tough because for each event I had to interact with various teams, the IT department, procurement etc. and each of these teams had their own schedules and work to handle. Hence to find time for my project and bandwidth was an ordeal.
9. RIL is in the process of transforming its people processes to develop a contemporary organization. What is your opinion of this transformation?
"To change is difficult, but to not change is fatal", with this in mind, the changes in RIL has come at the right time. RIL has been a pioneer in many fields; hence it's natural that they would want to ensure that the HR supports its processes. In a transformative era, with so much competition for the human capital, the transformation at RIL would bring in a change in the working environment and can be a game changer.
10. How would you describe your interactions with interns from other B-schools at RIL during your two month stay at Mumbai?
Though I have visited Mumbai before, it was the first time that I was staying for a relatively long period. I had apprehensions regarding my stay and the kind of people I would be meeting. I met interns from a host of other colleges and I had an interesting experience interacting with all. Since we worked in different departments, we could discuss the progress of our projects, and sometimes would offer different perspectives when stuck at a particular issue.
11. In your opinion, what is the relevance of the concepts learnt in Organizational Behavior courses in corporate HR?
HR is a pretty abstract field. Though we might learn about various frameworks and hierarchies, implementing it on field may not go as we thought it would. Nevertheless, the concepts we learnt in the classroom does hone your thinking. I might not have approached a certain problem the way I did if it weren't for what we learnt in Kampus.
12. What is your most significant takeaway from the internship?
I learnt to never under estimate the reach of any project that I undertake. Before the internship, I wasn't sure how many people would be affected by the project or whether it would have any impact at all on the organization. By the end of the internship, I could see the involvement of the employees towards my initiative. It was a serious morale booster. By means of this internship, I could observe the dynamics of an organization in the middle of a change process. The experience and learning from just observing the people around was immense.
13. You have worked with RINL in the steel manufacturing sector in the past. Did your prior work experience help you during the course of your internship?
I was an Electrical Engineer, working on the shop floor of the factory. I dealt with machines and motors, and there was always predictability. If the resistance was low, it would blow up, if the resistance was high, it might not run, or burn. But in HR, you can never make predictions. Each person you meet would have a different threshold, and a different way of reacting to the same issue in hand. So, I was able to experience huge contrasts between the reactions of different employees.
14. What is the most significant aspect about HR that inspires you to pursue a career in the particular field?
Talent is more important than ever. In a knowledge based economy, the only way you can differentiate your organization is by means of the talent you acquire and how much of them you retain. This is an aspect about the HR domain which attracts me. An added bonus of course would be the kind of people I would end up interacting with. It's a little daunting, but it's also fun.
15. The junior batch will be undergoing the summer internship process soon. What advice would you like to share with them about pursuing an internship in the HR domain?
HR doesn't just mean a corporate office with air conditioned room; it is also a cabin in a factory with you dealing with the union leaders' day in and day out.
Observe people around you. Everything you see and hear is a valuable piece of information, which you can use; it's all about understanding people and their needs and the way they tend to work. If you get that right, you are golden.
16. Five words that sum up your stint at RIL?
Interesting, Fun, Creative, Eventful, New
Interview conducted by:
Ipsita Acharya- Media Cell, IIM Kozhikode
This article has been complied by the Media Cell of IIM Kozhikode as part of the 'Internship Kronicles' series. For further information please contact us at media@iimk.ac.in