IMT Hyderabad Organizes Trail Marathon In Nature's Lap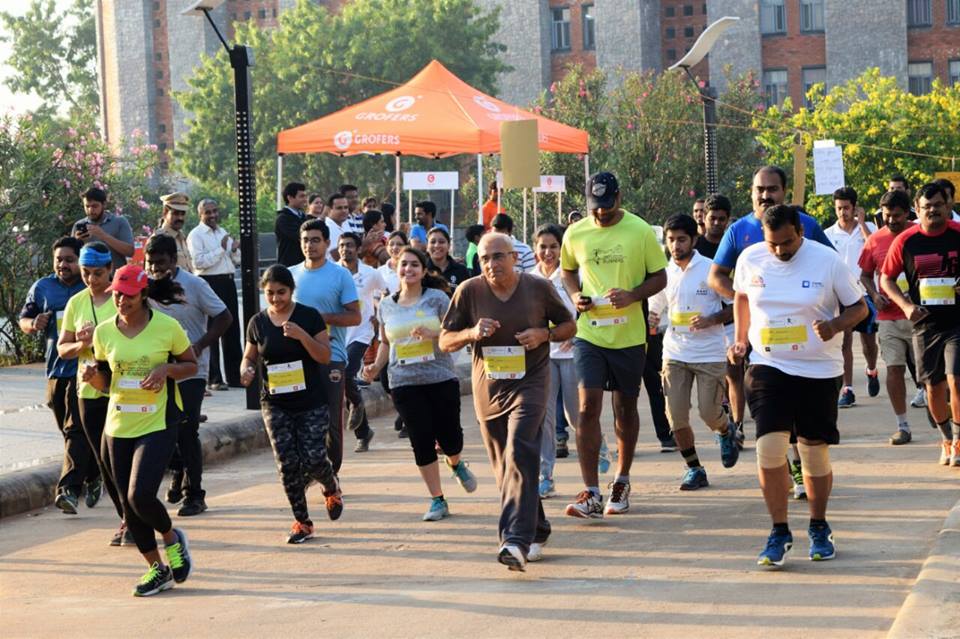 Highly inspired students and faculty of IMT Hyderabad, post their outstanding performance in the Hyderabad Marathon last month, organized a Trail Runon October 16th, Sun, 2016. To promote healthy lifestyle, fitness and running, the Trail Runwas categorically designed to accommodate all types of runners' right from amateur to pro category with the motto 'Run for Yourself' in association with Red FM and Grofers. The route of the run was amidst nature and serene atmosphere far from citynoise, starting and finishing at IMT Hyderabad Campus.
Runners that comprised of students, professors and corporate professionals from across the city participated in the Trail Run. Dr.Satish Ailawadi, Director, IMT Hyderabad, successfully completed the quarter trail of 10 km. The event was flagged off by Chief Guest, Mr. Mahender Reddy, the Sarpanch of Shankarapuram. Refreshment kiosks were put up along the course of the track. All participants were awarded medals.
Earlier last month the students and faculty of IMT Hyderabad participated in the Hyderabad Marathon 2016 and completed the full, half marathon and 10 KM runs. A total of 112 participants including students and 13 faculty members of IMT Hyderabad ran together. Prof. Nikhil Rastogi ran full 42 KMs, while Prof. Kalyan Chajerla ran half marathon and while rest of the faculties ran the 10 KM stretch. Endurance training & running preparations went on alongside academics, earnestly for weeks and months.
Institute of Management Technology (IMT), Hyderabad which has been recently awarded – 'Best Upcoming B-School in South India', is the fourth and the youngest IMT to be established in the year 2011 after IMT Ghaziabad, IMT Nagpur and IMT Dubai. The institute which is in the outskirts of Hyderabad situated in 30 acre lush green campus with state-of-the-art facilities, having tie ups with 20 Global University for student exchange programs.
Published on behalf of IMT Hyderabad
DebriN Synergy