Uncategorized
In conversation with Samir Gadgil, Vice President and Global Head – Compensation & Benefits at Wipro Limited and alumnus of SIBM Pune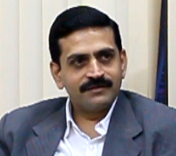 How does it feel to be back?
It feels wonderful! It's been a couple of years since I was last here, and it always feels good to be back to your alma mater. Fortunately or unfortunately, when I passed out in 2000 we weren't in this campus – we were at SB Road, which was much more in the heart of the city. We had a great time over there, and we really cherish those memories. I had a great time in those two years. I was part of the Technology team of the Students' Council – and I think it always helps. If students participate in council activities, it really does help.
After you graduated from SIBM Pune, you've been working in the field of HR for over 10 years now. How do you figure out… in the first five years, or say the first two years… how do you figure out what you want to specialise in?
More than specialisation, what is important in the early part of the career is to take every job without any bias. Every job has a unique aspect of learning, and that's the most important part in the initial years. Take every job and look at it in terms of what all skills are you developing. That has been my focus throughout my career. Don't worry about the kind of work, as long as it's in HR; be the best possible in your job and make sure you develop whichever skill that role offers and make sure you build on that skill before you move to another role and another skill.
Could you give us an example of something you've learnt even at this stage in your career? Regarding Wipro's recent takeover of Siri Technologies… could you share with us something you learned from the acquisition?
Initially, people do not accept such a change, then they slowly begin to accept it, then they start figuring out what work they can do. So we went through that entire continuum, which was the biggest learning aspect for me from the acquisition. The other aspect was regarding communcation. No amount of communication is enough. The more the merrier – the more we communicate in a transparent manner, the more receptive the employees of the acquired organisation are. And that helps the acquiring organisation to build that element of trust. That aspect worked in our favour, with the new employees very well assimilated into the system within the first year itself.
You were a speaker at World HRD Congress in 2012 on Current Trends in Compensation. Two years down the line, has the trend changed?
Yes, definitely. It's happening due to changes occurring in a pronounced manner in the ecosystem around us – home, school, work – changes affecting the culture and the social fabric. All this affects compensation trends. So yes, I would say that the trends are certainly changing – and quite fast, faster than might have been expected.
You've been quoted in the Empire blog as saying: "It's difficult to directly link a benefit basket with retention; an increased take-home can help in decision making for the employee." Do you feel that this philosophy works with Generations Y and Z?
Increased take-home certainly helps, because Gen Y and Gen Z are quite impulsive. They seek quick recognition and instant gratification. The value of that gratification is less than the actual money coming to hand. Definitely Gen Y and Z value money more than other benefits. They also value personal space, overall organisational culture, and freedom… aspects not typically a part of compensation and benefits. It's the culture creates that stickiness.
For Gen Y and Z, which do you think is the greater priority – career growth or compensation and benefits?
Career growth, I would say, without a doubt. Like I said, it's a very fast-paceed generation. Stability is not something they really enjoy. Newer challenges, better prospects… these are what they're looking for. Compensation is taken as a given… if they are working a certain extent they ought to be compensated to that extent. So, certainly, career growth over compensation and benefits.
Finally, a message for the students of our current batch – your juniors?
My only humble submission is that this MBA not the end of your learning. This is more a stepping stone as you move up the corporate ladder. You will be learning throughout your life. The more you learn, the better for you and the further you will go in life. Watch videos, take online tutorials and MOOCs. The more you learn, the more you're up-to-date on the latest that is happening around you, the better it is for you in the long run.
Follow SIBM Pune at sibm.insideiim.com