'Indian Managers Need To Come Back To School' – Madhav Kalyan, CEO – JP Morgan Chase Bank, India At MISB Bocconi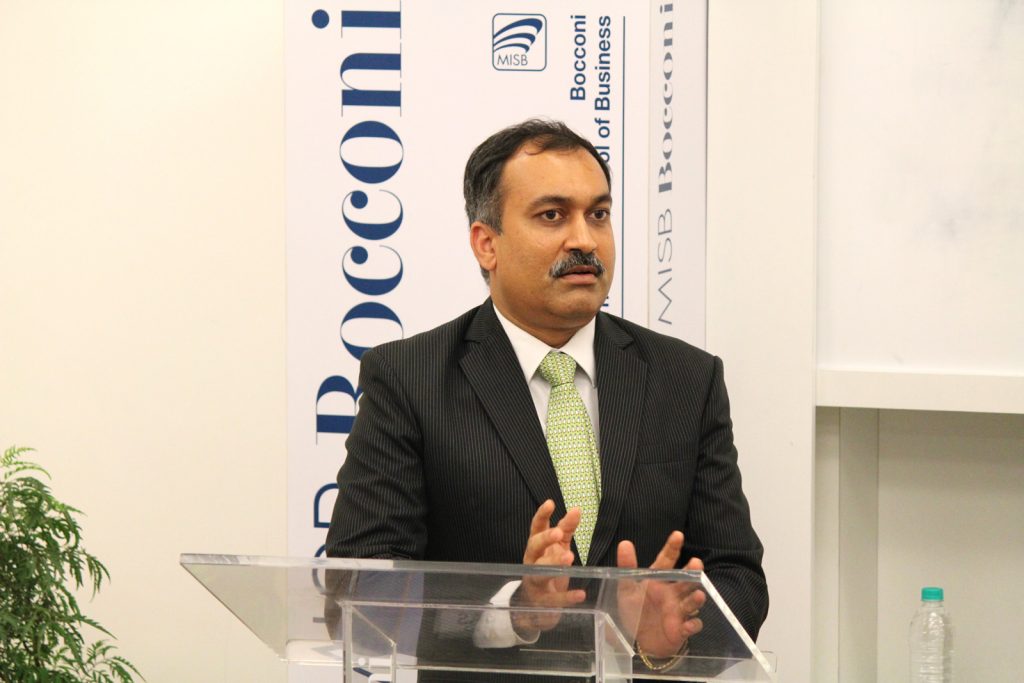 "Re-learn, Reflect, Re-strategize," Mr. Kalyan advises the new Executive Masters batch of MISB Bocconi
MISB Bocconi, the world's only offshore presence of Università Bocconi, one of Europe's leading universities, started the first edition of the International Executive Masters in Business(IEMB). IEMB has been designed to provide an unparalleled opportunity to Indian executives to be trained by the world renowned Bocconi faculty. The alternate weekend program run in Mumbai also offers an immersion of two weeks in the Italian business environment, optional electives to peer with international managers studying in Bocconi and professional networking with the 90,000+ Bocconi Alumni
The program offers two specializations: one in Design Management in partnership with Future Group and a second one in General Management.
The batch has an average experience of 11 years, with more than 50% of participants having a post graduate degree.
While inducting the new class, Prof. Dr. Himanshu Rai, Dean, MISB Bocconi said, "The ability to learn is something unique to human beings and continuous learning is fundamental for today's managers, in India and abroad, to sustain both the individual professional development and to contribute to the advancement of business organizations as well as communities. The IEMB offers a new formula to Indian executive to learn to become future leaders."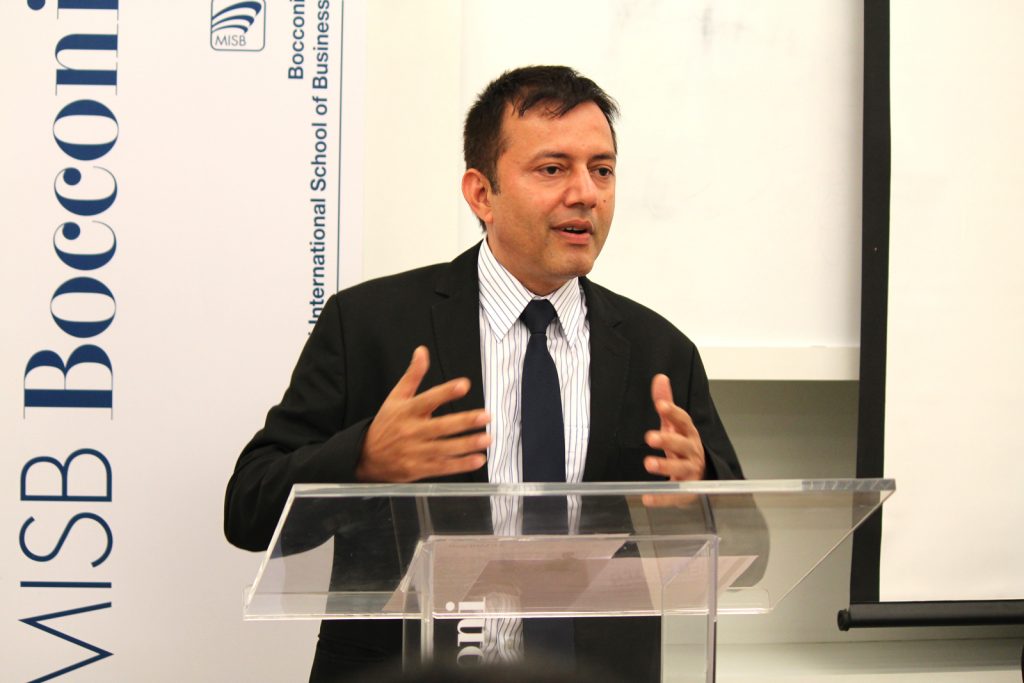 Speaking to the fist batch of Bocconi IEMB, Madhav Kalyan,CEO of JP Morgan Chase Bank,India,said "Indian companies are facing two relevant challenges, which will create destabilization as well as opportunities, the huge economic development of Asia and the digitalization. To face them, Indian managers need to come back to school, and international executive programs represent a great opportunity to re-learn, reflect, and re-strategize."
Prof.Dr. Veronica Vecchi, Director of Executive Education of MISB Bocconi, spoke to the class and said,"I'm delighted to see our dream come true. We've designed the IEMB to offer Indian managers the same value that we offer in SDA Bocconi, Milan, within our executive MBA programs: same vision, same faculty, same program, same masters certificate, same opportunities; but just at the doorstep of participants' companies and families".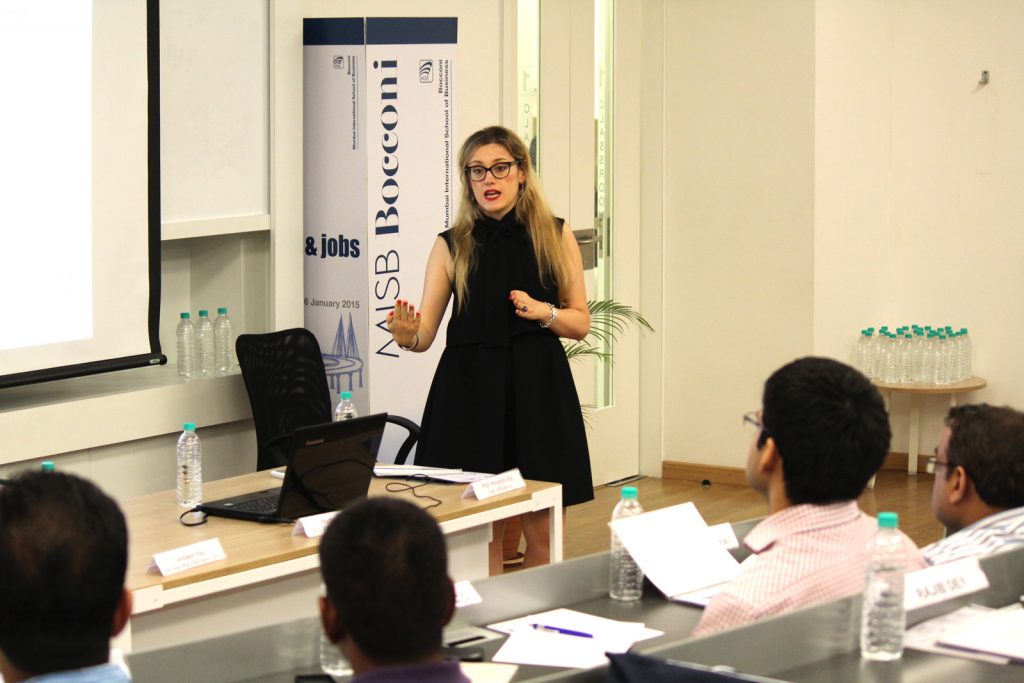 Bidisha Banerjee, one of the IEMB participant, said, "The class is fascinating because it focuses on application; the teaching methodology is completely experiential and encourages participation. It's a great start".
About MISB Bocconi
MISB Bocconi, located in Mumbai, is the only offshore presence of Università Bocconi, Milan, Italy, one of the world's top universities for management and economics. MISB Bocconi offers post-graduate management and post-experience executive education, designed and taught by the faculty of SDA Bocconi School of Management, which is among the few Business Schools in the world to hold the Triple Crown Accreditation. SDA Bocconi faculty brings to the classroom a solid academic background, with morethan 200 papers in A level journals every year; a strong professional experience developed in stratetegic consultancy and companies and institutions' boards across the world.
About IEMB
Weekend formula: on average 2-weekends per month
Length: 18 months, 530 hours
Experience: min 5 years
Taught by SDA Bocconi international faculty
Two weeks in Milan
Optional electives in Milan
This is a Promoted Feature
SDA Bocconi Asia Center
SDA Bocconi Asia Center is the Pan Asia hub of SDA Bocconi, Italy. In Mumbai, we deliver our flagship program, IMB - International Master in Business, which is a 22 months program of 2 modules of 11 months each. In the second module, students get an opportunity to complete their specialization in our Milan campus at Bocconi University for 4 months.