IndusTree: CXO Power Talk (18) At MYRA – A 'Made In Mysore' Story That Makes Every Indian Proud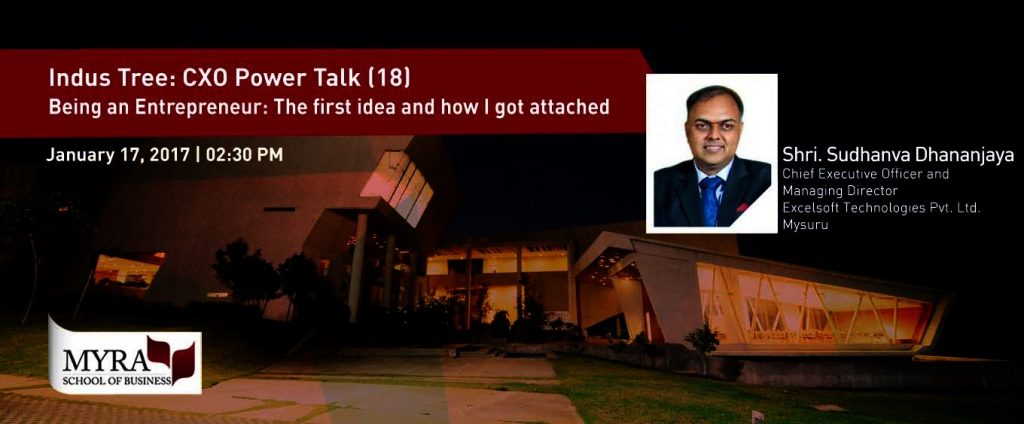 On Wednesday, 17th January 2017 the students of MYRA Business School, Mysore had the privilege of hosting Mr. D. Sudhanva, CEO and MD of ExcelSoft Technologies, Mysore at their campus. Mr. Sudhanva was there to deliver a talk at the 18th edition of IndusTree: CXO PowerTalks @ MYRA.
Speaking on the occasion, Mr. Sudhanva shared with the audience the story of how he embarked on his journey from being a salaried employee to becoming an entrepreneur, which in itself included crossing several chasms as well as encountering twists and turns. One of the milestones was the formulation of ExcelSoft's vision to be a product player at a time when the industry trend was to move towards services and solutions. The fascinating story of that began 16 years after the dotcom bust felt all the more special and touched the hearts of the students as it began in Mysore – an unlikely place then for a tech start-up – proving that if one has purpose, passion and preparation, then location becomes irrelevant.
Narrating an anecdote of his first client meeting that started as a ten-minute presentation into a four-hour successful sales pitch, Mr. Sudhanva reiterated that old-age habits such as doing your homework, practising, steadfast adherence to ethics and corporate governance and remaining focused will never go out of fashion. Today ExcelSoft Technologies' products are making a difference in the lives of over 200 million users worldwide. The number is set to increase exponentially with GMAT set to use ExcelSoft's platforms worldwide for their tests. Truly an achievement that inspired every person in the audience!
Later on responding to queries from the audience, Mr. Sudhanva shared his thoughts on whether innovation plays a role in at the beginning or at a later stage in an entrepreneurial venture. An interesting question posed to the speaker was the reasons for Mysore not giving birth to start-ups despite having all necessary resources is and what could help the city overcome these challenges. Mr. Sudhanva opined that an absence of frequent, relevant and exciting networking platforms for business leaders and Mysore always being under Bangalore's shadow could be the reasons for the same.
The staff, students and faculty of MYRA are proud of ExcelSoft's emergence into a globally-respected thought leader that didn't want to be perceived as 'another cheap product from India' even at the cost of losing orders.
http://www.myra.ac.in/events/eventdetail/170/-/industree-cxo-power-talk-18-by-sudhanva-excelsoft-technologies