Industry Bigwigs To Attend XLRI's Annual Operations And Strategy Symposium On November 6th, 2016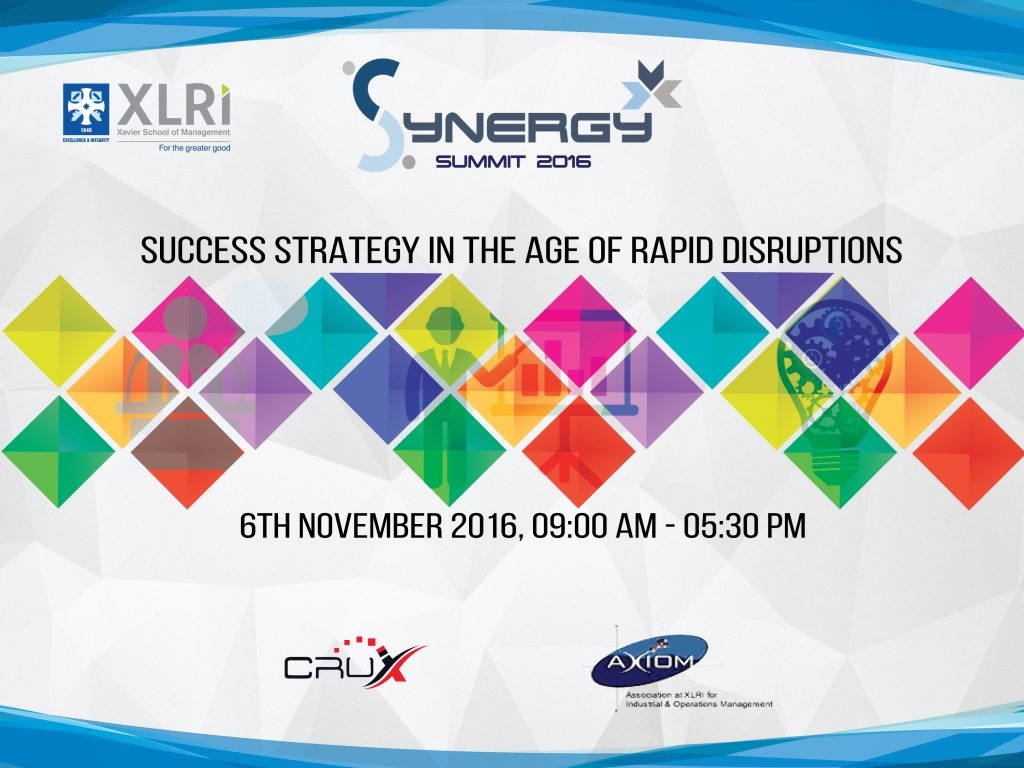 XLRI- Xavier School of Management, India's No. 1 Private B School, will be hosting "SYNERGY 2016" – its Annual Operations and Strategy symposium. The symposium will be held in its Jamshedpur campus on 6th November, 2016.
The symposium will bring together industry stalwarts, policy makers and entrepreneurs from across the nation to discuss their views on relevant issues that are the next big catalysts in the industrial landscape of India. The symposium will be jointly organized by AXIOM (Operations Society) and CRUX (Consulting Society) of XLRI.
Keeping in mind the fast-paced environment and disruption in the industrial domain by new age companies, the theme for SYNERGY 2016 is "Success Strategy in the Age of Rapid Disruptions." The focus is on the biggest technology transition in recent times.
The speakers for the conference include eminent personalities like Mr Sandip Sen, Global CEO and Executive Director, Aegis Limited; Arvind Singh Rana, Principal Consultant, Vector Consulting Group; Sandeep Chatterjee, Associate Director, KPMG; Joydeep Dutta Gupta, Senior Director and Partner, Deloitte; Srikumar Menon, MD (South Asia), Linde Engineering; and Mohan Raman, Renowned Actor and Management Trainer. The symposium includes a keynote speech, discussion with the business leaders and case presentations by students from top B-schools across India. It will also host the finals of Drishtikon, XLRI's Annual National Paper Presentation Competition.
About AXIOM:
Association at XLRI for Industrial and Operations Management (AXIOM) is India's No.1 Supply Chain and Operations Club. An initiative, started in 2004 by the students and the faculty of XLRI to help the students gain insights about intricacies of industrial and operations management, its members have garnered interest from industry leaders who have been an avid follower of its magazine, AXIS. AXIS attracts articles from leading Business schools and at XLRI, AXIOM has been a talking point courtesy of its training programs and campus engagement activities. Follow us at www.facebook.com/axiomxl for more details.
About CRUX:
CRUX – Consulting and Research Undertaking at XLRI is the exclusive committee for consulting on campus. The committee's vision is to promote XLRI as a premier consulting destination. As consulting becomes one of the most sought after career options at XLRI with many of the alumni holding leadership positions, CRUX is dedicated to honing current students' consulting skills and help them achieve their goals in this career path. Follow us on www.facebook.com/cruxxlri for more details.