Inexspectus – The Informals Event Of Revelation 2018 At SIBM Bengaluru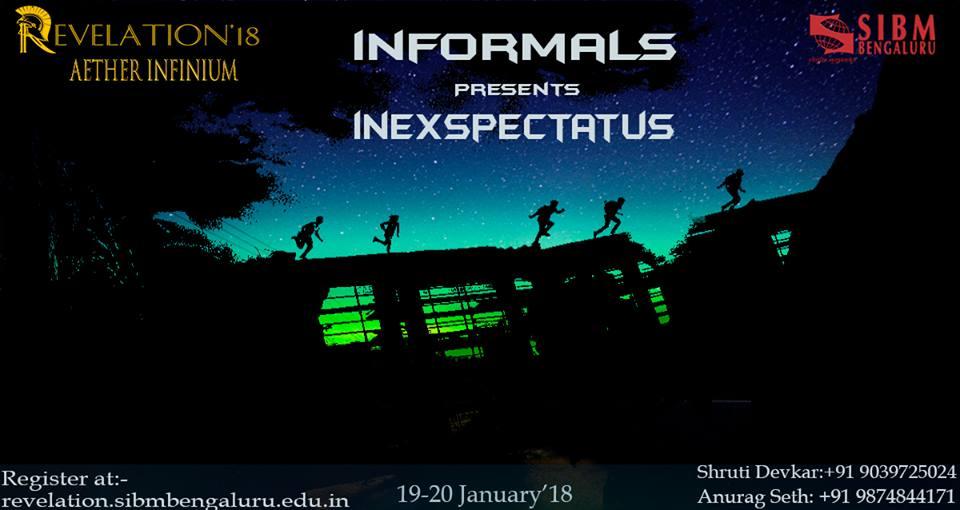 Inexspectatus – the 'Informals' event of Revelation 2018 witnessed participants from different colleges across the city, who had a zeal to reach beyond infinity, to achieve the unseen and to redefine themselves constantly, in sync with the theme this year – 'Aether Infinium'.
The event comprised many sub-events and was conducted across 2 days. Some of the colleges that set foot were teams from Symbiosis School of Media Communication Bengaluru; ISBR; Communiti College, etc.
The Day 1 commenced with few in-campus and out-campus tasks across the HSR layout and Kormangala, Bengaluru. There were four indoor tasks happening at four different locations across the campus simultaneously. Stairway to Hell, Dizzy Penalty, Sales Task and Mud Basket were few of the rounds that happened on the campus. The rounds were as challenging and adventurous as the name suggests.
After a major part of the event happened on the campus, the later part was seen conducted across several places in HSR layout and Kormangala. Few of the tasks involved – gym specific physical activities, Do The Makeover at a renowned parlour, Test Your Taste at a bakery shop and several other locations. Day 1 ended with an Escape room task and a Selfie Round where the participants were formed into groups and solve several mysteries including murder, abduction, suicide, etc. The selfie task elevated the participants' energy and the day finally finished on a high spirit.
The D-Day witnessed the finalists with few sports tasks on the huge playground of the college. The teams were fighting their best to win the title of the ultimate "Inexspectatus". After several rounds of testing their physical and mental stamina, the event finally concluded with SIBM Bengaluru's Ronak Kotak and Nikhil Dhavale emerging as the winners, and Sahil Arora's team from Symbiosis School of Media Communication bagging the position of the first runners-up.
A participant from 'Informals' quoted, "The rounds were so much fun-filled that the sense of tiredness after doing an entire continuous series of tasks seemed to be unfelt."
SIBM Bengaluru
Ever since its inception in 1978, SYMBIOSIS has been synonymous with progress. The trend of progress has been continued by setting up of SIU's first campus outside Maharashtra at Bengaluru in 2008. SIBM Bengaluru is now one of the leading B-Schools of the country. The focus, now, is on matching global standards of management education. SIBMB instills a work culture which is unparalleled among various institutions. It provides a holistic approach to management which goes a long way in creating a dynamic identity. Vibrant student associations and committees complement the program with a number of activities involving institute-industry interaction.