InsideIIM Campus of the Year for Best Content Creation – IIM Calcutta
In our year-end special, we will be announcing the Best on InsideIIM for the calendar year 2013.  This recognition was not announced earlier and hence there was no one trying to 'win' this competition. It is a result of sustained activity over 12 months.
The first award announced today is that of the campus creating the most interesting content on the platform. This award is presented to the Media Committee or the External Relations Cell of the campus. A large part of the credit for this recognition also goes to people in this committee. Creation of stories could have been done by anyone on campus, but it requires a push from the committee to get it published.
There were 5 main contenders for this award this year – ISB, IIFT, IIM Lucknow, IIM Indore and IIM Calcutta among all the schools present on the platform.
The case of IIM Lucknow is peculiar. Although participation from IIM Lucknow has been significant on InsideIIM.com, most of it has not been driven by the media committee at all. It has been individual students and the previous placement committee. IIM Lucknow's (now very famous!) campus writer Shohita Choudhry's stories can be found here. One of the biggest stories of the year was written by R.Maheswaran of IIM Lucknow in March earlier in the year – Fair Warning to IIM Aspirants by an IIM Student. IIM Lucknow placement reports always generate interest.
IIFT was invited to be featured on InsideIIM.com only in June this year and the Sommarita Dey led media committee has been quite active in getting students from IIFT to contribute. One of the blockbuster stories this year has been written by Shambhavi Singh of IIFT Delhi – A girl in a Business School.
ISB has become extremely active on InsideIIM.com this year and ISB students have written some interesting stuff in the last 6 months. You can read everything about ISB here.
IIM Indore has always been active on the platform since the creator of this platform is an IIM Indore alumnus. Participation has been enthusiastic from the satellite campuses of Mumbai and Dubai too. Recently, we have seen a flood of stories from IIM Indore's campus writer Barleen Kaur. You can read her stories here. The former director of IIM Indore did 3 Video Interviews with us! You can see them here. The IIM Indore Media Committee has also been active in spurts.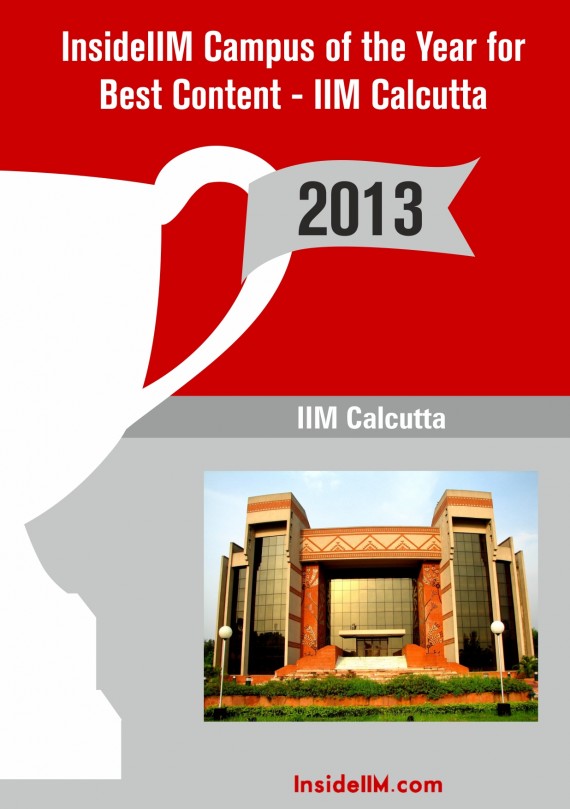 After accounting for all round contribution of students, placement committee and the media committee, the popularity of content and most importantly the quality of content rated by our editorial team, the winner is clearly IIM Calcutta!
The External Relations Cell of IIM Calcutta has created some excellent stories over the last 1 year (especially in the last 6 months). We have always maintained that in order for a story to become popular, you must provide content that adds value to the user. Most business schools publish stories on InsideIIM  which state the facts and vehemently glorify their own school. It adds little value to readers on this platform. However, IIM Calcutta has been different. The committee has sent some excellent interviews with leaders who have visited IIM Calcutta which are useful to everyone in the management education community. In the true sense of democratization of access to education, IIM C students have helped thousands of  students from other schools and regions to gain wisdom from the likes of Vini Mahajan, Mali Mastan Babu, British Prime Minister David Cameron, Prof.Leena Chaterjee and Former Railway Minister Dinesh Trivedi. It is also the best way to promote your business school. Sharing knowledge that one has gained on campus is the best way to show off how awesome your business school is. One should also acknowledge the contribution of Afzal Hussain for helping create our popular series – 'Gems of Joka'. You can read Afzal's stories here.
IIM Calcutta will receive a Certificate and a memento with a citation on campus soon!  Follow IIM Calcutta here : iimc.insideiim.com. Read everything about IIM Calcutta here
Apart from the 5 mentioned above, new kid on the block to watch out for in 2014 is IIM Shillong. You can read their stories here 
We hope 2014 sees the best minds express themselves on this platform. We hope there is more sharing of knowledge, useful suggestions, advice and tips that anyone can use. Let's create a truly democratic learning space.
Did you know that you can now earn a part of InsideIIM's revenue? Click on the image below to know more!