InsideIIM Is Now On Whatsapp – Add Us And Get Notified For Everything MBA!
Whatsapp is one of the main sources of communication these days. A majority of people use this app multiple times in a single day! And why not? It's easy, it's convenient and it's accessible. So we, at InsideIIM, have decided to use this app to serve you better! We are creating a Whatsapp group for ALL Aspirants on the platform and otherwise.
What will you get –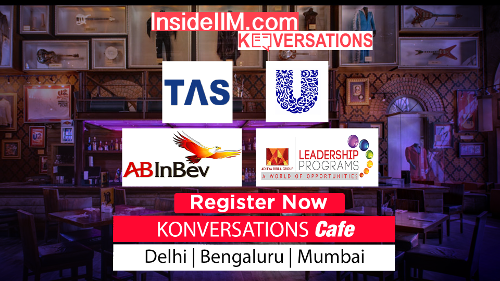 Get our daily content as soon as it is released. News travels faster on Whatsapp!
Meet people from different background at one place. Form study groups!
A chance to speak to an IIM Student every week! Know what it would be like to be in a b-school and more!
Chat with recruiters, b-school media and placecommers, etc before you even give your CAT.
Get notified on any offline events we conduct. Check out Konversations Cafe here. It was an event held where Top recruiters like HUL, DBS Bank, Reliance, and Vodafone met with candidates who were yet to start with their b-schools!
There's a lot more in store. Help us serve you better! Just fill in this form and we will add you to the Whatsapp group!
In case of any queries, please write to Nidhi at nidhi.malkan@insideiim.com.