InsideIIM Recruitment Survey 2014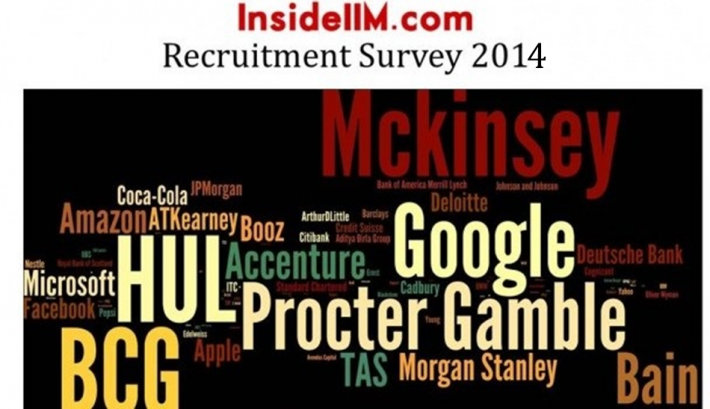 The InsideIIM Recruitment Survey 2014 is here! (Rate the recruiters here)
In 2012, we thought that enough of ranking B schools and students. It's time to rank current and potential employers. Since then we have built a highly credible property which is respected not only by students of top schools in India, but also campus managers of dream companies in India. Our reports are accessed by top recruiters and we are proud to have influenced the way companies recruit across various campuses and also when hiring laterally.
Year after Year, we have students and young professionals who thank us for helping them make their career choices. It is the first year students who are big beneficiaries as they are completely clueless about careers, domains and the realities of campus placements. There are young professionals who use our survey to educate themselves about the market and to know what their peers are thinking and doing.
For e.g. look at the graph below :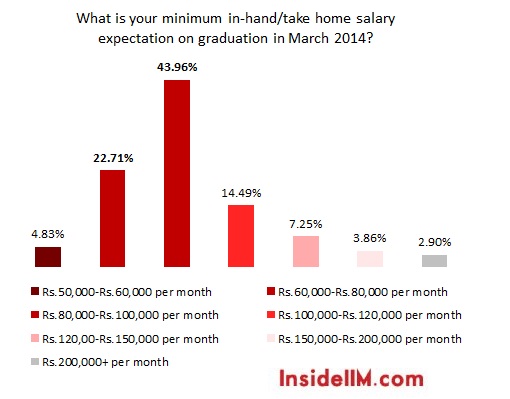 Companies have been using this graph since the last two years to design their compensation plans. HR managers of top companies have confessed to us that our survey has helped them get approvals to restructure salaries in their companies! One top level executive even took up our survey findings in a board meeting!
It is open to MBA aspirants, current students and alumni of business schools in India and aspirants of management education in India. The results will be announced from 15th September 2014.
We will come out with a list of Preferred Locations, Preferred Domains, Dream Companies across campuses, and Top Companies to work for based on feedback from alumni and Salary expectations for the Class of 2015. Please check the results of the 2013 Survey here. You can check the results of the 2012 Survey here.
Please take the survey sincerely. We will only consider completed surveys. The results of this survey will only help you make better decisions.
Please be rest assured that enough safeguards have been put in place to prevent rigging of the survey. Ballot stuffing controls are also active. Results after the next 40 days will be shared with all business schools and our list of top 100 recruiters in India.
The survey will take minimum of 4 minutes and about 8 mins on the higher side.
Please start the survey here !
If you have any difficulty, please comment below or write to us at editor (At) insideiim (dot) com