Meet Your InsideIIM Student Team for 2015-16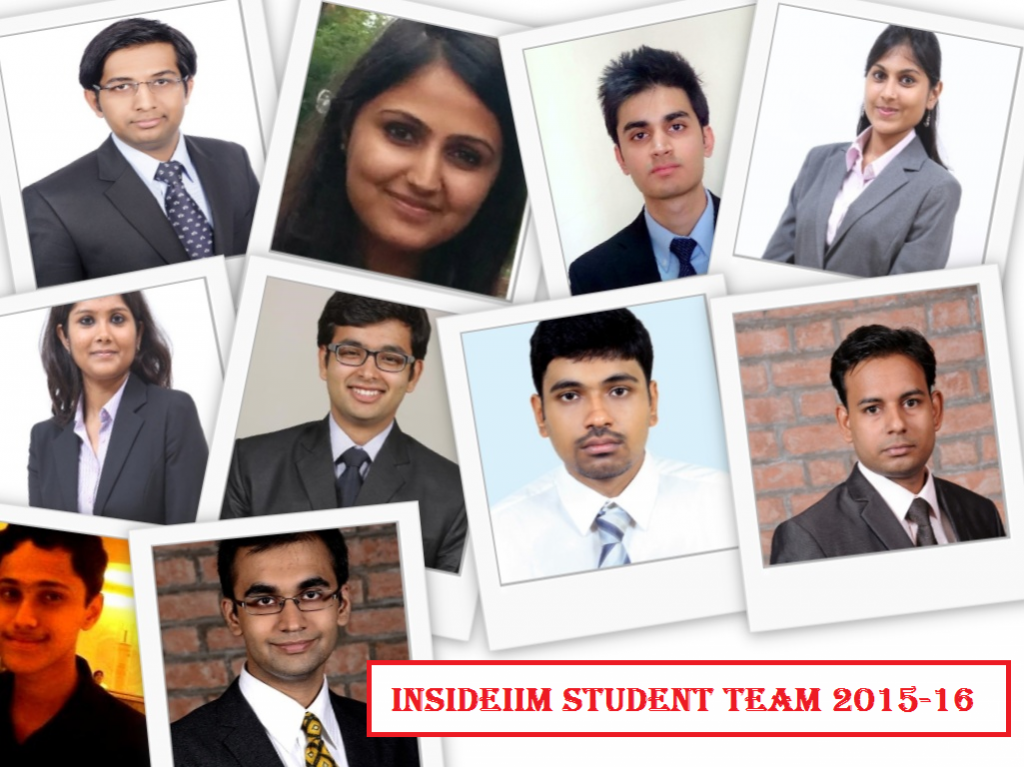 The big change that we are making at InsideIIM this year is decentralizing the platform and letting the platform be run by current students studying in top schools and universities in India. From over 350 applicants from schools across India, after a 3 stage process, we have our first ever student team! The student team has already been working for the last 2 months and is slowly taking over the day-to-day running of many aspects of the platform. The term of this team will expire in February 2016 when a new team will take over. The Student Team will be involved in creating quality content, launching new services and in generating more revenue for the platform. Most importantly, their goal will be to make platform more useful for all stakeholders.
Message from the Founder
"It's been 4 years since I got out of Business School and same is the case with many others who have been working on InsideIIM. In order to stay with the times, it only makes sense to let the people for whom the platform was created run it. We have done that with this student team.
They are brilliant and represent the best talent in India. They may make mistakes because they are inexperienced but then if you try something different you are bound to falter somewhere. It will be a learning experience for them and for us. It is a first-of-its-kind experiment which promises tremendous growth for all of us involved.
Personally, I am just excited to work with so many bright minds from across India. I strongly believe that the student team will help in strengthening the platform and their efforts will result in a much better experience for users of InsideIIM. "
– Ankit Doshi, Creator – InsideIIM.com
It gives us immense pleasure to introduce you to the first ever Student team of InsideIIM which is our first step towards our theme of "Decentralization and Democratization" for the year 2015-16. We feel proud to hand over the baton to these future leaders and make the platform "of the students, by the students and for the students".
Currently studying at IIM Indore, Aditya Aggarwal says, "the outlook of gaining hands-on experience in an internet space, coupled with the prospect of diversifying my network, was reason enough for me to harbour a strong desire to join InsideIIM." For a person who is accustomed to the boot camp-like experience that a B-school has to offer, due to a summer military training course he attended during his school days, he has held several important positions of responsibility throughout his life. His interests include non-fiction, event organization and adventure sports.
Reach Aditya on aditya(dot)agarwal(at)insideiim.com
Ashutosh Pathak, currently studying in IIMB, is a Mechanical Engineer from Vellore Institute of Technology. The Great Indian B-School Debate '14 on the platform has played a major role in inclining him towards InsideIIM. His diverse range of interests includes reading, writing, debating, quizzing and sports. He says, "I wanted to be associated with this platform since day 1 because I find it a perfect means to channelize my passion for writing." Being a philanthropic at heart, he wishes to help incoming students and B-school aspirants by creating relevant content for them and making their journey to B-schools a success.
Reach Ashutosh on ashutosh(dot)pathak(at)insideiim(dot)com
Kriti Jain, a Computer Science engineer from NSIT, Delhi had been working at 99acres.com before joining XLRI, Jamshedpur last year. She says, "I found the prospect of becoming a member of the student team as an opportunity to leverage upon the skills gained at 99acres.com to develop customer-centric, dynamic solutions for an engaging platform like Inside IIM. The thought of liaisoning with my peers from other B-schools across the country has itself been very exciting." This free-spirited budding entrepreneur is passionate about digital marketing, dance and social entrepreneurship.
Reach Kriti on kriti(dot)jain(at)insideiim(dot)com
Manvi Govil, an engineer from NSIT, Delhi is studying at XLRI, Jamshedpur, a regular follower of Inside IIM since 2011, is someone who has truly seen the platform undergo a continuously evolution from its initial form to the form that it has acquired today. She finds it to be "the best online resource to keep track of the placements across the B-schools in India. I wish to be a part of this brand and serve the relevant incoming student fraternity." Feted with several academic as well as professional honours in her career so far, she is a philharmonic who loves writing poetry, dancing and reading books.
Reach Manvi on manvi(dot)govil(at)insideiim(dot)com
The quirky love affair with InsideIIM of this equally quirky youngster, Rishi Jain from IIM Lucknow, started after he came across the platform while searching for some information pertaining to a college fest during his undergraduate studies at IIITDM, Jabalpur. He says " The ability to work with a talented bunch of individuals hailing from diverse backgrounds along with the opportunity to see how a start-up works, from close quarters, motivated me to become a member of InsideIIM's student team". An avid photographer, Rishi loves travelling, answering queries on Quora and reading fiction.
Reach Rishi here – rishi(dot)jain(at)insideiim(dot)com
Saikat Roy, a devout follower of InsideIIM ever since his MBA preparation days, is currently studying in IIM Trichy. This multi-faceted youngster, with a keen interest in innovation, has an international publication to his credit and has won several table tennis competitions. He says, "Being able to marry the theoretical concepts which I have learnt so far at IIM Trichy with a real-life business scenario for a juggernaut like Inside IIM, along with the opportunity to extensively network with peers from other B-schools, has been prime drivers in desire to grab this opportunity."
To reach Saikat – saikat(dot)roy(at)insideiim(dot)com
Another engineer on the block from IIT Kharagpur, Shubham Kumar is the most experienced member in the team, having worked at ZS Associates before joining IIMA. The core value propositions of this platform appealed to him instantly and he went on to "grabbing the opportunity with sheer alacrity, seeing this as a way to gain a holistic perspective of how business is done by getting a first-hand view of how critical decisions impact the top-line and the bottom-line of a business enterprise." This high stakes player loves playing poker and watching movies.
Talk to Shubham here – shubham(dot)kumar(at)insideiim(dot)com
Srihari , current student of IIMB, owes to the platform for abetting in his preparation to get into a B-school of his choice. He says "Given my strong desire to work in a youth-driven organization, preferably in the booming digital space, I found InsideIIM as a perfect proposition to express my gratitude towards this great platform." A devout patriot with a keen interest in military technologies, he firmly believes in the principle of sustainable development, loves following the news religiously and is a travel enthusiast.
To Reach Srihari – srihari(dot)ks(at)insideiim(dot)com
Srinjoy Ganguly, from IIMA, was acquainted with the benefits of Inside IIM since the phase when he was busy preparing for his B-school interviews. He was "overjoyed to receive an opportunity to become a member because I firmly believed that most of the learning at a B-school happens outside the classroom by getting one's hands dirty, and where better to do so than a surging bootstrapped start-up like this?." The author of 10 international research articles, a voracious reader and a budding entrepreneur, Srinjoy is a devout Bollywood aficionado and wishes to use his writing skills to the fullest so as to add value during his tenure as a member of this team.
Reach Srinjoy here – srinjoy(dot)ganguly(at)insideiim(dot)com
For any other queries you can always reach us on editor(At)insideiim(dot)com or sales(At)insideiim(dot)com