Internship Diaries: The Girl In The New City (Gurugram)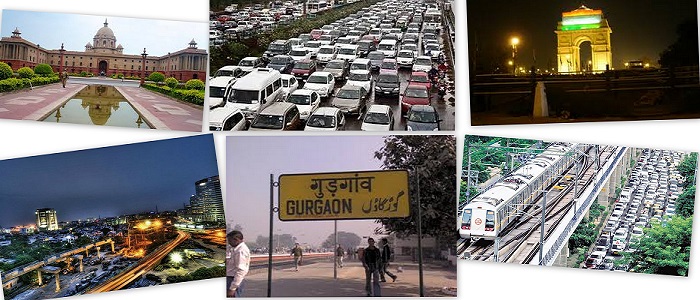 When the city of my summer internship was confirmed to be Gurugram a.k.a Gurgaon, I was happy and sad at the same time. Let me explain why! When I'd bid farewell to Bangalore a year back, to join XIMB, I'd convinced myself that would return to the Garden City by next summer for my internship. Now since the city was Gurgaon, I wouldn't be able to go back home and hang out with old friends.
But then, very soon the monotony loathing, challenge seeking adventurist within me took control, and I was looking forward to the excitement of living in a new city, making new friends, and adding some NCR colour to my life.
I arrived here, the weekend before my internship was to commence and soon came to experience one of the most happening cities in India. The landscape here is primarily – Business/Tech parks, Shopping Malls, Multiplexes, Apartments, Restaurants and Pubs. Majority of the fortune 500 companies have their India headquarters in Gurgaon, and I would see about 50 of them on my way to office daily. Be it in a crowded shared auto carrying over 10 people or in an Audi A7, the city is always in a rush to reach the destination sooner, accomplish goals faster and drive for standards higher than what the past decade of unprecedented growth has set for it.
My Internship has been a very challenging and enriching experience so far. A typical week can be summarised as:
Monday to Friday: Research, Team Huddles, Mentor Catch-ups, Meetings, and Presentations
Friday night, Saturday and Sunday: Metro Journeys, Shopping, Sightseeing, Restaurant Hopping and networking.
To summarise, I've enjoyed – waffles @wengers, tiramisu @Di Vino, shopping at Sarojni Market, and the fabulous friday parties at sector 29. Overall I'm lovin' it!
———–
About the Author:
Nihitha Davis
Intern – Mckinsey & Company, Gurgaon
Note: Article previously published on www.ximbeats.com
You can read other articles on Internship Diaries here.
Read everything else about XIMB here.
Xavier Institute of Management Bhubaneswar
Xavier Institute of Management, Bhubhaneswar is one of the most coveted B-schools in India. Established in the year 1987, XIMB is known for quality education in the field of Management and creation of future entrepreneurs. XIMB offers to its students three prestigious programmes; Business Management, Global MBA and Executive-MBA. 30 years and still going strong, XIMB strives to achieve its mission of making managers with a human face.