"Anand Mahindra came and spoke to each of us interns" – Interview Experience with Mahindra & Mahindra

This is an anonymous Summer Internship Interview experience brought to you by InsideIIM. This interview was conducted by Mahindra & Mahindra at IIM Ahmedabad. To Follow more such experiences, check the tag – Interview Experience and follow our Interview Experiences Forum to get more than 300 Interview Experiences from top B School Recruiters.
Did you prepare for any specific field? How did you go about it?
I will not say that I prepared for a particular field. I wanted an operations role. I got to know from my seniors that given my background (Electrical Engineering) and my work ex (BHEL) I would be a favorite for the Gen Man roles. Hence I mostly did a HR-questions-based preparation as that is what they principally ask you for Gen Man. And as for Mahindra, I opted for an Operations role in the Automobiles division when filling up the applications form – I got something very similar to that. Precisely, I was a part of the Auto and Farm Sector at the Chakan Plant, near Pune. It is here where the firm makes tractors and vehicles like the Scorpio and XUV.
Tell us a bit about the selection process.
The selection process consisted of an initial resume based shortlist, followed by a written aptitude and psychometric examination, followed by a "Chairman's GD" and then the final interview.
What is a "Chairman's GD"?
It is basically several GDs combined in one. One of the participants is made the Chairman or Moderator of the GD, who is assigned the task of directing and arbitrating the members and bringing the GD to a conclusion. Each member becomes the Chairman once.
Interesting. How many were you guys in your group? Was it a fish market all along? What kind of topics were there?
There were seven of us – hence there were seven GDs with seven different topics. The constitution of the process does not allow it to become a fish market – everybody is competing, and so is the chairman – he or she won't let the situation go out of hand. For us the GD topics were mostly business situations – some related to employee welfare and HR issues, some related to marketing, operations and so on.
Where was your location? How did the company put you up?
I was mostly based in Pune. We were provided the nice, furnished Mahindra guest houses for stay. The guest house was pretty close to the office, but we opted to stay near to the city to enjoy the city life post the day's work.
When did you come to know about the project?
By mid-February. We even had a con-call with the HR detailing us as to what was expected of us during the internship, before our first-year final term was over.
Tell us a bit about the project. How was your mentor?
The project was chiefly meant to minimize truck turnaround times at the factory premises. It was observed that the time that the tricks stayed for loading and unloading in the factories was getting longer and longer. Now a longer time may often mean greater payment if the contact with the truck owner stipulates an hourly payment. Again, a truck which is free after an assignment is over may be beneficially used for another assignment at another Mahindra facility sooner. In these ways and several other, shortening the truck turnaround times would help the firm.
This was the main focus – but I was made to do all sorts of other jobs as well – studying balance sheets, solving HR issues – but with a reduced focus. My mentor wanted me to be a "complete manager" – hence he tried his best to give me a complete exposure to all possible work.
As for my mentor – yes, initially he was very strict. Not that he was rude – but I was made to write an exam – with questions of those related to the operations-focused APICS certifications. I had to even go through a book – related to Supply Chains by Toni Arnold to take the exam initially. The intent was to keep me under pressure and watch me perform. I think that I performed much well on that front. As the days rolled on, my mentor became much friendlier – whether this was due to my good performance or not, I won't make any comment.
Any learnings from the Ops courses in the first year that really helped?
None really – at least nothing came to use directly. But you see, the basics always help – concept of bottlenecks, line balancing, etc. are basic operations stuff concepts that definitely helped.
How was the final presentation?
There were two final presentations actually. The first one to my mentor and other mentors in the Pune office itself. They liked my recommendations and shortlisted me for the final round of presentations at the Nasik office with the senior management of Mahindra.
Any other remembrances or memorable incidents?
One thing that I would like to mention here is the fact that Mr. Anand Mahindra came down and spoke with every one of us interns during the inductions at the Mumbai office. He has a truly dynamic personality and can really crack a nice joke or two. It was a real uneasy moment when somebody's cell phone rang while he was speaking with us – he exclaimed. "I can promise you, gentlemen, that this phone is definitely not mine!" – a nice way to emphasize discipline and etiquettes.
On a personal front, I shall mention that my solution to the truck turnaround time problem was really appreciated by my mentor – I used an Excel model to simulate and run my recommended plans – my mentor said that nobody had ever thought about this approach earlier. This was definitely a hallmark.
– Interviewed by Rajarshi Saha (second year student at IIM Ahmedabad)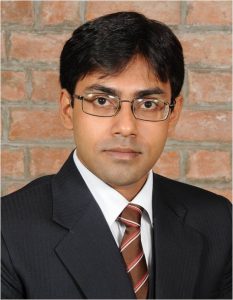 About Rajarshi Saha
Rajarshi is someone who derives joy from things simple in this increasingly complex world. He likes to watch the sky, the sunshine and the clouds, to listen to birds chirping and the sound of rain and to occasionally, write a poetry or two.
You can follow IIM Ahmedabad on InsideIIM here.